It's a game that will certainly live long in the memory. Bournemouth haven't been short of those in their brief Premier League history thus far. It's not even the first time this season that the seaside club has hosted a game featuring an improbable comeback.
But unlike the historic Liverpool win, this one is bittersweet for Eddie Howe's side. A case of "what might've been". It's very much the same for Arsenal, mind you. Despite Howe having constructed a hard-working, well drilled and talented group of players - a group that currently sits in ninth, additionally - this really was a game that Arsenal were expected to win with relative ease; if they are to mount any sort of a serious title challenge.
With Chelsea still eight points away, with a game in hand against Arsenal's north London rivals Tottenham tonight; Arsenal have three scenarios. A Chelsea win would see them sit fourth, but eleven points adrift. A Chelsea loss would see them eight points off the top, but behind Tottenham. They would probably be able to live with that. But, a draw would be the best result it seems. The pre-Christmas capitulation has hurt. Badly.
An early strike from Charlie Daniels, made possible by some dreadful defending by the visitors, set the tone. Five minutes later, a careless shove on the superb Ryan Fraser gave Callum Wilson the chance to double the lead, and he duly obliged.
Moments before the hour mark, Fraser bullied the off-colour Hector Bellerin before calmly beating Petr Cech for three. There looked to be no way back, but three goals in 22 minutes from Alexis Sanchez, a superb strike by Lucas Perez and the man of 2017 in football this far, Olivier Giroud, broke the Cherries' hearts.
So where to begin?
Giroud stings again
It may not have been as beautiful as his jaw-dropping scorpion kick against Crystal Palace on New Year's Day, but it every bit as satisfying for those of an Arsenal affection. But it would be unfair just to single out his goal last night - the Frenchman set up the other two goals to boot. First, a superb near-post flick on for Sanchez and the second a superbly flighted first-time pass to Perez. Furthermore, Giroud made himself a nuisance for the Bournemouth backline in the second half with his aerial presence and sharp movement.
He did well to get the better of the otherwise solid Steve Cook in the air to grab the late equaliser. Unsure about the celebration that followed though - but it's certainly garnered more criticism than it should, given that it only took up 12 seconds of time. A case of him being the scapegoat, once more?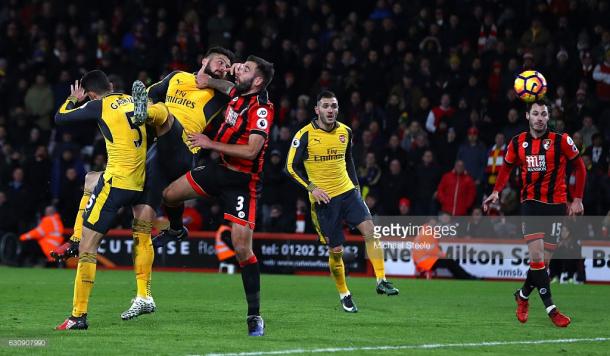 Sanchez storms off
Another frustrating night for Arsenal's standout player of this season. There's no doubting Sanchez' firepower and passion for results. There were multiple times over the course of the evening where the Chilean cut a moody figure. Shoulder shrugging, shouting and finally throwing his gloves onto the turf after the final whistle. Of course, this all encourages speculation over his future - will he stay even if Arsenal give him the money he wants? A natural born winner, a tireless trainer and an uber-talented footballer. He deserves a Premier League title to his name. Unfortunately, there are quite a few times where most of the 10 around him, don't.
Last night, he was a constant thorn in Bournemouth's side. Running at players, dropping deep to influence the shape of the attack, making him nigh on impossible to mark. He fully deserved his goal, which was a well taken diving header; a rarity for him.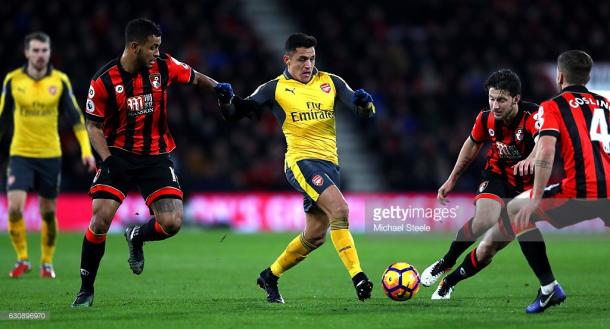 Howe impresses once more
Once more, there will be several interested glances over towards the young Bournemouth manager, who's one of the league's highest rated managers - no small feat given the plethora of managerial talent in the Premier League this season. The fairytale story of dragging the club he once played for up from the brink of extinction in League Two, to sitting pretty in the top half of the Premier League is reason enough to link Howe with several top clubs and in the feared (by those who end up with it) England setup.
But, beyond that, he's performing this on a very modest budget. And, he has kept the attractive style of football that got them to the Premier League, resisting the urge to turn to a very defensive shape, just to survive. The Cherries have shown that they will attack the big boys, at home and away, making them an obvious 'banana skin' fixture.
More defensive shakes for Arsenal
It had seemed that the famously shaky defence that had stopped Arsenal from success had been bolstered and fixed by the signings of Cech and Shkodran Mustafi, alongside the improvement and emergence of Laurent Koscielny, Nacho Monreal and Bellerin.
And although Mustafi's injury, sustained in December had hit hard, as many expected - Wenger's side kept successive clean sheets against West Brom and Crystal Palace. With Mustafi returning last night, it seemed as if a third successive shutout was on the cards. The first 45 minutes proved that that wasn't to be the case. Players were pulled all over the place, as Josh King, Wilson, Fraser and Junior Stanislas all floated around, wreaking havoc.
Furthermore, Arsenal couldn't deal with the bursting runs into the channels. Several times, Arsenal were undone by passes between the centre-back and full-back, with Wilson and King peeling off their unsuspecting guardians.
Whilst Mustafi's poor performance can be explained by a lack of match sharpness and potentially general fitness, Bellerin's dire performance is a little more baffling. Arguably, it was his worst display in an Arsenal shirt since his debut in the 3-0 loss to Borussia Dortmund in September 2014. He was far too central for the first goal, leaving Daniels in a good 30 yards of space, before being beaten by the full-back as he checked inside.
And for Bournemouth's third, he was bullied by Fraser, shoved to the ground as the pair chased down a speculative long ball downfield. A rare night to forget for the Spaniard.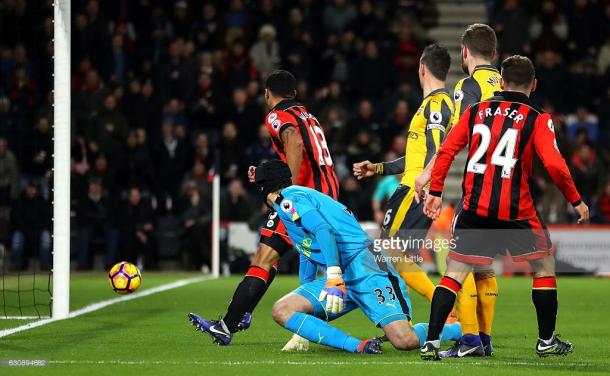 Man of the match
There are several candidates, for both sides. Giroud and Sanchez get the Arsenal mentions; whereas Stanislas, the nomadic Dan Gosling and Daniels all deserve credit too. But there can only be one man, Ryan Fraser.
Fraser's rise in the past few weeks has been dramatic. From fringe player to important first-team player, the Scot harried Arsenal tirelessly and deserved his goal. A tenacious chase followed by a fine display of strength, topped off by a calm finish past Cech from a tight angle.