Arsenal will face a trip down to South London non-league outfit Sutton United in the Fifth Round of the 2016/17 Emirates FA Cup.
In the midst of Champions League and Premier League action, a game at the 5,000 capacity Gander Green Lane will provide a change in pace, but must be approached with caution from Arsene Wenger's team.
Newly promoted National League strugglers Sutton made FA Cup history, by joining Lincoln City in Round Five - after beating Championship promotion hopefuls Leeds United, in a hark back to their 1989 heroics in this very competition, when they beat Coventry City. The 1-0 victory meant that for the first time in the Cup's long and rich history, two non-league teams made it into the Last 16.
Arsenal to face non-league Sutton
An extra test for Arsenal, Sutton use a 3G pitch - although the nature of the surface may suit the visitors more than your typical non-league pitch at this time of the year.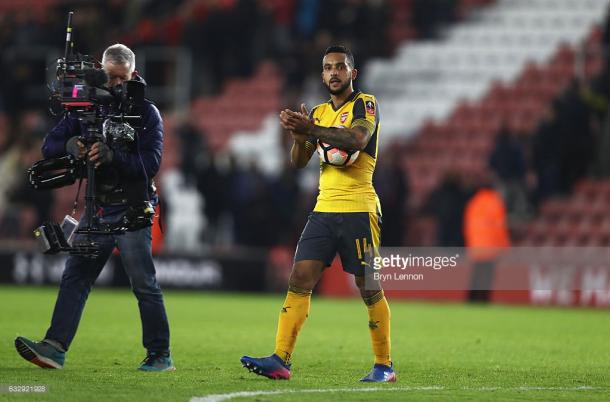 In Round Four, Arsenal swept aside a much changed and inexperienced Southampton side with the help of the returning Danny Welbeck and Theo Walcott - grabbing two and three goals apiece respectively, in a comfortable 5-0 win at what's considered a bogey ground for the Gunners of late. Although, a trip to Preston North End nearly ended in disaster in Round Three, with a late Olivier Giroud winner sparing the Gunners an unwanted replay.
Sutton's Cup campaign started in November
Meanwhile, Sutton's Cup campaign started all the way back in November, with The U's seeing off Dartford, Cheltenham Town, AFC Wimbledon and finally Leeds - courtesy of a second half penalty from captain and builder by trade, Jamie Collins.
With the payments coming from their success story thus far, it's safe to say there will be no more leaking roofs or monetary troubles for the foreseeable future. What's more, there'll be a lot of stories to tell future generations.
The tie is set to be played on the weekend commencing 18th February.