 Diogo Dalot has made an extraordinary move to Manchester United, but from the plaudits he has received in the wake of his move, it suggests he is not coming to make up the numbers.
Antonio Valencia, Man United's captain stands in his way. However, he can play on the left also, so Ashley Young is also blocking his immediate path.
On the face of it, having two former wingers in front of you - both over thirty - you could be forgiven for thinking this is the perfect opportunity for the young man.
Except, even if he is to take the shirt off either, he must perform miracles unless United change the current system and style of play. Better quality may help, but the role of a United full-back is a demanding one. 
The best attacking full-backs over the past decade or so have been arguably Marcelo, Roberto Carlos, Cafu and Dani Alves. All of those at their peak would improve United but it's also fair to say they didn't have huge defensive responsibilities. 
So even they would struggle to pacify a lot of United fans who seem to expect United's full-backs to be a mix of Gary Neville, Steve Coppell and David Beckham all rolled into one.
Full-backs need to be all-rounders
It's not enough any more to be an out and out full-back. Take two of United's current roster, Matteo Darmian and Luke Shaw. Both very good players, but both with limitations.
Darmian is more experienced and is the more solid defender. Alexis Sanchez gave him a torrid time at Arsenal in his first year, but that was something of a rarity. He doesn't get roasted too often.
He is a solid defender, but he offers very little going forward. At least for United. Previously, for both Torino and Italy, he would get forward to good effect. On the overlap. With United, there is no overlap.
The same is true for Shaw. Unquestionably he is a talented player. He has a lot of pace, and he needs it because he is possibly still a work in progress even as a normal full-back.
He still needs to learn how to defend, but he has not been helped by injuries, managerial changes and possibly just being at a club the size of United with such high demands. 
Both players are clueless when they are in the forward positions and the onus is on them to do something. Neither can beat a man, but that is not their fault. United's wide attackers don't stay wide.
So whilst Valencia and Young are seen by many as insufficient and ineffectual, they are far from it.
Young scored twice and provided four assists in the Premier League. Valencia contributed three goals and one assist. Darmian and Shaw, whilst playing much less, contributed nothing between them.
Young is prepared to take a defender on in one-on-one situations, whilst Valencia is more reticent to do so. As a result, Young does get caught too high up the pitch on occasions but Valencia is invariably in the right place.
With their background, it is obvious that they would have more joy in the attacking part of the field but they both seem to have an aptitude for defending.
They rarely get beaten, both can tackle and Valencia especially has the awareness of a defender to come inside on the cover when necessary.
Fitness is a must 
They still get criticised, unfairly, but what people don't seem to appreciate is the physical demands that are placed upon United's full-backs. They have to excel in both areas of the pitch, and the fitness levels that both players show is incredible.
To put things in perspective, Neville - who would also find it hard to survive at United today - told of how Cristiano Ronaldo infuriated him when he first arrived at United.
Ronaldo was not one for being tied down to a flank. Neville was so used to having Beckham in front of him, and behind when he did push on, that Ronaldo's roaming nature obviously made the job more difficult. 
He couldn't really overlap when he had no teammate ahead of him, and with less protection, he was also more exposed. Yet Neville accepted it because Ronaldo was Ronaldo. His brilliance far outweighed his positional shortcomings.
United don't have a Ronaldo now, or at least, nobody who currently plays at his level consistently. So there is a lot of pressure for the wide players to contribute.
Both Valencia and Young are adept at crossing a ball, yet they show reluctance to do so. If there is nobody in the box, and that is the case a lot of the time, then what is the point? They are damned if they do and damned if they don't.
That Young has a good chance of starting for England at the World Cup, shows that it is not just his club manager that recognises how good he has been.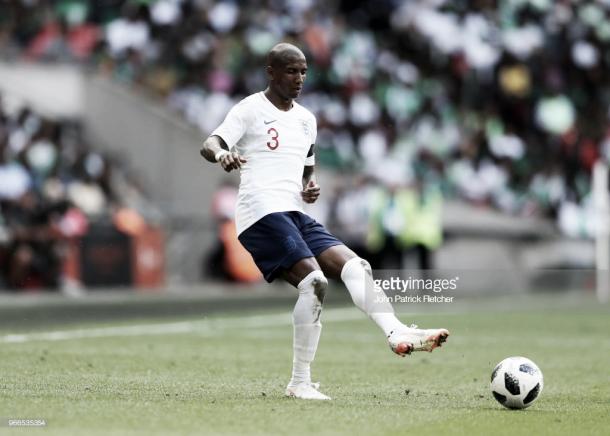 Young and Valencia need to be replaced at some stage. Yet an upgrade is not going to be so easy, and players like Dalot really do need to be special if they are continually required to contribute at both ends of the pitch.