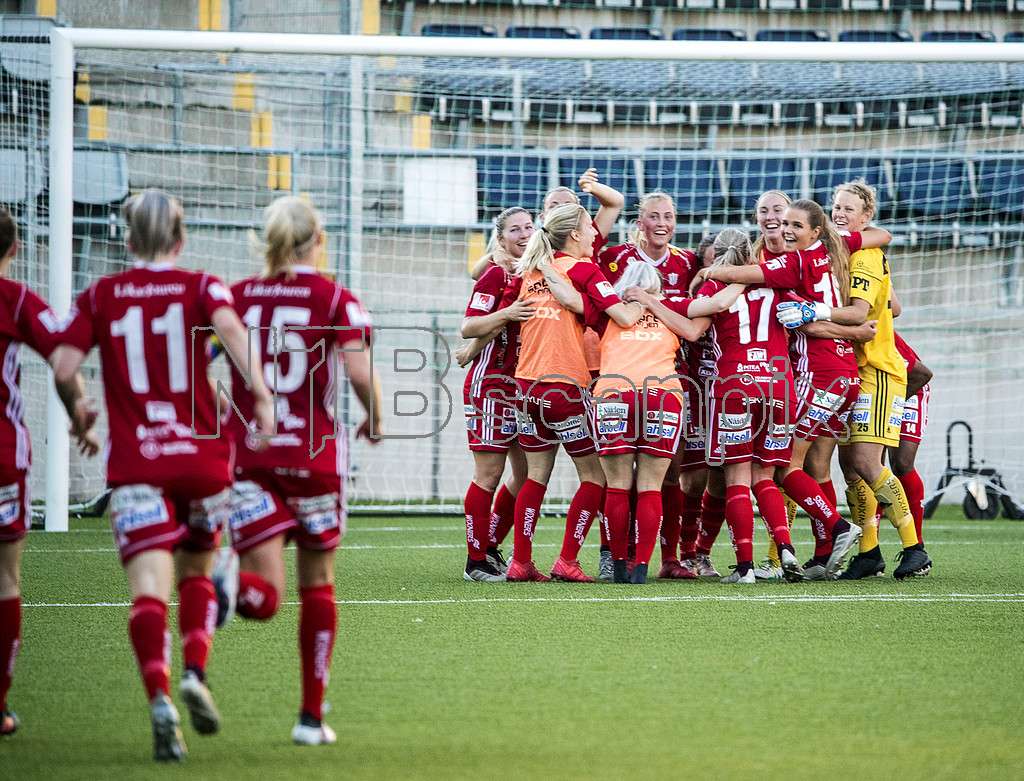 When we measure a team's worth in England, we fall back on the question of whether or not they can do it on a cold Wednesday night in Stoke. In Sweden, the question is more about whether they can do it on a sub-zero Saturday afternoon in Piteå. And usually, the answer in a firm, "no".
Over the 2015-16 season, Leicester City shocked the footballing world as they defied the odds to claim the Premier League title, this season Piteå have done something similar in Damallsvenskan.
History at the King Power
Titles aren't just about matches, they're about people and graft, about signing the right players, getting them to buy into the manager's philosophy and putting the hours in in training. 90 minutes of football are never just 90 minutes on the pitch, but hours and hours off of it.
To win matches you've got to have just the right combination of skill, guile and luck, to win titles, you need luck in abundance. The right gust of wind to pick the ball up and help it on its way, the referee missing a handball in the box or showing a red for a questionable challenge, players lasting the season without serious injury. There is a staggering amount of work that goes in off of the pitch from the analysts and physiotherapists but in football, it's lady luck that decides.
For the Foxes, everything was just right, no bowl of porridge too cold or too hot in their historic season. For Piteå, things started sourly but the Norrbotten side took it in all stride. Family reasons took coach Stellan Carlsson away from the team for large parts of the year, his meticulous forward-planning enough to have PIF on the right footing. But the players began to drop, first, captain Josefin Johansson announced her pregnancy then Elin Bragnum broke her foot, then caretaker coach Jonas Edholm had to be replaced by Johansson when he came down with a long-term sickness.
Unremarkable
Player recruitment at Piteå isn't easy, there is no big budget to call on, no money for blockbuster signings, no chance of any of the team becoming full-time professionals. Nor is there the lure of a near-by big city, Stockholm, Gothenburg and Copenhagen always at least one plane ride away. What is there to entice a player to north of the Artic Circle when they could make the same amount at any other club whilst having far kinder winters to deal with?
Pre-season at PIF is gruelling, the temperatures outside dropping as low as -30°C, the team thankfully forced to move indoors to train ahead of the season. The squad a young one, playing for Piteå almost a rite of passage for players in Sweden, most not lasting more than a year or two in the frozen north.
A handful of students, a few players in retail, some who work in banks or nursing homes, that is the historic Piteå 2018 team, humble and pedestrian. But in a time when women's football is rolling into a fully-professional world (so much so that part-time teams have been removed from the top flight in England), the achievements made by Piteå are even more praiseworthy.
The LF Arena is a fortress, a home base that requires every other Damallsvenskan team to board at least one plane to reach. The travel a one-time thing for every other team in the league, yet for part-time Piteå it's half of their season, every away day starting with a 35-minute coach trip to Luleå Airport, followed with flight to either Stockholm Arlanda or Göteborg Landvetter. The relegation of Umeå at the end of the 2016 season, leaving PIF without a derby, their nearest Damallsvenskan team Djurgården at the end of a 530-mile drive.
Piteå, the place, is small, with a population of 23,273 and the tourist activities listed on the town's official website vary from "cinema" to warm-weather goings-on like biking, boating and bird-watching to ski-based ways of spending a few hours in the winter, as well as perennial beer-tasting.
There is nothing remarkable about the place, it's just a town in Sweden's northern most county, there are no stars in the team, no big-name players; there are young players and there are experienced players. There are players who've spent most of their careers at PIF (like 20-year-old Ronja Aronsson who's been at the club since 2011 or 28-year-old Emelie Lövgren who has given the last 12 years to her hometown club) and those who moved north for this season (like goalkeeper Cajsa Andersson who former champions Linköping swapped for Hilda Carlén before the start of the season).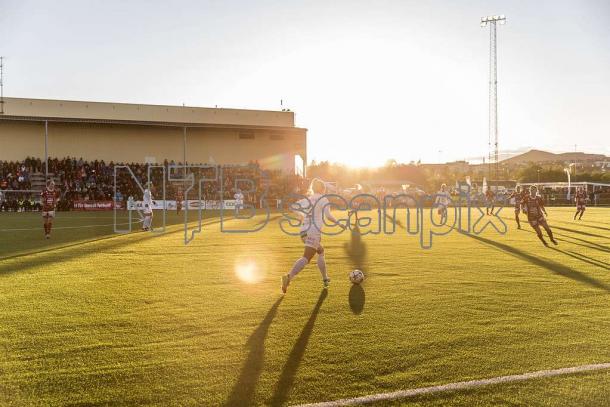 Growing, all the time
In existence since 1918, it wasn't until 1985 that Piteå Idrottsförening set up a women's team, combining with Division 1 side Storfors AIK three years later. Immediately relegated, the side found firm footing in the second tier again in 2005, earning promotion to Damallsvenskan in 2008. The 2009 season a bitter one that saw them instantly relegated, for the team to return to the top tier in 2011, 2012 the year Carlsson took over as head coach.
The instillation of Carlsson the watershed moment for the team, no longer just making up the numbers and bouncing back and forth between the divisions, the team took tentative steps, growing and bettering themselves each season. 2015 bringing about their highest finish of third in the league, the team very much there or there abouts until this year.
On a seven-match winning run, a historic match played in Kiruna saw Piteå drop their first points of the season to Rosengård, the team going on to lose their next two matches opening up a title fight. Recovering well, the balanced side claimed three wins on the bounce before two more back-to-back losses, again dropping points to Kristianstad and Vittsjö. Needing to be near-perfect for the rest of the season, Piteå registered five more wins before travelling to Malmö for a potential title-decider. A lapse of concentration from June Pedersen enough to see Anja Mittag run in and nibble the ball off of the defender before stroking it into the empty net, the match decided with Rosengård top of the table on goal difference alone.
With Kopparbergs/Göteborg enjoying their own Indian Summer this season, the top three could barely be separated going into the last round of fixtures, KG third overall but able to break into the top two with a win over FCR, Piteå's hefty win over Växjö a flourish for the soon-to-be champions. Göteborg and Rosengård wrested with each other at Nya Ullevi, the ten-time champions having restored parity at the start of the second half, PIF's northern rout enough to see them top but not home and dry with the match between second and third hanging in the balance. The pressure was all from Rosengård, but the hosts broke and finally found a devastating counter, Rebecca Blomqvist's well-taken 90 minute strike enough for Piteå to claim the title and Göteborg to find themselves in the Champions League next season.
Jubilation 610 miles away, SM-guld the reward for Piteå's remarkable season, the Damallsvenskan title the culmination of years of work, of putting one foot in front of the other and progressing a little more each season.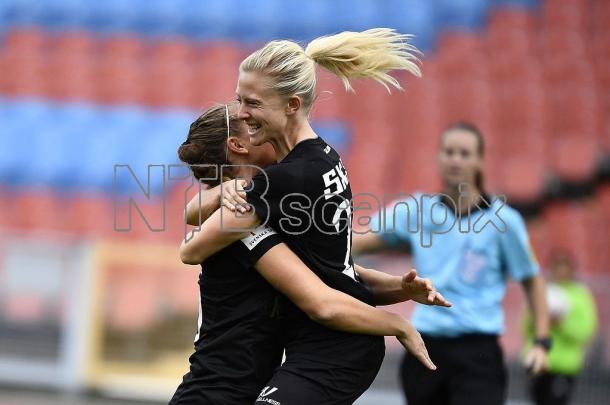 Moments to live for
Whilst we might tune in every week to enjoy and drink in the spectacle of Pep Guardiola's liquid football at Manchester City, we live for that glorious 2015-16 season when little Leicester City did something incredible. As football fans that's what we live off of, the underdog, the fairy-tale, the unlikely success story; we might love to watch Lionel Messi dribble around like a pint-sized genius but we'll always have a place in our hearts for Jamie Vardy and a bottle of blue WKD to match his wrist cast.
As women's football drifts into the professional, these moments become as rare as in the men's game, but this season Piteå have proved that you don't need the biggest budget, the most cosmopolitan home or even the stars. You just need a team, players and a coach all working towards the same goal, putting in the hours, gritting matches out and finding those inspirational moments to turn a 2-2 draw into a 3-2 win. There is nothing special about Piteå IF, but Piteå IF is a special team.