 With one match of the 2017 Damallsvenskan season still left, Pitea (who'll be vying for a third place finish this weekend) have already committed four players to new deals to give them a boost ahead of the winter window.
Cecilia Edlund and Madelen Janogy
First, 23-year-old Cecilia Edlund extended her current deal for a season after making the switch ahead of the 2017 season. Although Edlund has been peripheral, Piteå sports manager Leif Strandh is happy with her progress saying, "She has done well," to step up to Damallsvenskan, adding that it will be, "interesting to follow her development" over the next season.
Edlund herself is happy with the new deal, praising the "good mood" around the team as well and being proud of her development since moving to PIF.
After announcing Edlund's new deal, Madelen Janogy was the next to add a year to her contract with the Norrbotten team. The winter signing has settled in well with her new team since making the switch from relegated Mallbacken following the 2016 season and is Piteå's leading goalscorer with five for the season.
Still just 20, Janogy has a strong future ahead of her and has already begun to carve out a role for herself with the Sweden U23 team as well as starting more often than not for PIF. Speaking about the new deal, Janogy spoke highly on the environment around the team and all those involved in Piteå IF, saying, "It is a very professionally managed team," and that it's, "A great environment to evolve in."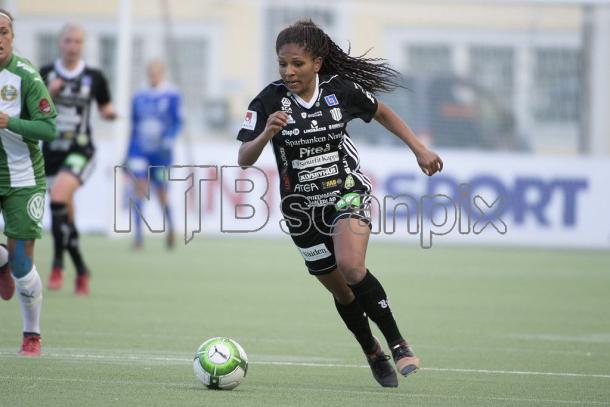 Faith Ikidi and June Pedersen
After murmurs of a potential move with other Damallsvenskan clubs interested, June Pedersen quashed any suspicion as she signed a new deal with PIF earlier today at the same time as fellow stalwart, Faith Ikidi.
Now 32, Pedersen says that she still feels that she has room to grow and that she can "continue to develop" with the help of the coaches and fellow players. The experienced Norwegian went on to praise the area, stating that it's "fun to be a ladies player in Piteå," continuing, "with the interest and public support."
Nominated for defender of the year in Sweden, Nigerian international Ikidi has committed the next two seasons to PIF – unlike Pedersen who added a single year to her current deal. A consistent fixture in the Piteå team since her move for the 2011 season, Ikidi is happy to continue in Norrbotten saying, "I like the team and the city very much."
Lotta Ökvist departs
In addition to the new deals, 20-year-old Lotta Ökvist has been unveiled as a Boston Breakers player for the 2018 NWSL season and won't be returning to her hometown club.
Currently fourth in the league with one game left to play, Piteå are two points adrift of Eskilstuna in third and will need a win away to Djurgården on Saturday with United losing to Vittsjö to claim third.