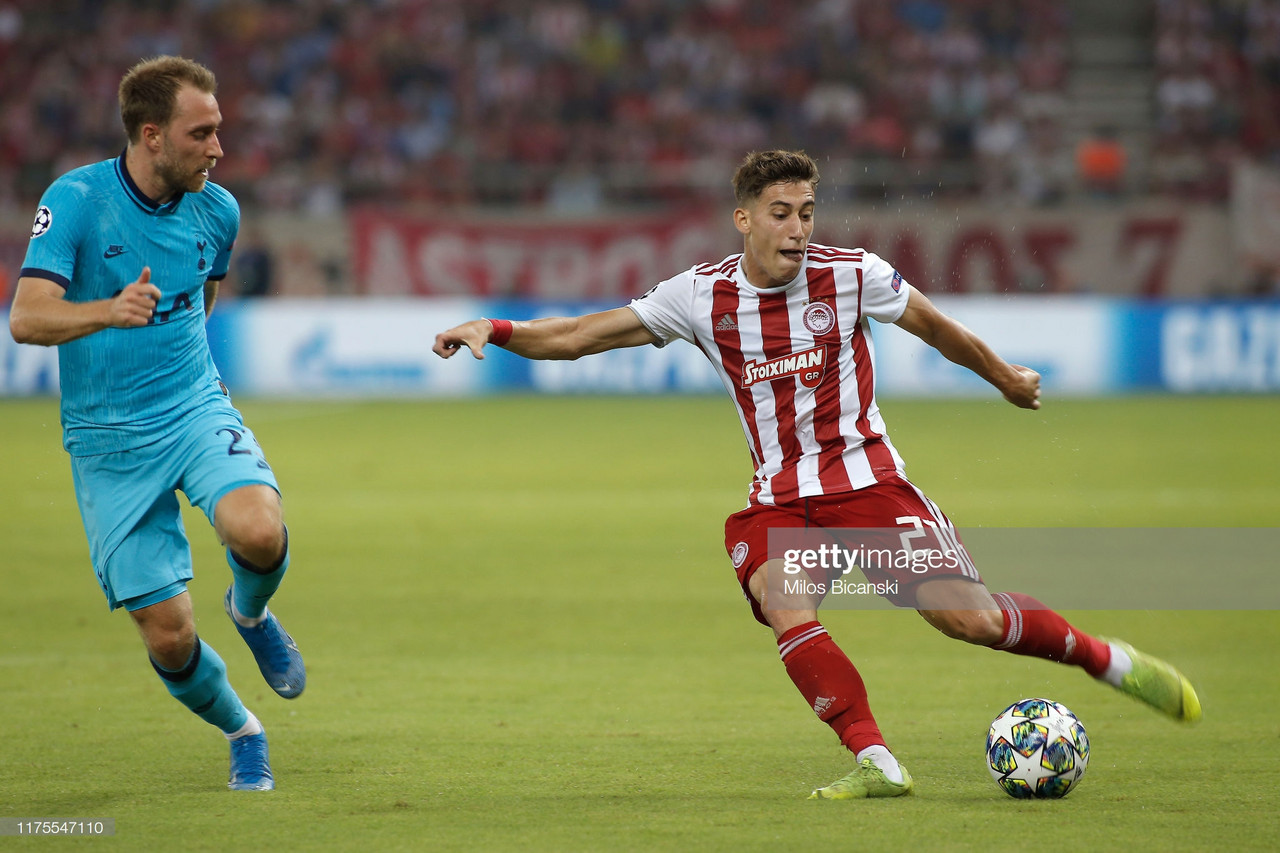 The Thrylos will be thrilled after securing a point against last season's Champions League runners up in their first match since returning to European's biggest competition.
Story of the match
It wasn't the first time this season that Tottenham Hotspur have started a match poorly. Mauricio Pochettino's side constantly found themselves inviting pressure from the home side in the first 20 minutes.
Olympiakos had the more promising of starts in front of their home fans, with the first real chance of the game coming from Daniel Podence, whose shot bounced off the woodwork in the 18th minute.
Tottenham saw themselves in luck after making such a sluggish start. Harry Kane was brought down in the box by Yassine Meriah and a penalty was immediately given.
The English forward smashed the ball into the roof of the net to give the visitors the lead in the 26th minute.
Tottenham's Champions League hero Lucas Moura doubled the lead for the Lilywhites just four minutes after. The Brazil international fired an unstoppable shot into the left-hand corner, scoring his fourth goal in three Champions League appearances.
Spurs were moments away from ending the half with a comfortable lead, but their defensive vulnerability was exposed yet again when Daniel Podence fired a low shot beyond Hugo Lloris to give his side a lifeline.
The away side were dominant to begin in the second half and almost added a third goal when Dele Alli tucked the ball home from Eriksen's cross, however, the goal was instantly ruled out for offside.
Olympiakos found themselves level just two minutes after when Mathieu Valbuena was awarded a penalty. The Frenchman made no mistake to put the Greek side level, while Spurs threw away a two-goal lead for the second time in three matches.
Both sides had a number of promising chances towards the end of the 90 minutes, however, neither were able to come out victorious. Spurs could live to regret giving away a 2-0 lead and could be a crucial two points to lose.
Takeaways from the match
Another average performance from Tottenham
Spurs have had a shaky start to the season and looked back to their best on the weekend in their 4-0 win against Crystal Palace, however, their performance this evening has summed up their performance as a whole this season. Their defensive frailties were exposed once again as they threw away a 2-0 lead for the second time this season. Harry Winks may have been the only player pulling the strings for his side tonight.
Stand-out players
Mathieu Valbuena played a pivotal role in his side's comeback. The Frenchman assisted the first goal after playing a one-two with Daniel Podence and scored the penalty to bring the game level. The midfielder's absence was instantly felt after being substituted in the second half.