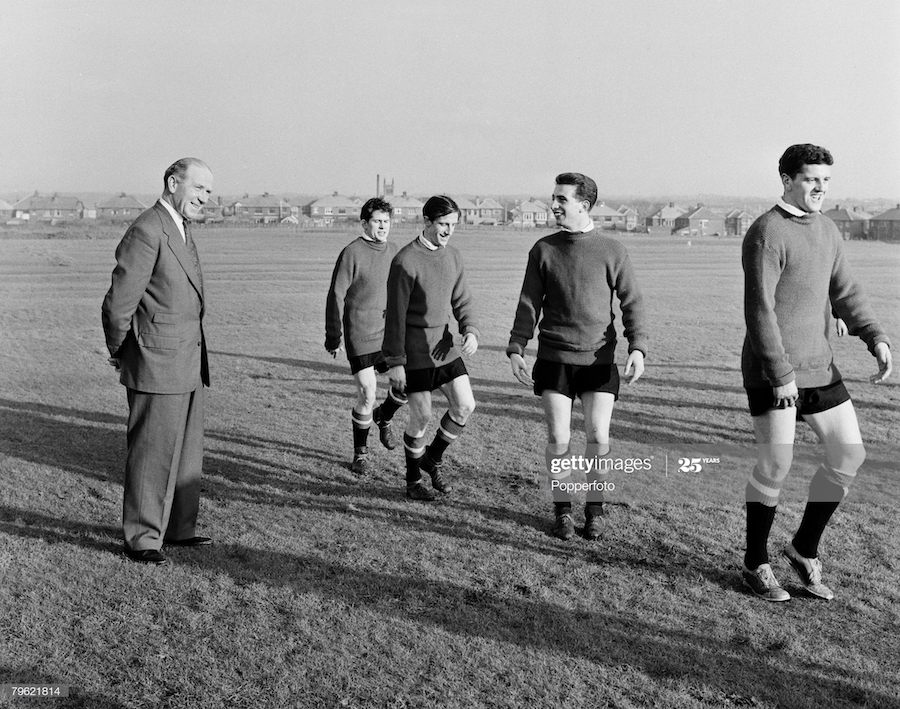 "Real Madrid were a worldly side," Roy Cavanagh explains, recalling a day in 1957 when Manchester United faced Los Blancos for the very first time.
The two clubs have since enjoyed a relationship formed predominantly from shared success. Both sets of supporters tend to abide by the motto 'not arrogant, just better', and more often than not, do so with pride.
Sir Matt Busby insisted to the Football League that his side, as champions of the country, would compete in the new European Cup tournament, with or without their domestic league's support. Chelsea had been told they could not do so the year before, but Busby dragged United in the competition nevertheless.
United opened European Cup campaign with 12-0 aggregate scoreline
United demolished Anderlecht 12-0 in their first games and held on in a bitterly cold Dortmund for a 3-2 victory over the two legs of the Round of 16. Spanish champions Athletic Bilbao tore United apart in a similarly freezing Basque country, scoring five at home. A late, dazzling goal from Billy Whelan gave United some hope in a 5-3 defeat and their performance back in Manchester is the stuff of legend.
"The noise could be heard all over Manchester," Roy Cavanagh says. Johnny Berry scored United's third in a 3-0 win over Bilbao, who truly believed they were the best team in the world.
"You cannot stress enough how good this Bilbao side were," Cavanagh explains.
"I think that was the defining moment for that team."
The game fell exactly twelve months to the day of the Munich Air Disaster. Busby's Babes shattered every expectation by beating Bilbao. One year later they perished in the Munich snow.
United first faced Real Madrid in 1957
After Bilbao in 1957, United faced the mighty Real Madrid, champions of the inaugural European Cup the previous season.
"They had a guy called Hector Rial, from Argentina, at inside left. He had film star looks and all that. And of course, they had Francisco Gento on the left wing who was like a flying machine. They really were a great side."
But United had players of equal quality.
"Tommy Taylor would be in my greatest ever United side as the centre-forward," Roy reveals. "He was magnificent."
"He was tall, peerless in the air, two-footed, and a team player. And a goalscorer. It's pretty complete, isn't it?"
And as United travelled to Madrid, Taylor was the talk of the town. United disembarked their plane and fans were waiting to see Los Chicos from Manchester. Taylor had tormented Bilbao's Jesus Garay and made news back in Spain.
But it was Los Blancos who raced into a two-goal lead. Taylor got one back before Madrid pulled away once again. At 3-1 down, United headed home with a serious task awaiting them.
Before the return fixture, Old Trafford unveiled its floodlights. Previous European Cup ties had been played at City's Maine Road, and often in the afternoons.
Busby's attention to detail
Busby chose to inaugurate the new installations in a league game against Bolton Wanderers. United moved the fixture to an evening game and Busby organised it so that United would wear all red, as they had in Madrid, and Bolton would wear all white, as Real Madrid did. It was effectively a practice match and an example of the Scotsman's attention to detail.
Bolton won 2-0. And when Madrid came a couple of weeks later, they too managed to get into a two-goal lead, only for United to get two back in the second-half when the tie was already over.
United were disappointed, though not surprised, by their exit. Next year was to be their year, Busby, his players, journalists and their opposition thought. Sadly, that wasn't to be true.