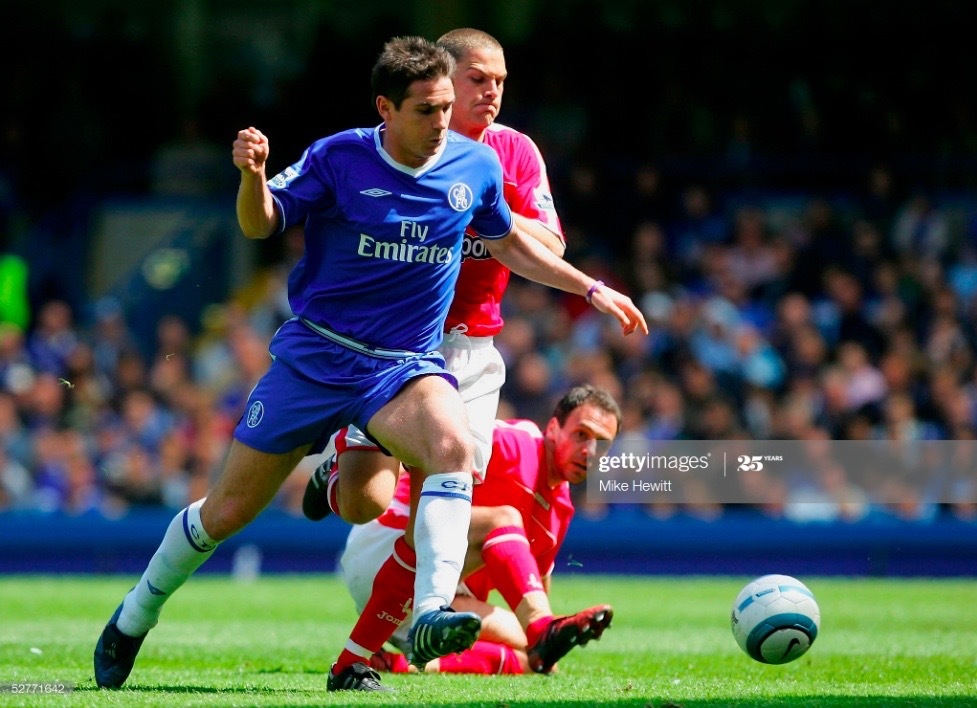 Chelsea boss Frank Lampard has revealed how he felt his game could've been better when he first joined Chelsea in 2001, and how he ended up improving upon it.
The now 41-year-old signed for the Blues when he was just 22-years-old, and was touted to be one of English football's next big stars.
Coming over from another London club in West Ham, Lampard compared both sides' styles of play as well as admitting that he was fairly innocent when it came to Chelsea's possession-based tactics:
"Looking back, I came here quite naïve. I was 22 when I came and I used to run forward quite a lot and not get involved so much in the build up of play.
"At West Ham I was used to a style that was a bit more direct, whereas Chelsea had much more of a possession game.
"I had to come to terms with that, take more responsibility for getting on the ball and gradually I did that, to the point where I'd added a lot more goals to my game by the end of my second season. So I added an element to my game and that was a big change in my career."
"It was one of the things that impressed me about Chelsea before I came."
Lampard also took inspiration from the older players in the squad, gradually understanding the way they played and how to integrate that into his own game.
'I'll never forget coming to Chelsea and realising how much better I needed to be in possession. That was the main thing I noticed when I came and trained with players like Jody Morris and Emmanuel Petit – the level of player you had to be in possession.
'I think it's always been like that with Chelsea to an extent. It was one of the things that impressed me about Chelsea before I came. I remember watching us play with [Gianfranco] Zola, Jody and Robbie Di Matteo in the team, and they were knocking it about. Chelsea were one of the first teams to play that kind of football in the Premier League, under [Ruud] Gullit and [Gianluca] Vialli. I think we've always maintained that.'
As Lampard grew older, his place within the team was undoubtedly well-established - however, many seem to forget that he was originally used by manager Claudio Ranieri as a wide-midfielder, as opposed to his now iconic central role within the side.
'I've seen a few games from my first season on Chelsea TV and that was a difficult year for me because I did get moved about a bit and, certainly at that stage in my career, I wasn't going to pull up trees at left or right midfield.'
'But I was still fairly young, it was a big deal mentally for me to come here and it was a step up as well. So I think it was normal for me to have a transitional year or two and I got to grips with that quite quickly. In my second year I took more responsibility upon myself, when I stayed central and made the position my own a bit more.'
It wasn't hard to see Lampard's game excel as he progressed, and with more years came further perfection of his craft - eventually leading to more goal contributions.
In Jose Mourinho's first season at the club, Lampard posted 13 goals and 18 assists in just the Premier League alone, an improvement on 10 goals and 5 assists under Ranieri in his final season as manager.
The Blues boss said:
"I've got to give a lot of credit to my managers down the years for that, starting with [Claudio] Ranieri. He was the one who stopped me just coming forward willy-nilly and told me to be more selective and that was probably the first big lesson I got taught after coming here.
"He would just have a word, sometimes in training but more often before and after games, and tell me not to run forward so much, to make myself harder to pick up by only running occasionally and being selective.
"I suppose that goes hand-in-hand with me becoming more involved in build-up play as well because I stopped bombing on all the time. If you came to Chelsea and just ran forward all the time from midfield, you wouldn't be contributing enough to the team.
"Look at Gus Poyet before me, he scored a lot of goals for the team but I could always see that he was involved in the build-up as well."