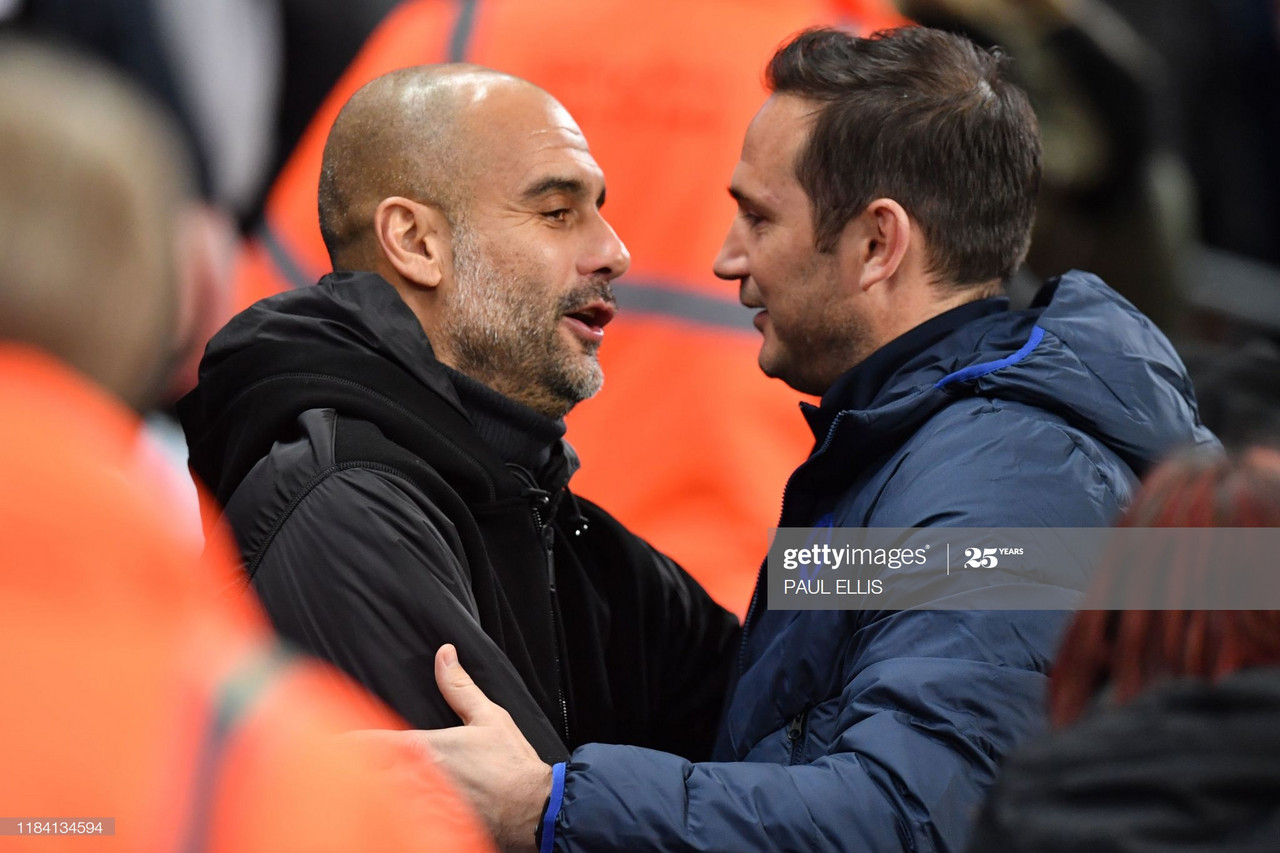 Chelsea are due to face Manchester City tonight which will be the first encounter at Stamford Bridge post the lockdown of football.
Liverpool's first Premier League title is very much on the horizon and Frank Lampard could have a huge say on when Jurgen Klopp's side print their name in English top-flight glory.
Pep Guardiola will be looking to halt Klopp's glory in west London for one week longer. Making them wait to get their hands on the famous old trophy. The City boss is sure to be frustrated it is not his side gunning for a trio of Premier League medals.
Guardiola showers Lampard with praise
Frank Lampard and Guardiola go head-to-head for the second time this evening after the first bout resulted in victory for the Manchester side. Chelsea initially took the lead at the Etihad Stadium, but the power of City shown when they won 2-1.
The Cityzens boss has spoken out on his thoughts to Lampard and his managerial career. The City boss admires his philosophy and style of play.
"Frank Lampard was an extraordinary player and he will be an extraordinary manager. He has had a good season and I am delighted to watch his team. They are the elite of European football. They have incredible players.
"When you start as a manager you have passion and no fears. You take decisions without compromise and he has done by giving opportunities to the young, talented players Chelsea have. In the last decade, their academy has done so well.
"He knows at the big clubs that you must get results but in the Premier League, they are in an acceptable position to qualify for the Champions League next season. This would have been one of the main targets for the six or seven top teams in England."
Compare and contrast
Pep has a clear admiration for his counterpart but how does the Spaniard and Lampard compare this season?
Guardiola's introduction to the Premier League in 2016 came with a new attractive passing style of football. His specific approach has been adopted by many clubs due to its efficiency since then.
Manchester City have made 20,434 passes this season, while Lampard's Chelsea have made 18,150. Rodri and Fernandinho both top the passing charts for City after completing 2,121 and 1,891, respectively. For Chelsea it is Jorginho and Cesar Azpilicueta who are on 1,861 and 1,808.
The passing numbers are remarkably close for both sides and this could be why Guardiola admires Lampard's management style.
Both sides enjoy getting shots away during the 90 minutes of a game. Chelsea have fired 500 attempts on goal this season while City have fired 580.
The efficiency of possession control through tons of passes and plenty of shots on goal has meant both sides currently sit inside the top four.
City have had more success under Guardiola this season. Nevertheless, once Lampard adds his own players from next season and implements his style on the side more fluently, the gap between the two sides could be shortened.
The impact of Timo Werner and Hakim Ziyech will for sure decrease the points gap between the two sides. They have shown match winning moments with their excellent technical ability, something in which Manchester City flurry with.