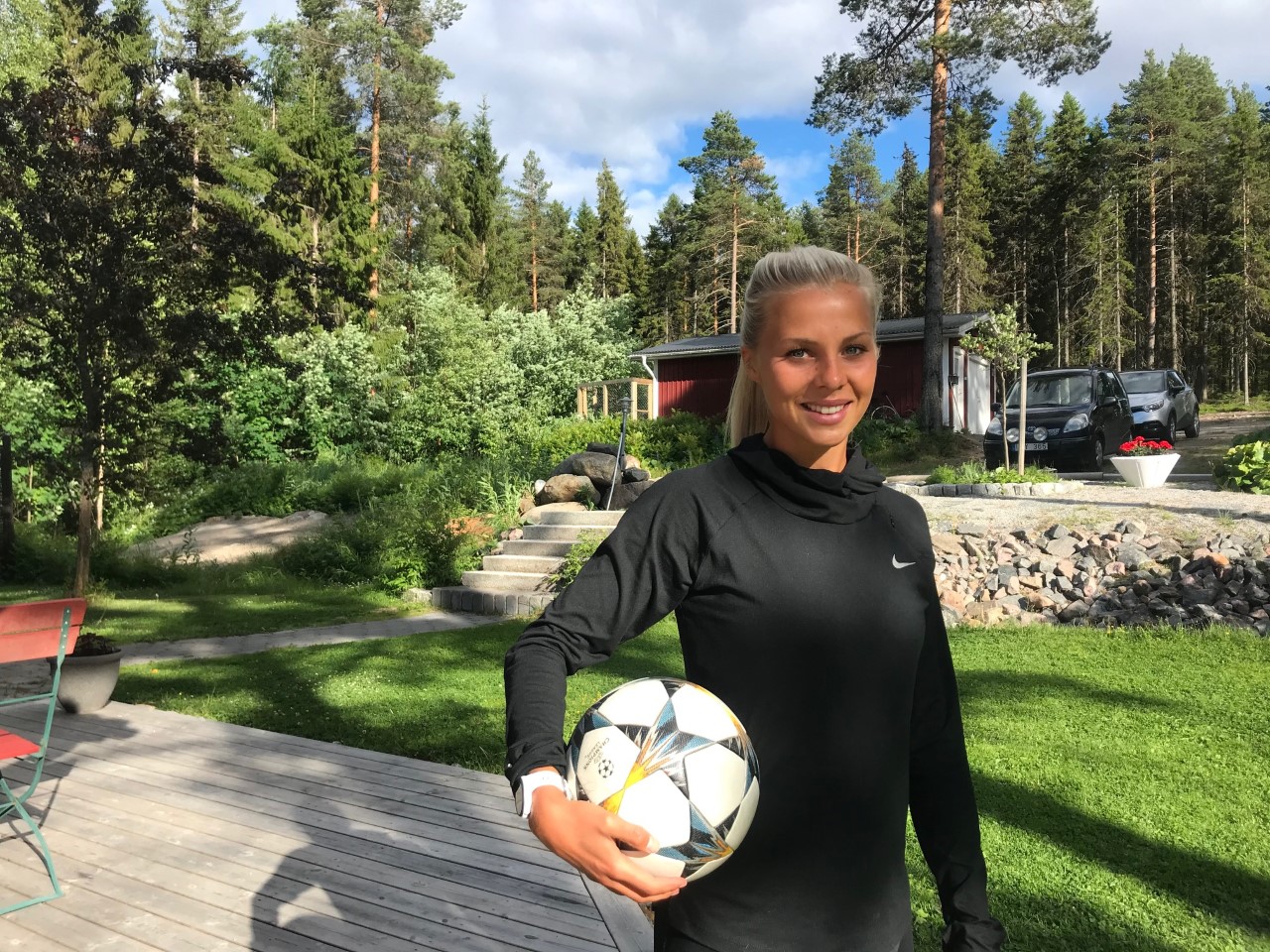 Some players take small steps forward to reach full potential in their development as footballers. They chose the clubs they play for wisely and for many young players, the differences between the clubs they're playing for isn't that big. It's a thoughtful and smart tactic some might say, boring and not brave is another opinion.
Lotta Ökvist, a 23-year-old Swedish defender, chose to be brave and not at all boring when she, ahead of last season, signed for Manchester United. Her club before that? Hammarby IF, a Swedish team playing in Elitettan, the second division in the country.
"Of course it has been a major change, moving from the Elitettan to the Women's Super League but also about moving from one country to another. Looking back on my first year in England and Manchester United, I would say it has been a challenging, fun and educational year for me!" Ökvist says.
"I have developed as a person both on and off the pitch but mainly as a football player. The transition from Hammarby to Manchester United has given me the opportunity, for the first time in my career, to be a full-time professional football player. To be able to do what I love the most every day at this level has always been my biggest dream."
Although she is young, Manchester United is the fifth club, that Ökvist has played for in her career. Born and raised in Piteå, in the north of Sweden, it's no surprise that her career started with Piteå IF. Between 2012 and 2015, she was a part of the team that played in the Damallsvenskan. By the way Ökvist speaks about Piteå IF, you can tell that the club has played a significant part in her passion for football:
"Growing up in Piteå has been a privilege. Piteå IF has always had a strong tradition of success within women's football. As a young player in Piteå, we often got to listen and be inspired by the older players. Of course, my dreams and interest in the game only increased further as I got older - especially when I got called up to join the youth national team squads."
"Although I haven't really got one special memory that made me want to become a professional football player, I feel that somewhere in the back of my head that has always been a dream of mine. I started playing at home in the backyard with my brother and the other kids in the neighbourhood and I loved it from the moment I started doing it."
Her way to Manchester United
For the 2016 season, Ökvist signed with long-standing Swedish giants Umeå IK, a team with an impressive track record both in Sweden and out in Europe. The season didn't turn out well for Umeå, and after financial struggles and a number of injuries, they ended up being relegated to the Elitettan. Ökvist moved back to Piteå after playing just half a season with Umeå. She then started the 2017 campaign with Piteå before she ended up in the United States and the NWSL shortly after.
It all started with Ökvist signing with the Boston Breakers in October of 2017 ahead of the 2018 season. However, prior to the beginning of the season, the Boston Breakers folded and Ökvist was selected by the Houston Dash as the 13th pick in the resultant dispersal draft on 7th of March 2018. Two weeks later, Ökvist was traded to the Orlando Pride in exchange for Orlando's third-round pick in the 2019 NWSL College Draft. On the 3rd of July 2018, the Orlando Pride announced that they had released Ökvist, allowing her to pursue opportunities in Europe, leaving Ökvist never having appeared in a game for the Pride.
She ended up signing for Hammarby back in Sweden, which led up to her Manchester United move in 2019. She makes no secret of her satisfaction with her current situation:
"Being a Manchester United player is absolutely amazing. I knew it was a big club, but it wasn't until I got here that I realized just how big it was. I quickly felt 'at home' here. The club and the team have clear goals and a winning mentality. Being a part of the club and the Manchester United brand along with our great fans and supporters feels incredible. It's a true honour to play with the club crest on your chest."
Ökvist, who describes herself as a defender with good crossing and running abilities says that her first year with Manchester United has been about improving on herself physically and on the defensive part of her game. She also explains the difference coming from Elitettan with Hammarby straight into the WSL:
"The football here in England is a bit more intense and physical. Moving from the Elitettan to the WSL made me realise that the tempo in the play is much higher here. Also, since the WSL is a professional league all throughout, teams here have better conditions than in Sweden."
In the near future, several WSL clubs have announced that they are going into training again ahead of the new season. Ökvist is looking forward to it:
"I feel very excited to start a new season with my team. I've learnt a lot this first year with the club and it took me a while to settle but at the end of last season I felt strong and confident. Being called up for my first time with the senior Swedish national team made me even more motivated to become an even better player. I'm looking forward to playing games again, to develop as a player with Manchester United and that we as a team continue this exciting journey that we have started!"