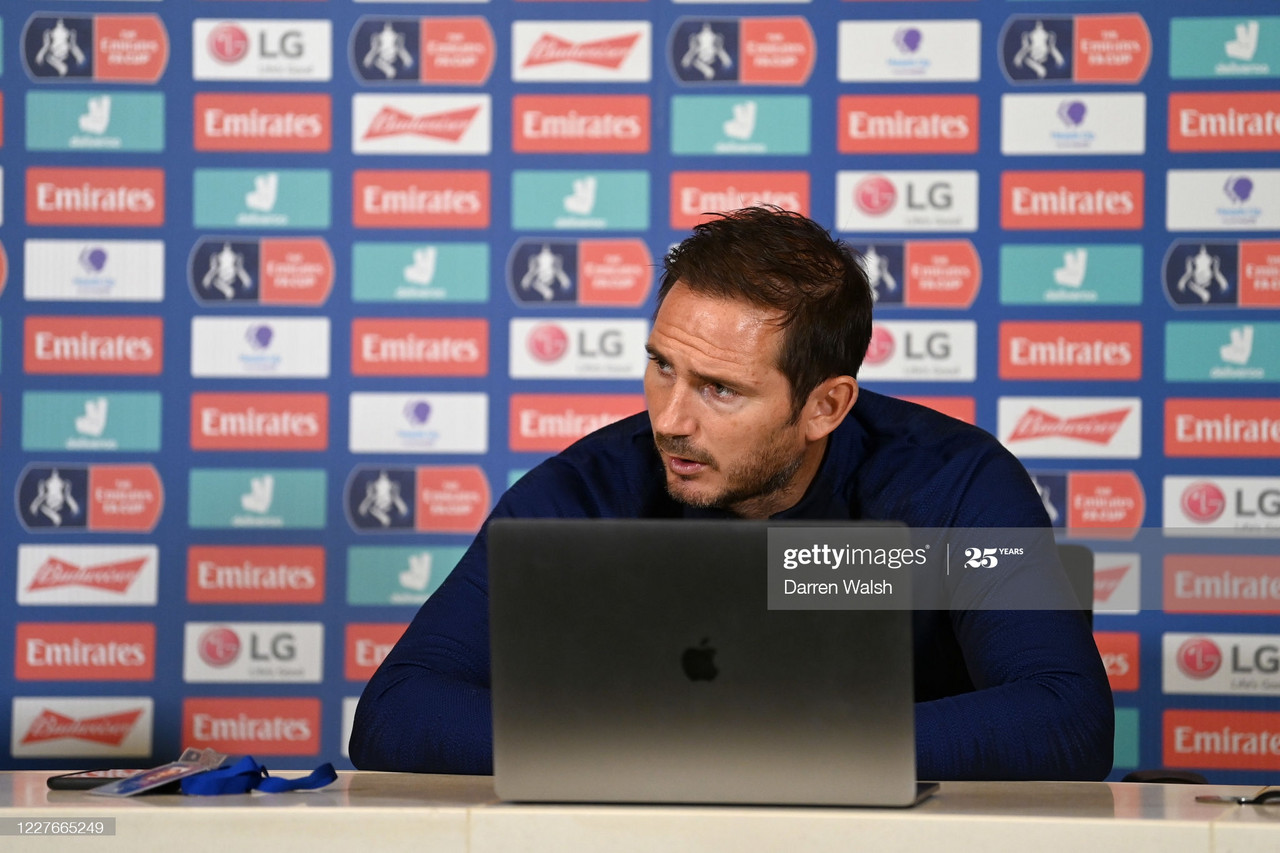 Chelsea face Manchester United in the F.A. Cup on Sunday and Frank Lampard is determined to lead the "club I love" to glory.
The Lampard family has had a successful time in the domestic trophy. Father, Frank senior, won the trophy twice for West Ham. Whereas, uncle Harry Redknapp won the accolade with Portsmouth.
The Chelsea head coach won the F.A. Cup four times for Chelsea. This time he will be on the other side of the touchline at Wembley as his side prepare for the semi-final.
"My absolute focus is this year and what it means for us and what it means for this group of players and the club," said Lampard.
"It has been a tough year where maybe at times people have questioned whether we should push for certain levels.
"We are now at a level in the cup where we are playing a team in fantastic form, and if we were to get through that we would play another team in really good form, and that is the end of where it goes for me in terms of wanting to win: What it means for this club and the group."
Player turned manager
The gaffer touched on his experience in the F.A. Cup, stating: "I was fortunate enough to win it as a player.
"I grew up on it and those wins of my Dad in '75 and '80, so I have a strong feeling about the F.A. Cup, and that has never changed for me as the years have gone by.
"Now I am a manager every cup you're in you want to win. I want to lead this club out to Wembley, even for a semi-final this is a huge game against Manchester United, I will be very proud on Sunday."
Confidence should not be knocked
The form against Manchester United this season has been far from impressive. Chelsea have faced The Red Devils three times this season, losing every encounter. The boss admitted: "We played some good stuff and with more luck, and help from VAR, the outcomes could have been different.
"United counter-attacked us at Old Trafford and to great effect. It was similar at the Bridge, so I won't go short on details. I will not get caught up on this because we need to focus on this game. We respect them as a team, they have good individuals and they are in good form."
Hailing United's attacking threat
Chelsea's opponents on Sunday have had 18 penalties this season. This shows their attacking intent and the struggle that opposing teams have with their pacey forwards.
Lampard touched on this after stating: "They have high quality players and speed. They move the ball quickly so you must stay on your feet, you cannot dive in the box.
"It is an important part of defending at any point. Bruno Fernandes is clear with his movement, against Aston Villa was an example after he won a penalty.
"We can talk about VAR decisions and whether they are right and wrong. If a player is going to stick a leg out then it leaves it open for a penalty, VAR or no VAR."
Chelsea will play either Manchester City or Arsenal if they reach the final. Lampard has had success against both sides this season. Chelsea beat Arsenal at The Emirates and claimed victory over Man City at Stamford Bridge in June.