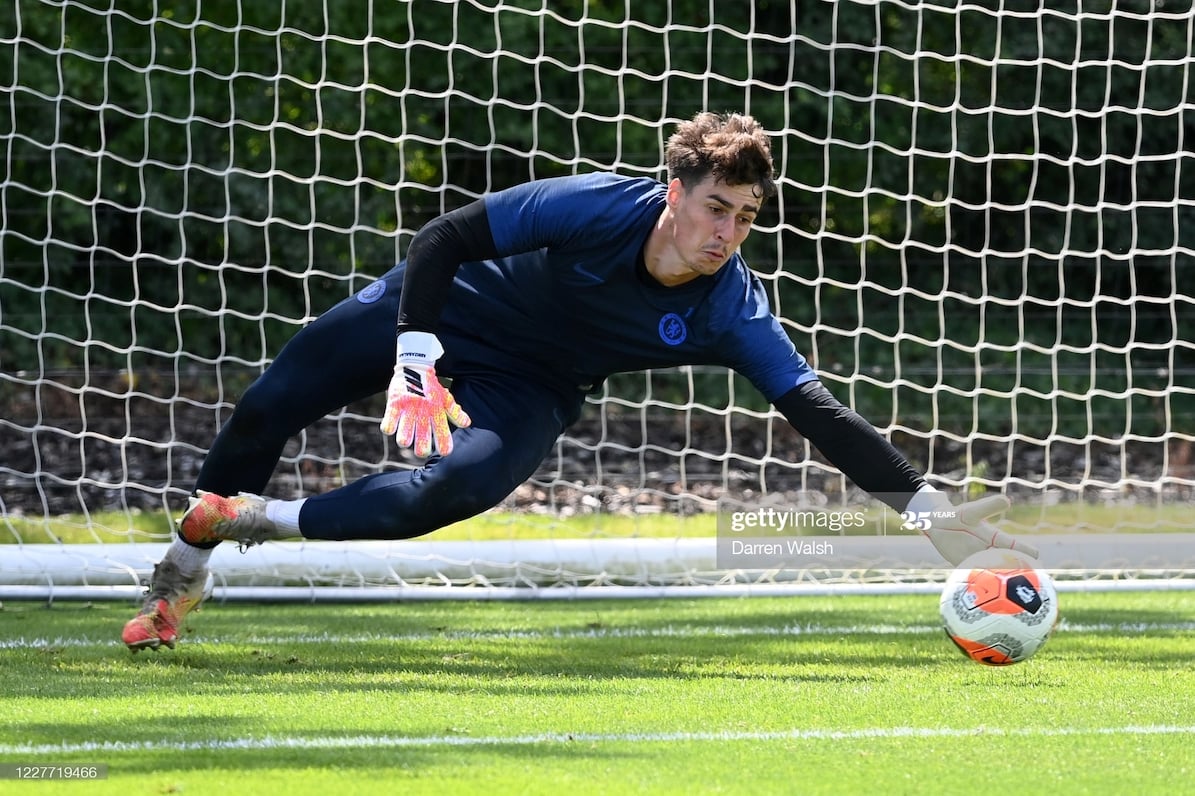 Kepa Arrizabalaga has 95 appearances to date for Chelsea having been recruited by former Chelsea manager, Maurizio Sarri.
The Spaniard was next in line to the goalkeeping throne at Stamford Bridge, following Thibaut Courtois' departure to Real Madrid during the 2018 summer transfer window.
Our Chelsea VAVEL reporter, Niall Jackson, doesn't even believe the topic is up for debate. In his eyes, the Spaniard's time is up. Here, we analyse the 25-year-old's downfall and the options the Blues must explore.
The stats do not lie
The statistics (retrieved from www.premierleague.com) back up the fact that the Spaniard has not lived up to expectation in SW6.
Kepa has kept a clean-sheet every 3.14 appearances in the Premier League for the Blues. Courtois managed a clean slate every 2.74 games in a Chelsea shirt.
The former- Athletic Bilbao man has also only kept 10 clean sheets in 58 appearances so far this season - damning evidence.
Add to this the fact that even his teammates do not seem comfortable with him between the posts, clearly evidenced in last night's tie with newly-crowned Premier League champions, Liverpool.
The ball had been played in from Liverpool's left-hand side in a free-kick situation, with the ball coming close enough to him for the Chelsea goalkeeper to come and collect without any fuss.
Instead what followed was no movement from the Blues number one and a subsequent opportunity for Liverpool's Virgil Van Dijk at the back post. Which if he had scored, would have seen Chelsea concede their sixth goal of the contest - nowhere near good enough for a side competing at the top end of the Premier League.
Disrespect at his core
Cast your minds back to February 24th, 2019, Chelsea played Manchester City in the Carabao Cup Final at Wembley, with 90,000 spectators there to watch a penalty shoot-out victory for the Citizens.
Chelsea's number one was suffering with cramp in extra-time and quite rightly Sarri was making the decision to introduce number two goalkeeper, Willy Caballero, ahead of the approaching penalty shoot-out.
Sarri made it clear and the fourth official put up his board, off no.1 Arrizabalaga, on no. 13 Caballero. Kepa was not having it, making it clear to the Chelsea bench that he was the man for the penalty shoot-out and refusing to leave the pitch.
Eventually Sarri backed down, before throwing a tantrum of his own, much to the amusement of the Manchester City supporters in the national stadium.
The show of disrespect to his manager's decision left a sick taste in the mouth to those watching at Wembley and on the TV that Sunday evening.
Kepa was later fined a week's wages by his club's bosses for ignoring managerial instruction, with him also being dropped for the following league tie, a victory over Mauricio Pochettino's Tottenham Hotspur at Stamford Bridge.
The options
Henderson
For the knowledgeable onlooker, there are two clear options that the Blues must explore this summer.
These options come from two very different areas of Europe, with one man hailing from Manchester and the other currently plying his trade in Madrid.
The man from Manchester United, is of course Sheffield United loanee Dean Henderson. A man who has firmly put his hand up to be England's number one for several years to come, with his accomplished displays for the Blades this season.
There has been rumour of Chelsea already being in contact with Ole Gunnar Solskjaer's side to discuss a deal for the 23 year-old goalkeeper, who has so far kept 13 clean-sheets this campaign.
The fee that is rumoured to be being asked for by United is, according to the Manchester Evening News, somewhere in excess of £30 million - which for a keeper of his clear quality, would be a no-brainer.
Oblak
The other option, and namely the man currently plying his trade in Madrid, is current Atletico Madrid number one goalkeeper, Jan Oblak.
A deal, although more expensive for the Blues, could work out to be the better option for all concerned. It would enable Kepa to return to his native country, in a player plus cash deal.
This player plus cash deal would, however, likely set Chelsea back 75 million pounds before their current number one is even factored in. That is a premium you would expect to pay for a world-class goalkeeper, seemingly in the prime of his career.
Whatever decision Frank Lampard makes this summer in regard to his goalkeeping position, it has to be one that looks at the next five years of football for the Blues; something that the club's Technical Director, Petr Cech, may have some say in.