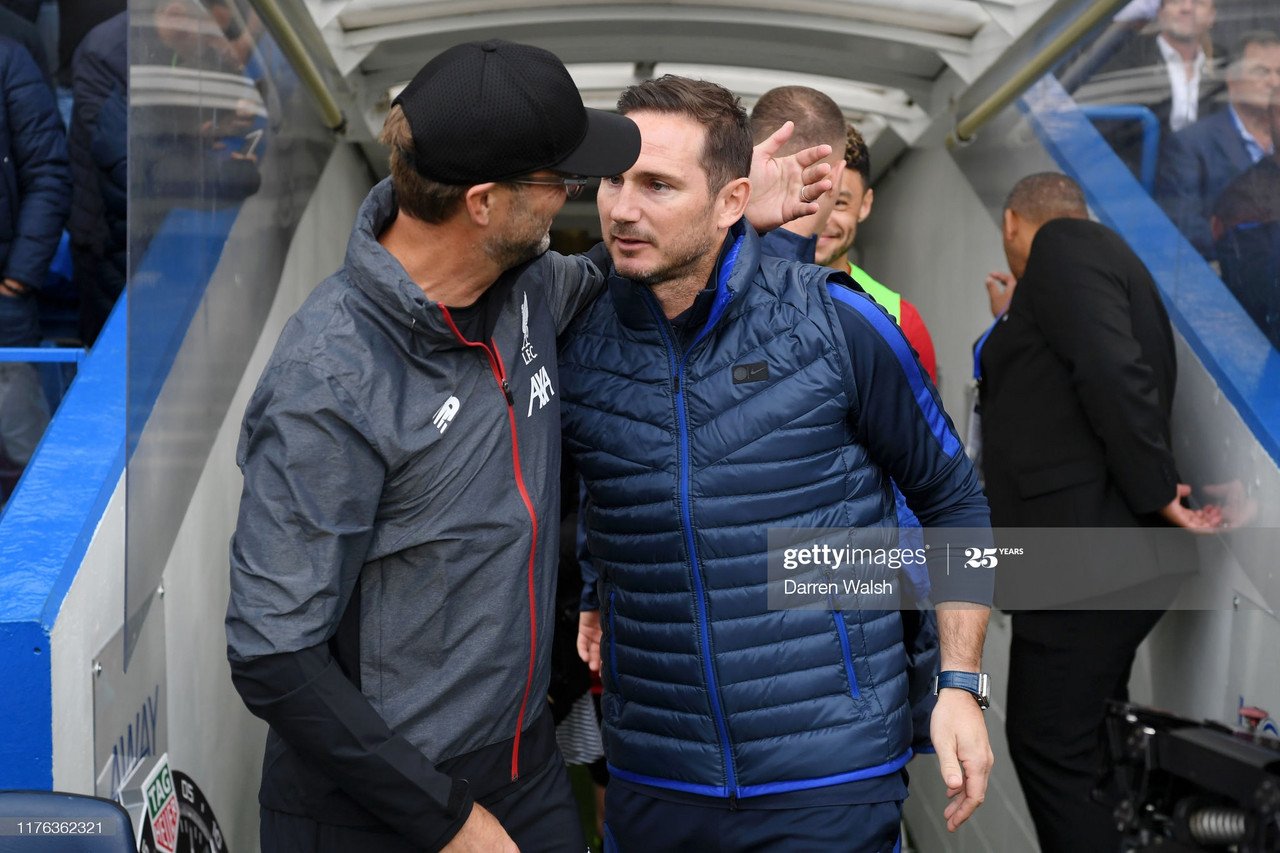 Chelsea play Liverpool on Wednesday night with their quest for Champions League glory nearing its conclusion.
Liverpool may have already wrapped the league title up, but they will not want to lose. The Merseyside club will be lifting the trophy after the game, they will not want a loss on their historic day.
Chelsea will be confident heading up north after the F.A. Cup semi-final win over Manchester United on Sunday. The 3-4-3 formation is likely to be selected after it successfully combatted Ole Gunnar Solskjaer's counterattacking style.
Earlier meetings
Frank Lampard's side have faced Liverpool three times this season. Jurgen Klopp's side won in the UEFA Super Cup on penalties and the Premier League game at Stamford Bridge after the 2-1 victory. Chelsea beat The Reds in the F.A. Cup quarterfinal 2-0.
The West London club have only won one against Liverpool in their past five meetings. The last Premier League win came in 2018 when Olivier Giroud scored the only goal of the game.
Chelsea last won a league game at Anfield six years ago in 2014. Also, in 2014, the infamous Steven Gerrard slip occurred. This remains one of the most famous bouts between the two sides in recent years due to the implications it caused on the top flight title, this was part of the failed attempt to win the league from a Liverpool perspective, who were in pole position for a majority of that season.
Recent form since the restart
Lampard's side have won most of their games since football restarted.
Aston Villa 1-2 Chelsea (PL)
Chelsea 2-1 Manchester City (PL)
Leicester City 0-1 Chelsea (F.A. Cup)
West Ham 3-2 Chelsea (PL)
Chelsea 3-0 Watford (PL)
Crystal Palace 2-3 Chelsea (PL)
Sheffield United 3-0 Chelsea (PL)
Chelsea 1-0 Norwich (PL)
Manchester United 1-3 Chelsea (F.A. Cup)
There have been a few hurdles in the form. The losses to The Hammers and The Blades highlighted areas for improvements but the chance of top four stays in the hands of Chelsea.
Liverpool's form has halted since they were declared Premier League champions for the very first time.
The loss to Manchester City did not mean anything in terms of the table, but it shows how much Liverpool have dropped off their intensity.
Everton 0-0 Liverpool (PL)
Liverpool 4-0 Crystal Palace (PL)
Manchester City 4-0 Liverpool (PL)
Liverpool 2-0 Aston Villa (PL)
Brighton 1-3 Liverpool (PL)
Liverpool 1-1 Burnley (PL)
Arsenal 2-1 Liverpool (PL)
Predicted line up
GK: Kepa Arrizabalaga
RWB: Reece James
CB: Kurt Zouma
CB: Antonio Rudiger
LWB: Marcos Alonso
CM: Jorginho
CM: Matteo Kovacic
LW: Mason Mount
ST: Olivier Giroud
RW: Willian
It is likely that Lampard will match up with the same side that played in the F.A. Cup at the weekend. The pressing style worked, and the 3-4-3 formation prevented the counterattack. Liverpool will come with a similar counterattacking style when Chelsea lose the ball in the final third.
Lampard will have options off the bench too. Christian Pulisic did not start on Sunday due to a minor injury. If he does not make the 11, his impact off the bench could be important.
This game has implications for both sides. If Lampard overcomes Klopp, his side have all but secured Champions League football. Whereas the new champions will not want to lose on their trophy day.