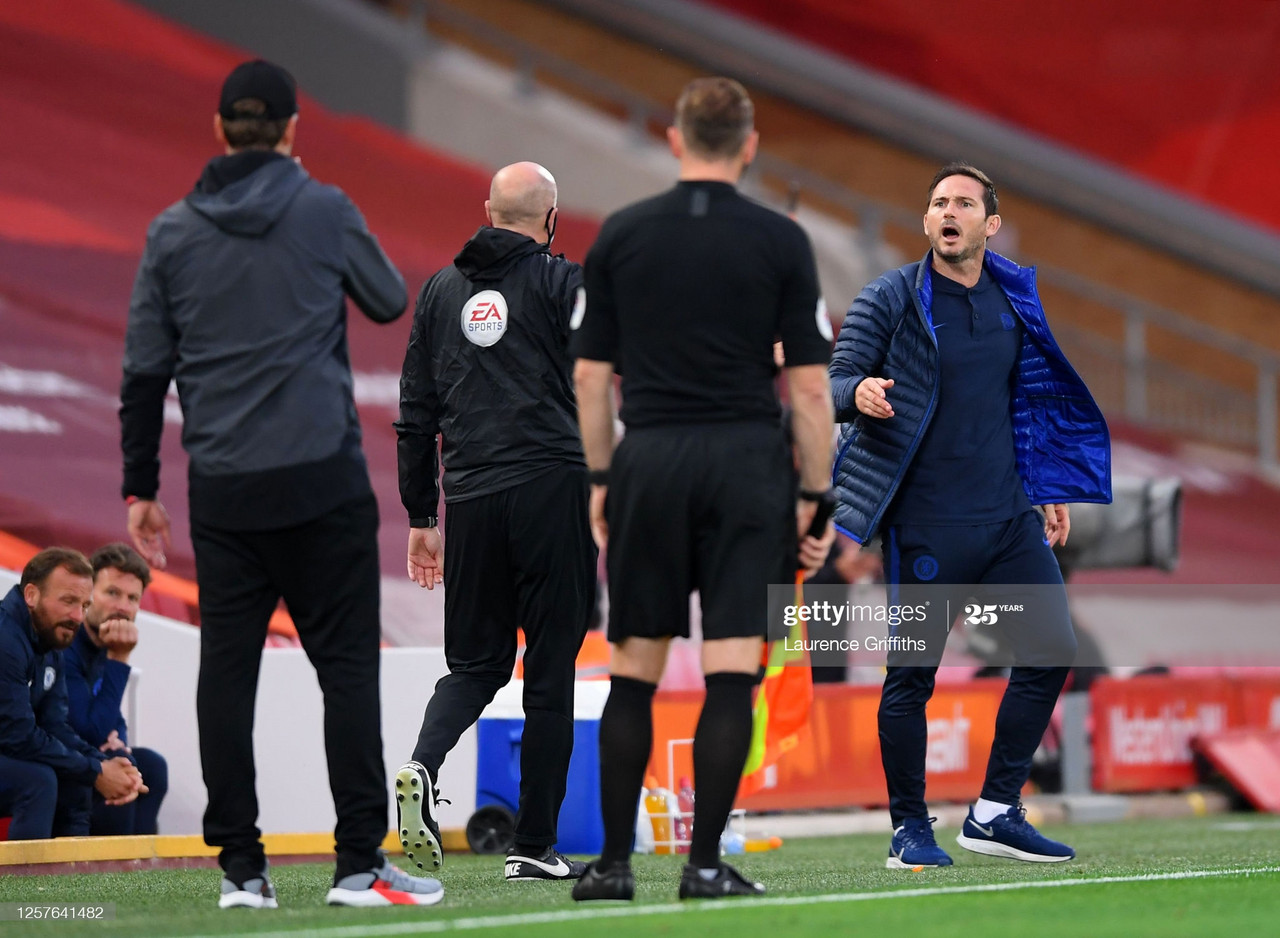 Chelsea lost to Liverpool on Wednesday night, but it was an off the field incident that caught the headlines after the game.
The boss expressed his passion on the touchline after he was left frustrated with a referring decision.
There was some explicit language used from Frank Lampard, he spoken out about the incident that fired up in Merseyside.
'I always defend Chelsea'
In regard to Lampard's exchange of words at Anfield, he said:
"Speaking between managers is now heard more clearly with no fans. A lot of managers will call for decisions to be right or wrong and they speak with each other. When people on the opposing bench want to speak across to myself and grin, then continue to do so for a while, this is past the code.
"I have not contacted Liverpool since the incident, I shook Jurgen Klopp's hand after the game and said well done. I would of easily sat with him, with a beer, and congratulated him on an incredible job.
"I know how hard it is to win the Premier League. It takes a lot of demanding work behind the scenes and their journey over the past five years has been incredible. He deserves everything and it is nothing to do what has happened.
"The incident on the touchline can happen. The microphones, the cameras, it was the full view. As I said before, I regret the language I used but I could not help the passion I felt. It was not a foul.
"I know I should not be swearing but I had an issue with some people on their staff. It was against the code of how it works on the bench.
"I like to think I remain calm a lot of the time. I will always defend Chelsea on the pitch, and this is what happened here. We had a lot on that game to try and get a point, we needed to secure a place in the top four. It was more intent to try and drive us to get a point, which at one point we nearly did."
'I have an edge...'
The boss suggests that if you look deeper into it, all Premier League bosses who have been working in high pressure situations have had similar incidents.
"I admit I have an edge. I would not be able to play for Chelsea for the length I did if I did not have an edge. We were fighting for the Premier League, Champions League, I have seen people around me who also have that edge.
"I simply cannot stand and demand an edge from my players after the Sheffield United defeat and not have that in myself to try and drive the club forward. I understand it is not the right language I used.
"This happens in the game; I have massive respect for Jurgen Klopp and Liverpool Football Club. I applaud them to the highest degree no matter the result. It was just an in-game moment for me.
"In football, arrogance is an important quality to have in terms of how you attack, how you tackle etc. There is always expectation around you.
"If you do not have a level of arrogance and belief in what you do, it can negatively affect the side to the point where you might not be able to do the job.
"And, when you talk about arrogance, there is also respect. What my feeling was is the bench at Liverpool. One person, it was absolutely crossing the line. That became arrogant to me. "
Chelsea host Wolverhampton Wanderers on the final game of the season on Sunday. Lampard's side need just one point to secure Champions League football for next season.