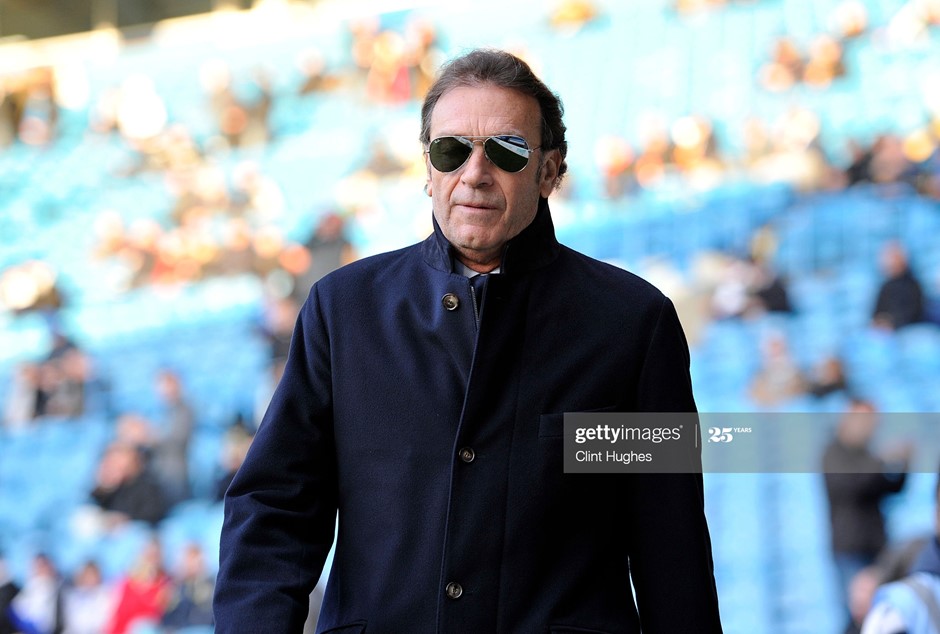 Part One: Living the dream, Bates and play-off despair
Part Two: Administration and League One
2010-11: Back in the Championship
Leeds United returned to the Championship in 2010 much stronger than when they had left it three years earlier, with an exciting young team bringing optimism back to Elland Road under Simon Grayson. Over the course of the season they would surpass the expectations of many, spending half of the season in the play-offs before falling short in the final weeks.
There was plenty of action to thrill, finishing as the league's second-highest scorers despite their top scorer of each of the past three years, Jermaine Beckford, leaving for Everton at the end of his contract. Scottish international Ross McCormack replaced him but would take a year before hitting the goalscoring heights. Familiar names that helped them to promotion took centre stage: Bradley Johnson in midfield, Robert Snodgrass and Max Gradel on the wings, and Jonny Howson playing behind Luciano Becchio in a 4-2-3-1 - with Davide Somma also chipping in with goals.
However, they would be undone by a defence which leaked 70 goals. They released Rui Marques, lost the influence of Michael Doyle in midfield, who was on loan the previous season, and signed Paul Connolly, Alex Bruce and Neill Collins ahead of the season. In goal, Casper Ankergren was replaced by Kasper Schmeichel. The Dane went on to take some of the flak for their record and be sold to Leicester City the following summer - a decision that hindsight wouldn't reflect too well on.
They lost six of their first 13 games and were in the bottom half of the table after a 4-0 loss at Cardiff City. It was not a rare defensive performance, having lost 5-3 away at Barnsley and then 6-4 at home to Preston North End in September, the latter seeing them concede five after leading 4-1. Things were patched up to an extent by the loan additions of George McCartney from Sunderland and Andy O'Brien from Bolton Wanderers, with O'Brien signing permanently in January.
By then, Leeds were in a very different position. They lost only one game between October 25 and February 26, climbing as high as second place at Christmas after a 2-0 win over leaders Queens Park Rangers. The Whites twice threw away two-goal leads, against Leicester on Boxing Day and Portsmouth two days later. Both of which saw them slip behind the league leaders. After taking Arsenal to a replay in the FA Cup third round, issues at the back continued to cost them with 2-2 draws against Portsmouth, Hull City, and Norwich City plus a 3-3 tie at home to Barnsley.
They looked back on track with a 4-1 win over play-off rivals Nottingham Forest at the beginning of April, but stuttered with only two points from the next five games. A 1-0 win over Burnley in the penultimate match kept their faint hopes alive, but they were three points behind sixth-placed Forest with a six-goal swing in goal difference needed. Despairingly, a 2-1 win over champions QPR wouldn't be enough as Forest went on to beat Crystal Palace.
The season progressed with more disquiet around off-field matters. In July 2010, details of United's mysterious ownership were given clarification, if not exactly a ray of light. The club's parent company, Leeds City Holdings Ltd, were revealed to have five shareholders; four of those held 27.15% collectively with none having more than 10% of shares. They were later revealed to be Outram Ventures Ltd, Donald Manasse, Homer Trust and Halton Sports Ltd. The other 72.85% was held by Forward Sports Fund (FSF) Limited, but the three offshore trust funds which owned FSF Limited, that were themselves owned by Chateau Fiduciaire, a Swiss-based trustee, were unknown.
In early 2011, a parliamentary inquiry into football governance took interest in the ownership of Leeds. Chief executive Shaun Harvey gave evidence and saying that neither he, nor to his knowledge Ken Bates, even knew who the shareholders of the trusts that owned FSF Limited were. Harvey claimed he knew only that the owners had appointed Patrick Murrin and Peter Boatman to run the club, and asked Bates to be chairman. Although the Football League were happy with the details they had received about the ownership, the Premier League were indicating that they would want to know more should Leeds be promoted.
It was in this context that, in May 2011, Bates finally became the owner of Leeds United, with FSF Limited being bought outright by Bates' Outro Limited, based in the Caribbean island of Nevis.
Lashing out at what they perceived a "political obsession", Leeds said: "The scaremongering arising out of the football governance inquiry has not been helpful and, whilst the board were always confident that there were no issues, recognise the concern the unknown outcome of any Premier League questions may have on our members... To address this issue and in the hope that this brings an end to the speculation, the chairman, Ken Bates, has completed the purchase of FSF Limited for an undisclosed sum."
However, who the owners had been, why they invested in Leeds, what relation – if any – they had to Bates and others involved in Leeds, and why they would sell – at that moment, specifically to Bates and for how much – would all remain distinctly opaque.
2011-12: A very slow arousal
For most Leeds supporters, of more concern than the ownership structure was why there was so little investment in the playing squad. They were seeing their best stars move on one-by-one: first Fabian Delph and Beckford, then Johnson and Gradel in the summer of 2011, followed by Howson the following January. Grayson had the heart of his team ripped out and he would pay the price with his job.
There was no spending forthcoming in the areas that saw them fall just short the previous year. Instead of an extra player in midfield, both Johnson and Neil Kilkenny declined new deals to depart for free. On top of that, instead of buying reinforcements in defence, two players from the academy made the step up in Tom Lees and Aidy White. Lees was partnered in the middle by Celtic loanee Darren O'Dea.
The fans made their feelings known but Bates was never one for reconciliation. Instead, after the season had begun with back-to-back defeats, he wrote in his programme notes ahead of a match against Hull: "I'm unimpressed by the demonstrations of a few morons on Saturday and ain't going anywhere soon. Some fans may not like me, or agree with me, but you're stuck with me."
With more vivid imagery than one would want to hear from a man then approaching his 80th birthday, he added: "I saved your club in 2005 and 2007 when nobody else would. The rebuilding of Leeds United is a bit like sex. In an age of instant gratification, Leeds United is having a long, drawn-out affair with plenty of foreplay and slow arousal."
Supporters were deriving little pleasure, particularly from a 5-0 home hammering by Blackpool in which goalkeeper Paul Rachubka was hauled off at half-time. United did briefly move as high as fifth but five defeats in a row over Christmas, including a New Year's Eve nightmare at Barnsley, losing 4-1, pushed them down to tenth. When they lost by the same scoreline at home to Birmingham City with Nikola Zigic netting all four goals, the manager was gone.
Grayson's quiet mumblings of financial constraints may have been too loud for Bates, even though the situation was obvious to everyone on the outside. Grayson would later say of the relationship between the pair: "I got on well with him, but you did feel as well like you're let down because you wanted to move forward. I just don't think the club had the money to do it. And did they have the ambition to do it? Probably not."
Neil Redfearn took temporary charge and won twice, including a 99th-minute Becchio winner in a 3-2 derby win over Doncaster Rovers a day after the new boss was announced as Neil Warnock. Warnock, who won the Championship the previous year with QPR but was sacked in January, uttered a phrase familiar to his many clubs over the years on arrival: "I feel I have one big challenge left in me and believe Leeds is a club that should be in the Premier League."
Leeds still had a strong shout of a play-off place when Warnock arrived but even this promotion master looked helpless at such a turbulent club. He would win just three of the 14 remaining matches, losing seven including an astonishing 7-3 defeat to Nottingham Forest in March, and there was little reason for optimism looking to the new campaign.
2012-13: GFH take control
Just as all hope seemed lost for Leeds fans, a potential rescue from the clutches of Bates emerged from halfway across the world. There were always rumours of one party or another looking to get involved in the club, and this intensified in the summer of 2012 with a number of aspiring bidders confirmed to be in talks. As it would turn out, the most serious of these was Gulf Finance House (GFH) Capital, a Middle East-based private equity group.
With Bates continuing to sell the favourites – Snodgrass, who had taken over as skipper from Howson, headed like his predecessor to Norwich for £3m. Becchio then also followed in the following January and fans were anxious to welcome a saviour into their arms. In November 2012, GFH Capital secured a deal for 100% of the club's parent company, Leeds City Holdings Limited, giving them full control of Leeds United for a reported cost of £52m once completed in December.
Anybody hoping shady ownership was now a thing of the past would be mistaken, however. Who was funding the group was a mystery, as were their reasons for taking over, although they had a man up front who certainly had a bond. GFH Capital's deputy CEO, lawyer David Haigh, said: "From a Leeds family myself and a supporter of The Whites since childhood, I know that football is at the very heart of the people of Leeds and the wider community… Let's now march on together, taking the club back to the Premier League as soon as possible."
The biggest unknown was what their intentions with the club were. Parent company GFH at one stage suggested they were looking to sell it on again for a profit, but GFH Capital insisted they only wanted to sell part of it strategically to bring in investment. In line with this came the sale of 10% of the club in March to another mysterious entity from faraway lands, the Bahrain-based International Investment Bank (IIB).
Haigh explained: "The introduction of IIB is in keeping with what have always been our aims for the successful, sustainable and long-term ownership of Leeds. We believe that a consortium of like-minded investors provides the best ownership model for a club which belongs among the elite of English football clubs and global sporting brands."
Amidst all this there was some football going on. Although it was another season best not remembered, in the Championship at least. With a mixed bag of budget signings including Jason Pearce, Paul Green, Paddy Kenny, Luke Varney, Rodolph Austin, El-Hadji-Diouf and new captain Lee Peltier, plus Steve Morison and Stephen Warnock in January, it was a second season of mid-table mediocrity, only briefly flirting with the play-offs. The biggest positive was the emergence of academy full-back Sam Byram, who debuted in the opening game of the season and would go on to sweep up the club awards.
Excitement would generally be reserved for the cup competitions. Beginning with the run to the League Cup quarter-finals, and a 5-1 defeat to Chelsea, after wins at Elland Road over Shrewsbury Town, Oxford United, Everton and Southampton. The FA Cup soon followed, and as result of a replay victory over Birmingham, Leeds hosted Tottenham Hotspur and won 2-1 with Varney and McCormack getting the goals. Premier League champions Manchester City would be a different prospect in the fifth round though, and they were defeated 4-0.
The league form wasn't matching their cup adventures though, and after a third loss on the bounce ended any realistic play-off hopes, Warnock parted company with the club on April 1. He described his spell in charge as "the hardest" of his management career, and told the Daily Mail: "I didn't realise the takeover would take as long as it did – seven months for a takeover… I got on with them very well. They're not really football people but they mean well and I think they're aware of the quality we need now."
His departure allowed Leeds to carefully consider the next appointment, and for the second successive season the choice was the Championship-winning manager of the previous year. Brian McDermott had left his position at Reading the month before and was delighted to get the job, saying to BBC Radio Leeds: "This is probably the only club I would come to at this stage of the season… The most important thing is the fans and we want to do right by them. We want to give them a side that is exciting to watch and first and foremost gets results." The Whites would finish the campaign 13th in the table, separated by seven points from both the play-offs and relegation zone.
The season concluded with significant boardroom changes. Salah Nooruddin, who had been vice-chairman as part of IIB, became the new chairman. Haigh took over day-to-day running of the club as managing director, after Harvey stepped down from the role. Bates had remained as chairman to the end of the season and intended to then become president. However, he too would mysteriously soon step down from that role in July, leaving the club altogether. It was the end of an era – although another era would soon be on the horizon.
2013-14: Massimo's madness begins
Talk of another takeover of Leeds United continued throughout the summer of 2013. GFH were not being taken to warmly by fans and it was becoming clearer by the day that selling the club on was their main intention. Although they did reduce ticket prices, no real investment in the squad came. Scott Wootton and Luke Murphy each signed for £1m and Matt Smith and Noel Hunt brought in on free transfers.
In the autumn, negotiations with English consortium Sport Capital began to gather pace. The deal involved Haigh and Andrew Flowers, the managing director of club shirt sponsors, Enterprise. In November they were granted an exclusive period in which they were helping to fund the club alongside GFH. It was announced in early January that they were close to completing a deal for 75% of the club but the month dragged on and nothing was sealed.
On January 30 it was confirmed that their attempted takeover had collapsed because of a lack of financial backing, but by this point all hell was ready to break loose.
Things were bad enough on the field by January. Leeds fell from play-off contention to 12th in the table, due to a five-match losing run, including an FA Cup exit at Rochdale and a 6-0 derby humiliation at Sheffield Wednesday. After this result, Jamaican international, Austin, who had been appointed captain in the summer, relinquished the armband and McCormack took over.
GFH lay blame squarely at the feet of McDermott, who was told that henceforth he would have to submit a full report to them with his team sheet and strategy 24 hours before each game, as well as a report after each fixture. At the same time as keeping this keen interest in on-field affairs, GFH were pulling funds from the club and attempting to get it off their hands as quickly as possible.
Sport Capital's failure, when "some of the consortium's backers ultimately didn't feel able to deliver the financial backing we had hoped was agreed", in the words of Haigh, was not the end of the road. A week after their Hillsborough humbling, the Whites hosted Leicester on January 18th and among the guests was an Italian businessman by the name of Massimo Cellino.
Fast forward to their next match against Ipswich Town 10 days later, and Cellino was on the verge of acquiring the club. He was so close in fact, that he had already attempted to have Gianluca Festa, a former Middlesbrough defender who had coaching experience at Cellino's other club Cagliari, installed as manager in McDermott's place. The club put a stop to that, but three days later, on January 31, the takeover deal appeared done. So began what would be known as 'Mad Friday', and undoubtedly the craziest weekend in the club's history.
Events began when Cellino received word that a deal had been agreed. This was still far from the green light that meant he was the new owner of Leeds United, but he took it as such and got down to business nonetheless. Having been unimpressed with McDermott in their earlier conversations – Cellino said "we didn't have any choice because he did everything to get fired… He started an argument with everyone" – the manager was promptly fired over the phone by a lawyer he had never spoken to before. Cellino also sacked deputy chief executive Paul Hunt while Haigh, who was out of the country through it all, briefly quit himself before soon changing his mind. He even tried making a signing of his own, with Cagliari midfielder Andrea Tabanelli in Leeds ready to join.
While McDermott was telling BBC Radio Leeds his time was up and saying his goodbyes to the fans, skipper McCormack was doing the rounds defending his boss and criticising the decision. McCormack even went as far as suggesting he would like to move on himself live on Sky Sports News - and this was transfer deadline day. As all this played out, Leeds supporters had descended on Elland Road to protest and to try and find Cellino, obstructing a taxi as it tried to retrieve him from the ground. It was into the early hours before the scene calmed, and the following day would be no less bizarre.
The first day of February saw Leeds host Huddersfield Town in a West Yorkshire derby. Cellino had again wanted Festa installed as manager, and the night before he had even changed the team sheet initially prepared by McDermott, but others at the club managed to stop Festa taking charge for fear of the reaction amidst the dark mood of confusion and anger. Instead assistant manager Nigel Gibbs and academy coach Redfearn led the team and, implausibly in the circumstances, they recorded a 5-1 win, with McCormack netting a hat-trick. But even a smashing of their local rivals was completely overshadowed by the continuing turmoil.
The supporters had made their feelings perfectly clear and people inside the club did likewise as the brakes were finally applied to Cellino on the Saturday morning. Added to the persuasion was the threat from two club sponsors, Enterprise and Flamingo Land, to pull their funds, such was the increasing reputational damage being inflicted by the hour. Cellino was forced to relent and the club announced, during the second half of the Huddersfield match, that McDermott was indeed still the manager after all.
McDermott would explain on the Monday: "I got a phone call from the lawyer Chris Farnell to say my contract was to be terminated, I was to receive a letter, and that was it. I still haven't received it… We came into Saturday, I got a phone call from GFH. I saw the statement that I was back as Leeds manager for the first time on my iPad, which was interesting." Tellingly, when asked if he would be in charge for the next game, he said: "I can't answer if I will be here on Saturday."
That Monday, Festa and Tabanelli, whose signing did not get sanctioned by the Football League, were still at Thorp Arch training ground, but Cellino's games had been halted for now. With the realisation that he was not yet the owner of the club, he would have to wait more than two months, in which time the takeover and the whole future of the club was on the line.
The contracts for the takeover were only exchanged on February 7th with Eleonora Sport Limited, a company owned by the Cellino family, set to purchase 75% of the club. While GFH and its investors, Nooruddin and IIB, kept the other 25%. Nooruddin and Haigh would still remain as chairman and managing director respectively. However, Cellino would still need to pass the Football League's 'fit and proper persons' test. The test barred anyone with unspent convictions for dishonesty offences from having control of a club, and Cellino was set to stand trial in Italy accused of failing to pay €400,000 tax due on a yacht called Nelie.
The Football League waited through March for the outcome before passing judgement on Cellino, and after being handed a €600,000 fine he was confirmed to have failed the test. The Italian was less than pleased at the turn of events, saying: "I didn't try and do anything bad to Leeds, to anyone - I just wanted to do something good. I'm so shocked that I feel like I will jump from the window right now. I feel so ashamed." He duly launched an appeal against his disqualification and things were left on a knife-edge into April, with GFH halting their funding of the club, the players agreeing to defer part of their March wages, and a tax bill to be paid in the coming days as well. If the appeal failed, the club were facing yet another administration.
However, on April 5 an independent QC upheld Cellino's appeal, deciding that the conviction in Italy would not reasonably be considered to be dishonest in the UK, and so he passed the test and was given the all-clear to take over Leeds.The deal, for an undisclosed sum estimated to be between £25m and £35m, was completed on April 8, and two days later the Football League ratified the move and allowed him to become director of the club.
Cellino had a mix of transport metaphors ready to describe the direction the club would now be steered in, telling the Guardian: "We can survive… now I'm driving the bus. Now the bus is ours and we have to run the bus… Leeds is potentially a Ferrari, now it's a Cinquecento. I want to transform Leeds from Highway to Hell to Stairway to Heaven. You are not going to be bored with me." On the last point at least, he was as good as his word.
The consequences of their winter troubles continued to pose further problems. A similar move in February by Flowers' company Enterprise, resulted in £1.5m being repaid. Haigh's Sport Capital issued a winding-up petition which saw the club pay back more than £950,000 from loans. Haigh had resigned – as did Nooruddin - and left the club the day after Cellino completed his takeover, but would face the consequences of his time at the head of his boyhood club for years to come. The former managing director would spend almost two years in a prison in Dubai after being lured to the UAE and convicted of defrauding GFH of more than £3m using false invoices, a charge he was still disputing without success in English courts this year. He has been fighting for change in the Middle Eastern country after alleging he suffered torture when he was locked up.
Back in Leeds, McDermott managed to see out the rest of the season, although he won only four of the final 17 games as the club limped to a 15th-place finish. A parting of ways would be inevitable in the summer as Cellino, who earned the nickname 'Il mangia-allenatori' – the manager-eater – in Italy after churning out 36 managers in his 22 years at Cagliari, ensnared his first victim in England. But of course, McDermott would certainly not be the last.
Part Four: The Cellino era
Part Five: Return to the Premier League