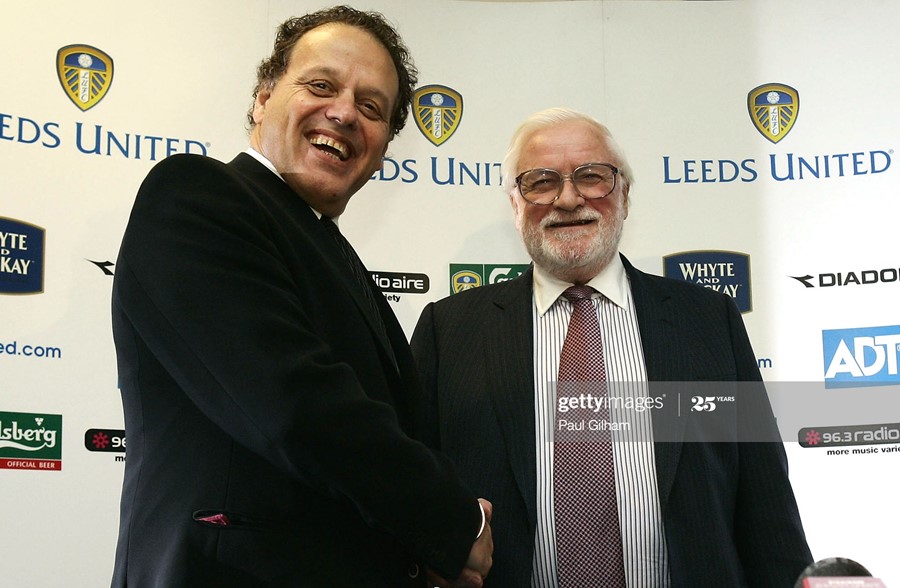 Leeds United have had to wait 16 years to celebrate a return to the Premier League, and they have been 16 very, very long years.
They've had five different owners, including the Monte Carlo tax exile who revelled in his mutual enmity with supporters, the Bahrain investment group with almost no knowledge of football, and the Italian entrepreneur who twice failed the infamously lax 'fit and proper person' test.
They've had 15 different managers, including the man sacked and then reinstated midway through a match the next day, the youth coach whose only previous managerial experience was at Forest Green Rovers, and one of the most influential thinkers in the history of football.
They've suffered play-off heartbreak, relegation, administration, play-off heartbreak, unprecedented mediocrity and more play-off heartbreak.
They've lost to Hereford United, been beaten 3-0 by Swindon Town twice in one season, conceded seven to Nottingham Forest, and been thumped 6-0 in a Yorkshire derby.
They've beaten Manchester United and Tottenham Hotspur in the FA Cup, and been knocked out by Histon and Sutton United.
They say the bad times make the good times sweeter, and Leeds fans have justifiably enjoyed their promotion back to the big time. They've been on one hell of a journey to get there…
Pre-2004: Living the dream
The bigger they are, the harder they fall, as they say. At the turn of the millennium, Leeds United were big. Five consecutive top-five Premier League finishes. Champions League semi-finalists in 2001. Leeds were a powerhouse but it was all built on sand – and it collapsed in spectacular style.
The club was only five years removed from its last league title when local businessman and lifelong fan Peter Ridsdale was appointed as chairman in June 1997, but their fortunes had turned with mid-table finishes in the two preceding seasons. Leeds returned to European football in Ridsdale's first season under the guidance of George Graham, who departed in September 1998 to take over at Tottenham Hotspur. His assistant David O'Leary, an Irishman who finished his playing days at Elland Road after a lengthy career at Arsenal, was appointed as his successor, and so began one of the most thrilling periods in the club's history.
After a fourth-place finish in 1998-99, the following season saw them reach the semi-finals of the UEFA Cup and break into the Champions League. In 2000-01 they embarked on a breathtaking continental run, beating the likes of AC Milan, Lazio and Deportivo La Coruna before losing to Valencia in the last four.
They did so with a swashbuckling side full of pedigree, among them Nigel Martyn, Gary Kelly, Lucas Radebe, Dominic Matteo, David Batty, Olivier Dacourt and Mark Viduka. This was blended with a talented generation from the club's academy, including Jonathan Woodgate, Ian Harte, Paul Robinson and Alan Smith, and exciting prospects bought from elsewhere like Robbie Keane, Harry Kewell, Lee Bowyer, Danny Mills, Eirik Bakke and Rio Ferdinand.
However, when they missed out on Champions League qualification again in 2001 and 2002, both times by only one place, the true cost of their journey was revealed.
In total, almost £100m was spent on transfers in O'Leary's four years as manager. In the summer of 1999 Bakke, Mills, Michael Duberry, Michael Bridges and Darren Huckerby arrived for almost £20m. In summer 2000, Dacourt, Viduka and Matteo were signed for a total of £17.45m. With their Champions League run in full swing they made their biggest statement yet, signing Ferdinand from West Ham United for £18m – still the club's record transfer.
They were not done there. Robbie Keane arrived from Internazionale for £12m in April 2001, and that autumn another £20m was splashed out on Derby County's Seth Johnson and Robbie Fowler from Liverpool. These sums were huge at the time, and far beyond Leeds's spending power.
The problems started with that splurge in 1999. Leeds were taking out loans for the full cost of transfers, to be paid back with high interest rates over the course of the player's contract. After securing a Champions League spot in 2000, the gamble appeared to have paid off, so they went bigger.
As the squad grew, so too did the debt. The club kicked the can down the road, restructuring this debt so that only half would be paid back over the course of a contract, with the other 50% paid in one lump sum at the end. Then, in autumn 2001, Leeds negotiated a huge £60m loan from three lenders, and secured it against the revenue from future season tickets.
Now the club had quite literally gambled its future. It was already in £39m of debt before this new cash rolled in, and the £60m was quickly spent on repaying old debts – not even from these recent deals – along with development of the training ground and the signings of Johnson and Fowler. In a flash it was gone, and when a Champions League place again evaded them in 2002, having been top of the table on New Years' Day, the game was up.
That summer, their net debt stood at £82m. The only option was a fire sale, beginning with the most valuable asset at the club, Ferdinand, who went to Manchester United for £30m. O'Leary was less than pleased at the turn of events and, after making clear he did not want Ferdinand to be sold, Ridsdale sent him on his way. "I went to clear a few things up before I went on holiday and I got the sack," as O'Leary put it at the time. Relations between the pair had been sour for a while, not helped by O'Leary cashing in by writing a book, Leeds United on Trial.
Former England manager Terry Venables took over a squad further decimated as the 2002-03 season went on by the departures of Keane, Bowyer, Woodgate and Fowler. It was the sale of academy product Woodgate in January 2003 that most infuriated supporters, and led to a press conference in which Ridsdale owned up.
"If you are asking me whether we should have invested so heavily, the answer has to be no," he admitted. "We said yes too often and it's a lesson learned. I will take my share of the blame. But we all thought it was right at the time. We were living a dream, going to places like Milan, Barcelona and Madrid, and we wanted to sustain that dream."
Alas not. Ridsdale stepped down as chairman at the end of March, a week after sacking Venables. His replacement, economist Professor John McKenzie, was dismayed at the "irresponsibility and indulgent spending" he discovered, including Ridsdale's £450,000 annual salary, hundreds of thousands of pounds on company cars and private jets, and the infamous £20-a-month on goldfish.
McKenzie set about slashing the £103m debt that Ridsdale had left behind. There was criticism for some of the deals that were done well below market value as he focused on selling as many assets as he could, such as the sale of Kewell to Liverpool for only around £3m, but at last there was some prudence.
Insolvency expert Gerald Krasner led a consortium, Adulant Force Ltd, which took over the club in March 2004, by which point the club was edging towards relegation. Venables's successor, Peter Reid, had been sacked in November after a nightmare start to the season, but Eddie Gray, as caretaker manager to end of the campaign, could not turn things around with a squad that was a skeleton of its previous strength. A 3-3 draw against Charlton Athletic on May 8, 2004 sealed their fate, and they waved goodbye to the Premier League with a defiant Elland Road pitch invasion.
2004-05: Bates saves the day
One banner at Elland Road that day read: "First Division 2005: champions elect". If only things were so simple.
It was always going to be a very different squad in their first season in the newly-renamed Championship, but the scale of the demolition was even more shocking than supporters could have imagined. Out went Viduka, Harte, Robinson, McPhail, Matteo, Mills, Bridges, the retired Batty, Nick Barmby, Jason Wilcox, and even 18-year-old academy prospect James Milner.
Fans were well prepared for the exit of Smith, who had carried United on his shoulders for much of their relegation season, and whom the fans in return had carried off the pitch after that Charlton game. But even here there was a cruel twist; the local lad who embodied the club, who in a Soccer AM interview in 2002 declared the one club he would never join was Manchester United, went and did exactly that, earning a 'Judas' reputation that holds to this day.
The combined sales brought in around £20m but that was no question of that being reinvested in the playing squad. Almost all of the signings were free transfers, as in came Clarke Carlisle, Julian Joachim, Jermaine Wright, Matthew Spring, Paul Butler, Neil Sullivan, Stephen Crainey, Sean Gregan and even the returning Brian Deane, along with Michael Ricketts and Danny Pugh as part of the deals that took Viduka and Smith to Middlesbrough and Man United respectively. The squad would be added to throughout the season by the modest purchases of David Healy, Shaun Derry and Ian Moore, and the out-of-contract Gylfi Einarsson, plus a host of loan additions. In total Leeds used 37 players over the course of the season.
There were few remnants left of the team which had taken Leeds to the Champions League semi-finals just three years earlier. Kelly, Johnson and Bakke remained, the latter two largely because of injury, while captain Radebe was there in spirit if not body with injuries limiting him to three substitute appearances before retirement. They could at least count on the latest batch of talent coming out of the academy, including Scott Carson, Frazer Richardson, Aaron Lennon, Matthew Kilgallon and Simon Johnson.
Leading this squad was Kevin Blackwell, a former goalkeeper who had been assistant manager under Reid and Gray after a lengthy coaching apprenticeship with Neil Warnock. His first management job would be a rocky ride, but he provided mid-table stability with an eventual 14th-place finish, amidst continued uncertainty off the pitch.
Days after Krasner's consortium took over in March 2004, the club had agreed a £15m loan from property developer and former Watford chairman Jack Petchey, secured with Elland Road put up as collateral. Failure to make the repayments would have seen the ground transferred into Petchey's hands, and in autumn 2004 more cash was needed imminently to avoid that scenario. With few valuable players left, the most expensive assets left were the stadium and Thorp Arch training ground.
For both, Leeds secured 'sale and leaseback' deals with Manchester-based property investor Jacob Adler, in which the club continued to lease them while also having buy-back clauses. Thorp Arch was first to go in October for £4.2m, followed by Elland Road for £8m the following month. The arrangements would last for 25 years although, while the stadium's buy-back lasted a quarter of a century and would be activated in 2017, it later emerged that the clause on Thorp Arch lasted only five years and the site remains in Adler's hands to this day.
The sales did not provide respite for long. In December the club defaulted on a £1.2m tax bill, and the threat of being wound up was now very real. Young goalkeeper Carson had to be sold to Liverpool for £1m at the beginning of January 2005 just to pay the players' wages for the previous month. But just when things looked most break, a very unlikely – and highly controversial - saviour arrived.
Ken Bates, by then 73 years old, was living the high life as a tax exile in Monte Carlo after stepping down as Chelsea chairman following Roman Abramovich's takeover in 2003, but the temptation to return to English football was too strong. After failing with a proposed investment in Sheffield Wednesday, he was approached by Sebastian Sainsbury, the great grandson of the supermarket founder, who wanted Bates to provide cash towards his own bid for the club. Bates said no but when the Sainsbury move collapsed, he prepared a direct bid himself.
Bates met with Krasner on the Monday, January 17, and by the end of the week the deal was done, announced in the early hours of the Friday morning, on January 21. Bates, under the guise of Geneva-based company Forward Sports Fund, paid £10m for a 50% stake in the club, but Bates had no shares in this company and therefore had no stake in the club itself. Exactly who did have shares in Forward Sports Fund, and therefore who actually made up the ownership of one of the biggest football clubs in England, would remain a mystery.
Bates was certainly in charge as chairman though, and was faced with around £17m of debt. £4.8m of this was owed to Inland Revenue and in VAT, including the £1.2m that had to be paid straight away to avoid the club being put into receivership. £4.5m was owed to former or outgoing directors, and Bates secured agreements to push this back four years. That left a manageable figure of around £8m, most of which was owed to former players and managers, such as the payouts to O'Leary and Reid.
"A couple of weeks ago Leeds had their head above water gasping for their next breath," said Bates in his first press conference as chairman. "Now they are on the surface swimming against the tide. The next job is to get them swimming with the tide." That meant that, after a distinctly average season on the field, Blackwell would be backed to make a proper promotion charge in 2005-06.
2005-06: Play-off despair
With financial worries finally out of the foreground, the 2005-06 season provided a chance to focus on matters on the field as Blackwell led Leeds closer to promotion than any manager until Marcelo Bielsa.
Not that their issues off the field were a thing of the past mind, with prudence required and some tough decisions to be made. The wage bill, slowly being rid of former players who were still receiving wages from Leeds as part of the desperately-arranged deals that got them out the door, needed reducing further, and that meant selling their latest young star in 18-year-old Lennon, to Tottenham for around £1m.
To bring money in there was also a hike in ticket prices. The result was a fall of more than 6,000 in their average attendance, despite the improved performances, and Elland Road would not be as full as it was in 2004-05 again until the arrival of Andrea Radrizzani in 2017.
Blackwell had the opportunity to make some modest improvements to his squad. Along with Radebe's retirement, Carlisle, Joachim, Spring and both Johnsons were moved on. Rob Hulse was signed permanently after a loan spell, joined up front by Robbie Blake, while midfielder Steve Stone – who would miss the whole season through injury - winger Eddie Lewis, defenders Dan Harding and Rui Marques, and goalkeeper Ian Bennett all strengthened the manager's hand. Midfielder Jonathan Douglas also joined from Blackburn Rovers on a season-long loan, while in August they usurped Sheffield United to the signing of Richard Cresswell from Stoke City, for £1.15m.
They opened with a win against Millwall and also registered impressive victories over Wolves and Norwich City, but consistency eluded them early on. While Healy was finding fame with his winning goal for Northern Ireland against England in World Cup qualifying, it was Hulse that was in form for the Whites, scoring the only goal in a 1-0 win at QPR, a hat-trick in a 3-1 success over Derby County, and further goals in 2-1 wins over Burnley and Southampton.
But after a period of four games without a win it was another meeting with the Saints in November that kick-started their season. Trailing 3-0 with 20 minutes left to go at St Mary's, they launched a remarkable fightback; captain Butler started things off with a header and Blake tapped in before a handball allowed substitute Healy to equalise from the penalty spot. The winner came two minutes later from Liam Miller, a recent arrival on loan from Manchester United who would successfully remain for the rest of the season.
That would start a run of eight wins in 10 games as they climbed up to third place, in pursuit of Warnock's Sheffield United. It was the apprentice chasing down the master and the momentum still appeared to be with Blackwell's men going into the beginning of March, but they could not keep results up in the final stages.
A 1-0 win over Crewe Alexandra was Leeds's only success in the final 10 matches, and a draw with runaway leaders Reading ended their automatic promotion chances. A final-day 2-0 defeat to Preston North End saw them fall to fifth place ahead of a play-off semi-final against the same opponents, for which they were now firmly underdogs. They had scored only three goals in their previous eight games and Blackwell took plenty of criticism for his negative tactics, usually playing a 4-5-1 and prioritising solidity despite the firepower at his disposal.
Nevertheless, a packed Elland Road saw the tie kept on a knife-edge by a 1-1 draw, with a superb Lewis free kick cancelling out David Nugent's opener. Three days later at Deepdale, two goals in five second-half minutes from Hulse and Richardson sent them to the final.
What followed at Cardiff's Millennium Stadium was a dismal showing as Watford, under the charge of former Leeds first-team coach Aidy Boothroyd, overwhelmed them with a direct, intense, high-tempo performance. Jay DeMerit headed Watford in front, an unfortunate Sullivan own goal made it 2-0 and a late Darius Henderson penalty ensured a comprehensive result.
Promotion back to the Premier League would have allowed Leeds, if managed responsibly, to settle their remaining debts and be sustainable once again. Instead, things would go in a very different direction.
Part Two: Administration and League One
Part Three: The end of Bates, GFH and Massimo's madness begins
Part Four: The Cellino era
Part Five: Return to the Premier League