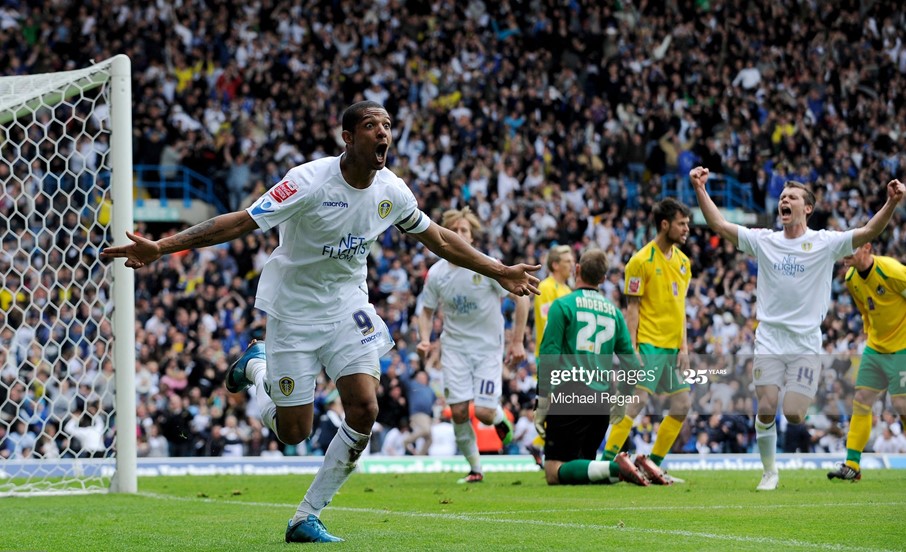 Part One: Living the dream, Bates and play-off despair
2006-07: Relegation and administration
If Leeds United fans were able to forget about one season from the past 16 years, most would probably choose 2006-07. They went into the campaign dreaming of a return to the Premier League having just fallen at the final hurdle, yet Leeds would finish it bottom of the Championship table, relegated to the third tier for the first time in their history, in administration, and facing a dramatic summer with the very survival of the club at stake.
After the play-off final defeat to Watford, both chairman Ken Bates and manager Kevin Blackwell said the aim was to go one better and achieve promotion. By the end of the summer though, Blackwell was well aware of a different reality, telling Bates during a meal at Elland Road two days before the start of the season to expect a relegation battle.
With the club wage bill still bloated by the salaries of some former stars for one more season, and debts still owed, money remained very tight, and this was reflected in the transfer activity. The likes of Danny Pugh and Simon Walton departed along with, most damagingly, striker Rob Hulse to promoted Sheffield United for £2.2m. The incoming moves included the case of David Livermore, the Millwall captain who was signed for £400,000 in mid-July and yet, just two weeks later, was sold again for the same fee. The club quickly decided they were well-stocked on midfielders, having added Luton Town's Kevin Nicholls and Ipswich Town's Ian Westlake in that time, and he was sent off to Hull City.
Blackwell's prediction would prove to be accurate, but it would not be him that engaged in the fight. After an opening eight games which yielded only seven points, putting them 23rd in the table, he was given the sack. It was soon revealed that Bates had dismissed him for 'gross misconduct', avoiding paying him out for the remainder of the three-year contract he had signed six months earlier, which prompted a messy battle between the two in the media and later the courts for more than a year afterwards.
John Carver, who had joined Leeds as first-team coach in the summer 2005 and was promoted to assistant manager a year later, now stepped in as caretaker and won his first game, against Birmingham City, but would lose the next four. David Geddis also took charge of their League Cup exit at the hands of Southend United, which was watched in front of the new appointment.
Bates went for old acquaintances in Swindon Town manager Dennis Wise and his assistant Gus Poyet, both players at Chelsea under the chairman's charge. Wise, whose son Bates is even the godfather of, said at his unveiling:
"I've told the players I want them to be a bit like the Leeds of before, who were horrible. I've explained that I want a bit of that nastiness and togetherness."
Things were indeed horrible, but not in the way Wise intended.
He did win his first game, another clash with Southend, but they were brought down to earth with a 4-1 defeat at Preston North End and lost to Barnsley a few days later too. In the meantime the new man was making his impression, stripping Paul Butler of the captaincy in favour of Nicholls, signing Barnet striker Tresor Kandol, and bringing in defenders Matt Heath and Ugo Ehiogu on loan, the former being made permanent in January.
After picking up just two points from six games in December, more action was required. Butler and goalkeeper Neil Sullivan were sent out on loan, while Sean Gregan was sold to Oldham Athletic and Matthew Kilgallon to Sheff Utd. Casper Ankergren was signed from Brondby as the new number one, and was joined by Sunderland defender Robbie Elliott, former Chelsea star Tore Andre Flo, Celtic's Alan Thompson, and Armando Sa from Espanyol.
Things showed little sign of improvement as Leeds slipped to the bottom of the table, and matters were not helped by other events. In February, there was a bizarre episode when the club said that one of its players had leaked their line-up to the opposition ahead of a defeat to Crystal Palace. And in March, skipper Nicholls asked to leave to instead help out his former side Luton in the relegation scrap, a request which was furiously refused. He was stripped of the captaincy and never played for the club again, with Wise saying:
"I wasn't interested at all in letting him go but he has made his mind up. He feels he made a mistake joining us… I'm very disappointed in him."
Despite all this, there was still hope. After a win over Luton and two further draws, David Healy's late winner against Preston lifted them off the bottom on the final day of March. The following week Lubo Michalik, one on 17 loanees to join over the course of the season, headed another dramatic Elland Road winner to beat Plymouth Argyle and move Leeds out of the relegation zone.
It was not to last. Two days later they were the victims of a late turnaround as they lost at Colchester United and, despite a win over Burnley, the situation was dire after a loss at Southampton. Relegation was all but confirmed on the penultimate weekend of the season as a home draw with Ipswich left them three points behind Hull, with a vastly inferior goal difference.
That was when Bates, ever the opportunist, made a dramatic move. Relegation to League One posed a huge threat to an already-dire financial situation and Bates considered administration the inevitable result as the only way to sort out the club's debts, which were around £35m. A £10m injection was needed imminently to continue trading, and HMRC had issued a winding-up petition with almost £7m in unpaid tax bills, to be paid by June to avoid potential liquidation. Because entering administration before the end of the season would have meant the 10-point penalty applying to that campaign rather than the next, a loophole since closed, Bates put the club into administration on May 4, two days before the end of the season.
KPMG were appointed as the administrators, with Bates's forming a new company, Leeds United Football Club Ltd, to re-purchase the club through Forward Sports Fund. He was in typically uncompromising mood as he appealed for investors, saying: "People in Leeds tell me they need a successful club. Well they need to get off their backsides and come and support the club. Show us your money… When we're back where we belong, we'll remember the people who did support us and those who didn't support us. Revenge will be a dish best eaten cold."
As the season finished with defeat at Derby County, Leeds headed for uncertain waters. Antipathy towards Bates was at an all-time high and he would not have things all his own way in a tense summer.
2007-08: Bates tightens his grip
Bates's intentions as Leeds were placed into administration in May appeared to be as follows: re-purchase the club with Forward Sports Fund through a new company, Leeds United Football Club Ltd; draw up a Company Voluntary Arrangement (CVA), the mechanism – mandatory for Football League clubs to exit administration - which enables a company to settle debts if 75% of creditors agree, on terms as miserly towards the creditors as possible; and in doing so slash the club's debts at a stroke and provide a more secure future.
Things did not go so smoothly. The offer that Bates put forward to non-football creditors was a paltry 1p in the pound - paying 1% of the debt owed – and HMRC, quite reasonably unwilling to see the public purse lose out on £6.8m, were not best pleased. The other challenge for Bates was the presence of other interested bidders, who were prepared to give the creditors a better offer.
However, Bates had a trick up his sleeve. More than 25% of the debt was owed to Astor Investment Holdings, a British Virgin Islands-registered company which was owed £12m from a loan to the club between 2005 and 2006. With 75% of creditors required to agree to a CVA, Astor effectively had a veto on any deal. Astor were fully behind Bates, for reasons which would become a little clearer over time. Leeds's 2006 accounts showed that Astor had an interest in Forward Sports Fund, although in 2007 the administrators said they could find no current link between the two. However, in January 2009 it was revealed that Forward Sports Fund were originally owned and formed by Astor. The exact circumstances of the loan remain unknown but the consequences in the summer of 2007 are clear – Bates had the advantage.
On June 1, six bids were put to creditors. The Bates bid received marginally over 75%, despite HMRC, the Football League and former manager Blackwell being among the creditors to vote against. Creditors had 28 days to indicate that they would dispute the CVA in court, however, in which time the club would remain in administration. HMRC finally did this on July 3, despite Bates upping his offer to 7p in the pound in a desperate attempt to avoid a legal challenge the day before.
KPMG responded to this twist by scrapping the CVA altogether, putting the club back on the market with a July 9 deadline. This time four bids came in, with Bates announced as the successful bidder on July 10. Again, Astor provided a helping hand, agreeing to waive its right to a dividend from the sale, which increased the percentage that would be paid to each of the other creditors. KPMG released the details of the final deal, showing that each creditor would now receive 11.2p in the pound, plus another 41.7p in the pound if the club were promoted to the Premier League in the next 10 years. Bates would later hail: "We now have a Club with no debt, the last legacy of the Ridsdale era is behind us."
However, the Football League threw a spanner in the works. They insisted that Leeds could only leave administration through a CVA, and would not allow the club's 'golden share' – the share in the Football League that allows a club to participate in its competitions – to be transferred to Leeds United Football Club Ltd without it. KMPG insisted this wouldn't be possible and on August 3 the Football League finally relented, allowing the club to start the League One season just a week before it began. They were not out of the woods though because, as the Football League said that this had contravened their Insolvency Policy, Leeds would face a 15-point deduction. An appeal to this penalty was rejected two days before the season opener, and the wrangling over it would continue throughout the season with no success.
To say it was not the ideal preparation to the 2007-08 season for Wise would be quite the understatement, and the manager said of the points deduction: "Not only have they taken my arms and legs off, now they've cut my balls off as well."
With not only the club's ownership and finances but their very place in League One uncertain, no deals could be done until just a few days before the opening game at Tranmere Rovers. Much of the team that finished the previous season had gone, including strikers Healy, Blake and Richard Cresswell for around £2m altogether, while 17-year-old Danny Rose was lost to Tottenham Hotspur for around £1m.
Ankergren, Heath and Thompson were signed on a permanent basis, the latter also becoming captain, and they were joined by defenders Andrew Hughes and Paul Huntington, plus midfielder David Prutton. Two young central midfielders, Neil Kilkenny and Bradley Johnson, later arrived in January, as did centre-back Michalik.
Despite the obstacles, Leeds made a remarkable start. Their 15-point deduction had been wiped out after five games, they were out of the relegation zone after six, and they were in the top half after just 10. Only four points were dropped in the first 13 games, putting them in the play-offs before their first defeat at the hands of Carlisle United.
By then they had taken a hit with the departure of Poyet, who left at the end of October to take up the assistant manager role at Spurs. A far bigger surprise was to come in January though, when Wise suddenly resigned to become an executive director at Newcastle United. A day later former captain Gary McAllister, who was part of Leeds's title-winning team in 1992, was appointed as his replacement.
McAllister would fail to win any of his first four matches in charge, but their form picked up again towards the end of the season and they finished in fifth place thanks to six wins from their final seven games. Without the points deduction they would have comfortably finished in second place, but the failure of a final appeal two days before the season's conclusion meant they would have to navigate the play-offs instead.
The semi-finals brough a sizeable challenge from Carlisle, who led 2-0 at Elland Road before Dougie Freedman's late goal gave them some hope ahead of the second leg at Brunton Park. Jonny Howson was the hero in Cumbria, levelling the tie early in the match and then striking a 90th-minute winner to send Leeds to Wembley.
There they faced Doncaster Rovers in a Yorkshire derby between clubs with very different pedigree: Leeds in their first ever season outside the top two divisions, against Doncaster aiming to reach the second tier for the first time in over 50 years. As Leeds fans had realised by then, pedigree counts for very little, and like in their Championship play-off final two years previously they were outplayed and could have no complaints to be on the losing side. James Hayter's second-half header ensured a 1-0 defeat and a second season in League One.
Although they had fallen at the final hurdle, there were positives to be taken from the season. A settled side was beginning to be formed after years of upheaval, led by the 20 goals of Jermaine Beckford. His signing in March 2006 from Wealdstone was little-heralded at the time, but handed the responsibility up front in League One he was proving himself to be a great finisher. With academy product Howson in midfield alongside Johnson, the young team that would eventually get Leeds climbing again was beginning to take shape.
2008-09: Falling short again
The 2007-08 season was the first since their dramatic collapse that Leeds recorded a profit in, earning over £4.5m. With finances turning around at last and the club debt-free, they were in a position to strengthen their squad in the summer rather than sell off all their best players.
Among the most successful arrivals would be 21-year-old Livingston winger Robert Snodgrass, while Argentine striker Luciano Becchio joined from Malaga after impressing on trial. Swansea City midfielder Andy Robinson and Leicester City defender Alan Sheehan also signed but more important would be the players to emerge over the season: academy star Fabian Delph would enjoy his breakthrough campaign, Johnson showed his potential in the latter stages, and left-back Ben Parker impressed but would subsequently see his career hampered by injuries.
There was also a new captain with the armband being passed on to Frazer Richardson, a youth product who provided the only remaining link to the glory days having made his senior debut against Hapoel Tel Aviv in the 2002-03 UEFA Cup.
Things began well for McAllister's side, losing only one of their opening eight games and sitting in second place at the beginning of November after a win at Cheltenham Town. But a derby loss at home to Huddersfield Town followed and, after beating Hartlepool United and winning an FA Cup replay at Northampton Town, things took a very dramatic turn for the worst with five consecutive defeats.
The most infamous was in the FA Cup second round. Leeds were drawn away to part-time Histon, flying high in the Conference, and the buckets raining down on the pitch provided the backdrop for one of the most miserable days in Leeds's history. Postman Matthew Langston headed in the winning goal and, eight years after getting results at the San Siro and Stadio Olimpico, they had been beaten at a Cambridgeshire village team.
After the fifth loss on the bounce, 3-1 at Milton Keynes Dons, McAllister said to BBC Radio Leeds: "I feel I am letting the fans down. The city of Leeds deserves better." Bates was of a similar view, and sacked his manager the following day. His replacement was Simon Grayson, a Leeds fan and former player who resigned from Blackpool, where he had secured promotion to the Championship, to try and do the same with his boyhood club.
He took over a team in ninth and they were still outside the play-offs after a mixed opening 10 games in charge, coinciding with a January window which saw Richard Naylor join his hometown team from Ipswich. Naylor would captain the side for the rest of the season following a Richardson injury, partnering either Rui Marques or Reading loanee Sam Sodje as Grayson patched up their previous defensive frailties.
Having made his impression, Grayson saw his side finish the season with 11 wins and just one defeat - away at leaders Leicester - in their final 15 games. They were playing to their full potential and were strong favourites heading into the play-offs, and yet they would lose out in the end-of-season lottery for a second season running.
They faced a hostile tie with Millwall in the semi-finals, and lost the first leg 1-0 with Neil Harris scoring the only goal at The Den. Leeds still fancied their chances in the reverse having recorded 11 consecutive home wins, and were on course when Becchio converted a Parker cross shortly after Beckford saw a penalty saved. But with 17 minutes left, Jimmy Abdou equalised, and Millwall held on to make the final and leave Leeds stranded in League One for a third season.
2009-10: On the rise
Despite another disappointment, there was a feeling in the summer of 2009 that Leeds now had the right ingredients. With a young, hungry manager leading a squad with the same characteristics, everything pointed towards a real push for automatic promotion this time.
Grayson lost Delph to Aston Villa for £6m plus add-ons while Richardson and Jonathan Douglas were released, but he made a number of additions including defenders Patrick Kisnorbo, Leigh Bromby and Jason Crowe, goalkeeper Shane Higgs, and midfielder Michael Doyle on loan. After the play-off defeat, the manager said:
"Consistency will be the key… I want them to produce performances on a regular basis and be the consistent team that goes 10 or 20 games unbeaten and is the one to be shot at up at the top." It would be an accurate prediction of the first half of the season.
Leeds made the best start to a campaign in their history, winning eight games in a row in all competitions. That included six in a row in League One and they would only lose once before New Year, at the hands of familiar nemeses Millwall, while they progressed to the third round of the League Cup only for David Ngog to score the winning goal for Liverpool in a tight contest at a packed Elland Road.
As they turned into a new decade, they were eight points clear at the top of the table with a game in-hand, and things could hardly be going better ahead of another plum tie, in the FA Cup at Manchester United. In the backyard of the club that they consider their greatest rivals, Leeds pulled off their most memorable result in these 16 long years.
It had been an unsettled time for Beckford, who wanted to move on with his contract coming to an end that summer. Having failed to secure a move in the previous window he handed in another transfer request in January, but he was unquestionably Leeds's hero for the day as his first-half goal put them in front against the Premier League champions. From there it was backs to the wall but the defence and goalkeeper Ankergren held out against the likes of Dimitar Berbatov and Wayne Rooney, and they were deserving winners. It was the only time Sir Alex Ferguson was ever beaten by a lower-league team in the competition.
Beckford would stay for the remainder of the season, finishing with 31 goals alongside the 17 of strike partner Becchio, but Leeds would not wrap things up the easy way. If ever there was a case of a 'hangover' from a big result, this was it; they would win only three more league games before April. And although they produced another big performance in the FA Cup fourth round against Tottenham Hotspur, taking them to an Elland Road replay before losing 3-1, they missed out on a Wembley trip by losing on penalties to Carlisle in the Football League Trophy's northern final.
Four consecutive defeats saw United slump all the way down to fourth on April 3, an astonishing fall from what seemed an inevitable title win. Instead it would be a scrap to the finish, and after winning three in a row but suffering defeats to Gillingham and Charlton Athletic, they went into the final match of the season at home to Bristol Rovers needing a win to secure second place and promotion.
As with the season as a whole, Leeds would not do things the easy way. Max Gradel, a mid-season addition from Leicester, was red carded in the first half for a stamp and had to be dragged from the field by his team-mates, who were truly up against it when Darryl Duffy gave the visitors the lead shortly after the break. But, a goal down and a man down, they found the resolve to fight back, with Howson curling in a stunner and Beckford – picked as captain in his final appearance - smashing in the goal that put them back in the Championship.
On a recent watchalong of the game, Beckford explained why the "surreal" goal meant so much: "The first week that I was a Leeds United player in 2006, I became a fan of Leeds United, because I saw the passion that every one of the fans had, and how much it meant to everyone who worked for and were associated with Leeds United. You can't help but become one of them. I was playing but I was a fan."
Having swamped the Elland Road pitch twice after relegations, this time the supporters could do so in delight. After years of misery, Leeds were on the up again.
Part Three: The end of Bates, GFH and Massimo's madness begins
Part Four: The Cellino era
Part Five: Return to the Premier League