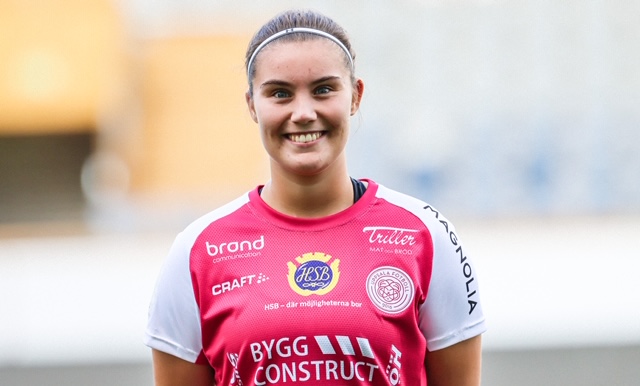 In December 2018 Icelandic international defender Anna Rakel Pétursdóttir signed a two-year professional contract with Linköpings FC in Sweden.
"My dream has always been to play professionally and I even said to my parents when I was four or five years old that I wanted to play in Sweden so when I got the chance I didn't hesitate for one second." Péturdóttir says.
Ahead of the 2020 campaign in the Swedish top flight, she agreed to a transfer to newly-promoted side IK Uppsala with whom she signed a one-year contract. Although the Icelandic defender is only 21-years-old herself, she is one of the most experienced players within her current team.
"There are only a couple of us that have been playing in the Damallsvenskan before. Our team is young and many of my teammates made their debut in the Damallsvenskan this year, and you could tell ahead of our first game that everyone was excited and looking forward to the season to start. Six rounds in, I think we have managed well." Pétursdóttir says.
Only one team outside Reykjavik
Pétursdóttir is born and raised in a small town in Iceland, Akureyri, where she started her football career. Before her move to Sweden, she played for her local team Þór/KA for four seasons in the highest division in her home country.

The fact that Þór/KA was the only team out of ten in the league, that not was located in the capital Reykjavik, made the young defender grab the chance to go to Sweden when she got the opportunity 2018.
"Iceland is not a big country, but there are many of us that play football. But I think, with us being a small country, makes us mentally strong and we fight together" Pétursdóttir says when we talk about the status of the Icelandic national team in Europe.
Pétursdóttir made her senior debut for Iceland three years ago, and she says that there is a good mix between young and talented players with older and more experienced ones:
"It's good for us who are younger that we have players who we can learn from. I want to see how far I can go, so I'll keep working to improve my game and develop myself to be the best I can."
IK Uppsala has already established themselves in the Damallsvenskan and has made sure that the other teams should not underrate them as an opponent. They won their opening game vs Djurgårdens IF with 3-2 and then they took a stabile victory against the other newcomer Umeå IK with 3-0.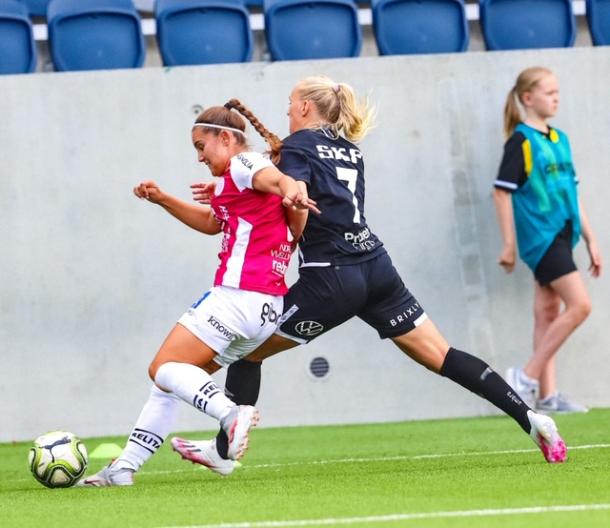 Pétursdóttir in a battle with Swedish international and Göteborg FC striker Stina Blackstenius ​​
"It feels good so far. We have started off well. I think we have surprised many of the other teams. We have a strong will and want to win every game. We fight hard, and we want to do better for every game we play. One thing is sure; we definitely belong in the Damallsvenskan!" Pétursdóttir says.
During preseason and the six rounds since, Sweden has had a disturbingly high number of ACL injuries among players, with a total amount of thirteen. Despite that, Petursdottir doesn't seem to worry about being injured herself:
"You can't walk around and be scared to get injured every time you enter the pitch. You have to enjoy every moment and every chance you get to play football.
"I know this is a hard and tough situation for all of us; coaches, players and the medical staff around us. We all have to find the balance and the right way to train and take care of ourselves in between games."