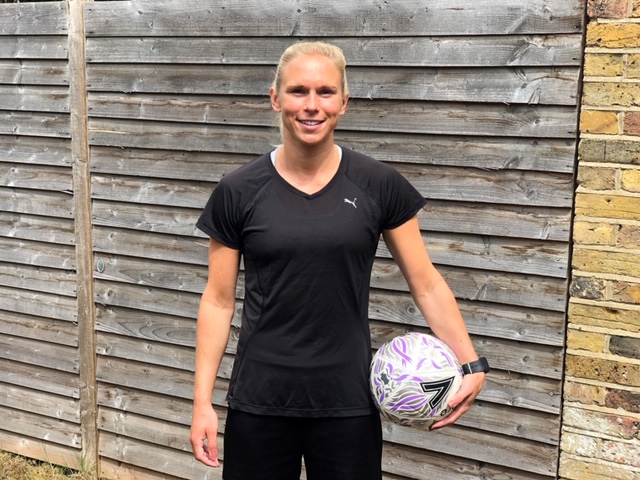 It's the 5th of November 2016. A foggy and chilly afternoon, rain is threatening to fall down from the sky - quite typical for Sweden at this time of the year. Linköpings FC are hosting Eskilstuna United in the last round of the Damallsvenskan. The hosts have the lead, 3-0, when Linköping's midfielder Fridolina Rolfö in the 41' minute of the game whips a perfect cross from the right hand side of the pitch in to the left hand side of the box where an unmarked Jonna Andersson takes it down perfectly and scores. It's a beautiful goal and one that many would have loved to see. Eskilstuna, now down 4-0, don't seem to know what hit them and where on earth did the Linköping defender show up from - out of nowhere?
Four years later, and if you have had the honor to see Jonna Andersson in action, you now know that showing up from nowhere wasn't just a one-time thing. Today, that's something that characterizes the Chelsea defender quite well.
Meet Jonna Andersson, a 27-year-old Swedish defender from a small town called Mjölby, just outside Linköping. Andersson describes herself as an offensive and loyal football player with good running ability and she already has several titles and qualifications on her resume. Playing with Linköpings FC since 2009 before she joined the Blues in London at the end of 2017, she won three Swedish league titles in 2009, 2016 and 2017.
The first one came from an outstanding season where Linköpings FC managed to go through the Damallsvenskan completely unbeaten. Chelsea's 2019/20 Women's Super League campaign, even though it ended early due to the coronavirus, was also like that; the Blues ended up top of the league winning the title; unbeaten. The thing is, Jonna Andersson herself, never dreamt about being a professional footballer. It just happened:
"Actually that's true. But I think that's because I never dared or let myself think about being a professional. For me the most important thing has been about patience and taking things slowly. I had the opportunity to establish myself as a player in Linköping, starting at the bench, ending up as a regular starter. I can't tell when I really started to believe that a professional career could be in reach, but when I started to get more and more minutes out on the pitch with Linköping, my confidence started to grow on me, which helped me to believe in my abilities." Andersson says.
"I got a lot of tips and ideas from my dad when I was younger which involved things that he suggested for me to train on to develop as a player. Unfortunately, I didn't listen to him enough when he told me to practice on small details, which I sometimes, thinking back about it today, wish I had done. We had a lot of great discussions about my football and my development during my younger years."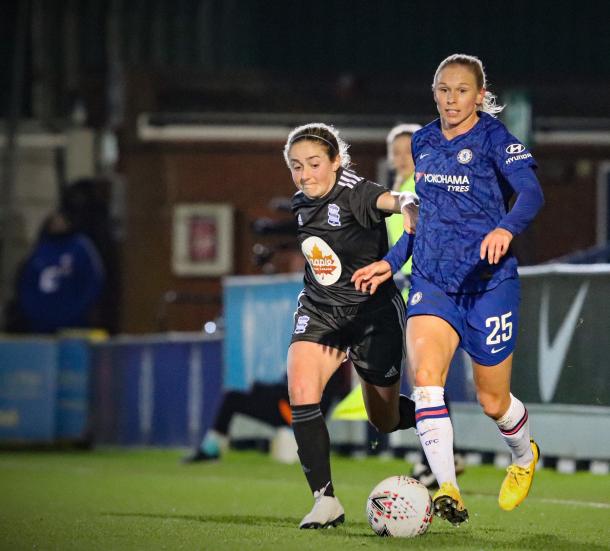 The Blues' had already shown their interest in 2016, but back then, Andersson felt like she wasn't ready to move her career abroad. Today, looking at it as a spectator from the sidelines, it's hard to see what made her doubt that. Early on after joining Chelsea, she cemented her spot in team's starting formation, playing alongside Swedish national team colleague Magdalena Eriksson, who she also played with at Linköping. The pair have already formed a strong part of the Sweden national team's defence and it would be no surprise continued for the national team in the future:
"I chose to wait to move abroad when Chelsea came with the offer the first time around. I didn't feel quite ready back then but I also really wanted to finish my contract with Linköping. Looking back on it now, turning down that offer, I realize that I could've missed the chance to play abroad completely, but I had to be honest with myself; personally I wasn't ready for it."
"One year later and with a lot more confidence I accepted Chelsea's second offer and I haven't regretted it for a second. I feel that I have made good decisions so far on my journey. Challenges are very important, but for me, it is also very important to feel safe and secure about myself and my life outside football for it to work so I can perform at my highest level." Andersson explains.
It should be no surprise that every professional football player has created their own way to success. However, they all seem to have the same motivation to put in all the hard work that being a footballer for the best clubs in the world demands of them and that is their want to win titles, their will to improve, get stronger and to train and play with the best footballers in the world. With Chelsea's stated ambitions to win every competition they're in and with them now being back in the UEFA Women's Champions League it's quite obvious what Andersson is striving for in the near future:
"The best part about being a Chelsea player is our supporters and our fans! I think we have the best supporters in the league, no doubt about that. And that I have the opportunity to train and play with some of the world's greatest players every single day. It's the best possible environment for me to be in at the moment and it's challenging me every day to help me improve my own game. To succeed in winning titles and to achieve the goals you make is just inspiring me more and more to work even harder. It's no secret that we're aiming high for the upcoming season. My dream would come true if I get to win not just the league but also the Champions League with Chelsea!" Andersson says.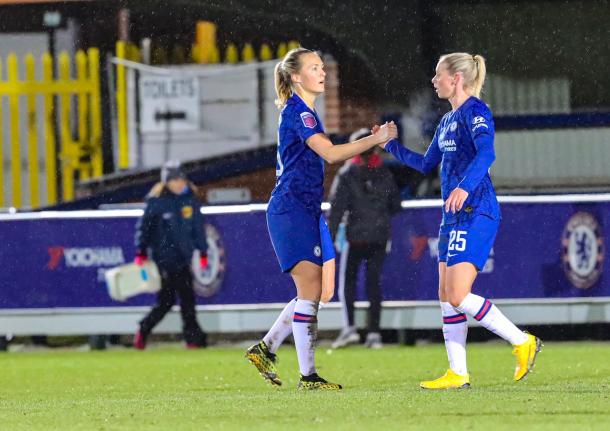 The left-back hasn't played games or trained with the Blues since before the Algarve Cup back in March and it's safe to say that she is looking forward to the next season starting:
"I'm looking forward to starting the preseason with Chelsea again. I've missed my teammates and to meet up and train with them again is going to be amazing. During this period I've really tried to make the best of the situation and I've been training on my own. I've been doing a lot, both with a ball at my feet and without, improving on my technique and my physical strength."
Now back in London after a couple of months at home in Sweden, Andersson is spending her days in quarantine with her long-standing defending companion and teammate Magdalena Eriksson. What do they do to make the time go as fast as possible whilst waiting for pre-season to finally start? They are playing ping-pong and practicing their technical skills with a football in the backyard.