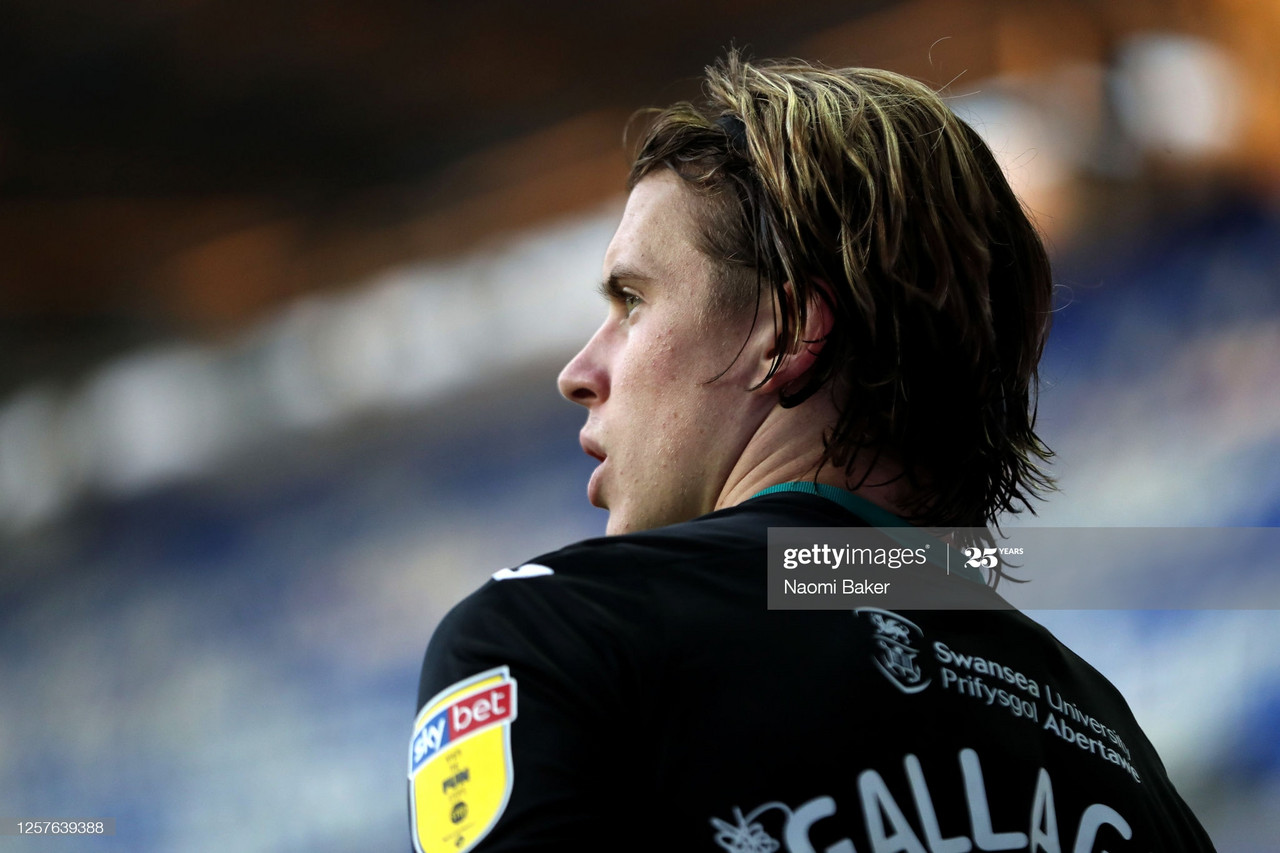 Conor Gallagher will be hoping to impress Frank Lampard in the 2020/2021 pre-season schedule as he returns from a full season on loan in the Championship.
After ending the 2019/2020 campaign at Swansea City, Gallagher initially moved across London to Charlton Athletic in the summer of 2019. The midfielder ended the season with six goals and 11 assists.
He played the first 27 Championship games for The Addicks, the latter 19 at The Swans. His time in London ended with six goals and four assists. Five of these goal involvements came in the first six games. Charlton were unbeaten in this time, winning four and drawing two.
Strong start
The next 21 games in red concluded with three goals and two assists. As the goal contributions decreased, so did his side in the table. Charlton only picked up 15 points out of a possible 63 up until when Gallagher left in January.
His next outing was the following week, but for Swansea City. His first game ended with a win after he played 90 minutes, and grabbed an assist, in a home win against Wigan Athletic. The attacking minded midfielder never actually scored in Swansea colours.
He managed six more assists up until his time on loan ended. The most important part of the season for the number 33 was the Championship play-offs. After playing 90 minutes against Brentford home and away, he failed to make an impact as his side lost 4-1 on aggregate.
Nevertheless, it was a good achievement to help boost Swansea into the top six. They were eighth in the table when he joined.
The future is bright
Ultimately, you would have to say it has been a good season for the young English midfielder out on loan. 17 goal involvements in 47 games means there is a promising future.
Despite completing a decent season, it is highly likely that the 20-year-old will go out on loan again for the upcoming campaign.
There was the possibility that Lampard could bring Gallagher into the first team fold at Chelsea after playing in the Championship. This was the case with Mason Mount, Tammy Abraham, Reece James and Fikayo Tomori.
With the transfer ban gone and new signings at Stamford Bridge, this will mean another loan spell could be imminent as the season approaches.
A loan move to a Premier League club would be an upgrade for the central midfielder. Charlton and Swansea were his breakthrough season in professional football. With first team minutes under his belt, he can now constantly improve. Add the fact that he is 20 years old, Gallagher is years off reaching his ceiling.
A Premier League loan
Many outlets this week, including The Sun, have reported that Leeds United would like to take the Chelsea player on loan for their first Premier League season since 2003/2004.
Playing constantly in the topflight would improve the midfielder. The Football Fancast even reported 'Leeds can find their own Frank Lampard in Conor Gallagher.'
Without putting any unnecessary pressure on the 20-year-old, he would certainly be a regular Chelsea starter if he could replicate Lampard and his playing days at the Bridge.
The Premier League is set to return on September 12th - a month from when this article is written. Do not be surprised if Gallagher is sent out on loan to further his development.