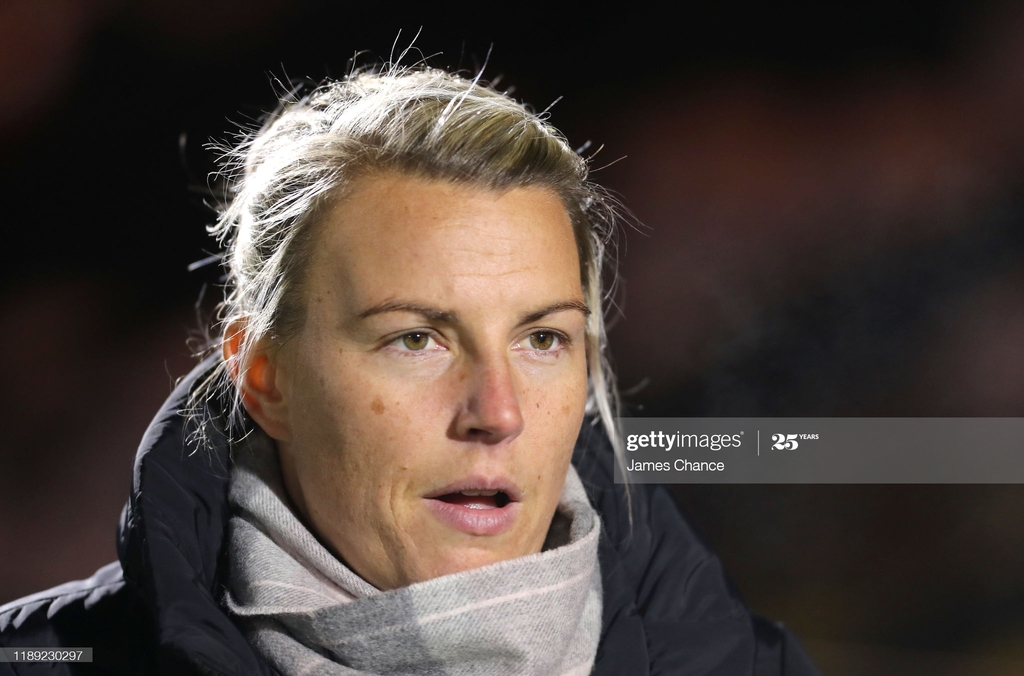 Bristol City manager Tanya Oxtoby was pleased with her side's performance, despite a 4-0 Women's Super League thrashing at the hands of Everton in Bath.
Former-Robin Lucy Graham's two goals and two assists were the difference at Twerton Park, as City succumbed to a third successive defeat to the Toffees.
A good performance despite the result
However the Australian noted that there were many positives to be taken from her side's showing.
"I'm disappointed with the result, but the actual performance was a good foundation for us to build off," she said post-match.
Two of Everton's goals came from set pieces, a corner and penalty, with a further strike questioned for a potential offside that wasn't given, to which Oxtoby expressed her frustration:
"I'm pretty disappointed to concede off two set pieces, because they're both controllable things, and the second goal is offside.
"So from my perspective when you control the things that you can affect, and decisions are called correctly, then it's a little bit of a different game."
She didn't forget to praise their opposition, though: "In saying that, I thought that Everton were good today and caused us some problems."
Those problems started in the seventh minute when Graham slotted through Simone Magill for a clean finish across goal, before Graham herself sidefooted home twelve minutes later.
The midfielder continued to punish her former club, first slamming home a penalty on the hour mark, before feeding through Valerie Gauvin for her first Toffees goal late on.
Despite this, she wasn't a particular threat that City were targeting.
"We didn't have a plan in place to stop her. We knew the patterns of play that Everton were going to use, we knew their shape and we prepared for that," Oxtoby admitted.
"Lucy is a fantastic player and we know that, but Everton have so many fantastic players that if you focus too much on one, you will get burnt somewhere else.
"I'm happy for her as she's going from strength to strength, but we just need to focus on us."
Palmer a bright spark
The void that Graham left City in midfield has been filled by new recruit Aimee Palmer, who was a bright spark in a disappointing day for the Reds.
Oxtoby was particularly praiseworthy of her performance, but was also pleased to have some of last season's crop return from their injuries that had plagued the side.
"I thought Palmer was excellent today," she said.
"I think she's vital, when you look at the areas we struggled with last year, it was in midfield. So, we brought in Ella (Mastrantonio) and Aimee, Chloe (Logarzo), we've got Carla (Humphrey), so we've got options in there, we've got young Georgia (Wilson) who can play in there as well, so we've got options there.
"We just need to work with them, and really develop them individually and as a group, which is what we're trying to do.
"Abi (Harrison) was always going to play around 55 minutes. She worked her socks off up front, you can imagine it was really nerve-wracking for her coming off of an ACL injury, you just want to get minutes under your belt."
Harrison was in fact the scorer of the last league goal for the Robins at home, some ten and a half months ago. That home has now changed into the form of Twerton Park in Bath, where Oxtoby admits the protocol is different, but shouldn't affect their side.
"Preparation is very unique, we just caught up as a coaching staff saying we are very glad that the first one is out of the way so we know what to expect and how we can work through some of the measures," she said.
"It's definitely different, obviously we are all pleased to be back, but this facility is great for us and long may it continue."
Chelsea coming up
Next up for City is a trip to WSL champions Chelsea, and the Australian expects to maintain her counter-attacking style that was on display against the Toffees.
"When you play really good teams they punish you, and that's the beauty of this league, but we just need to work harder and keep developing.
"That (counter-attacking football) will certainly be a feature in the first three games for us because the quality that those teams have is through the roof."