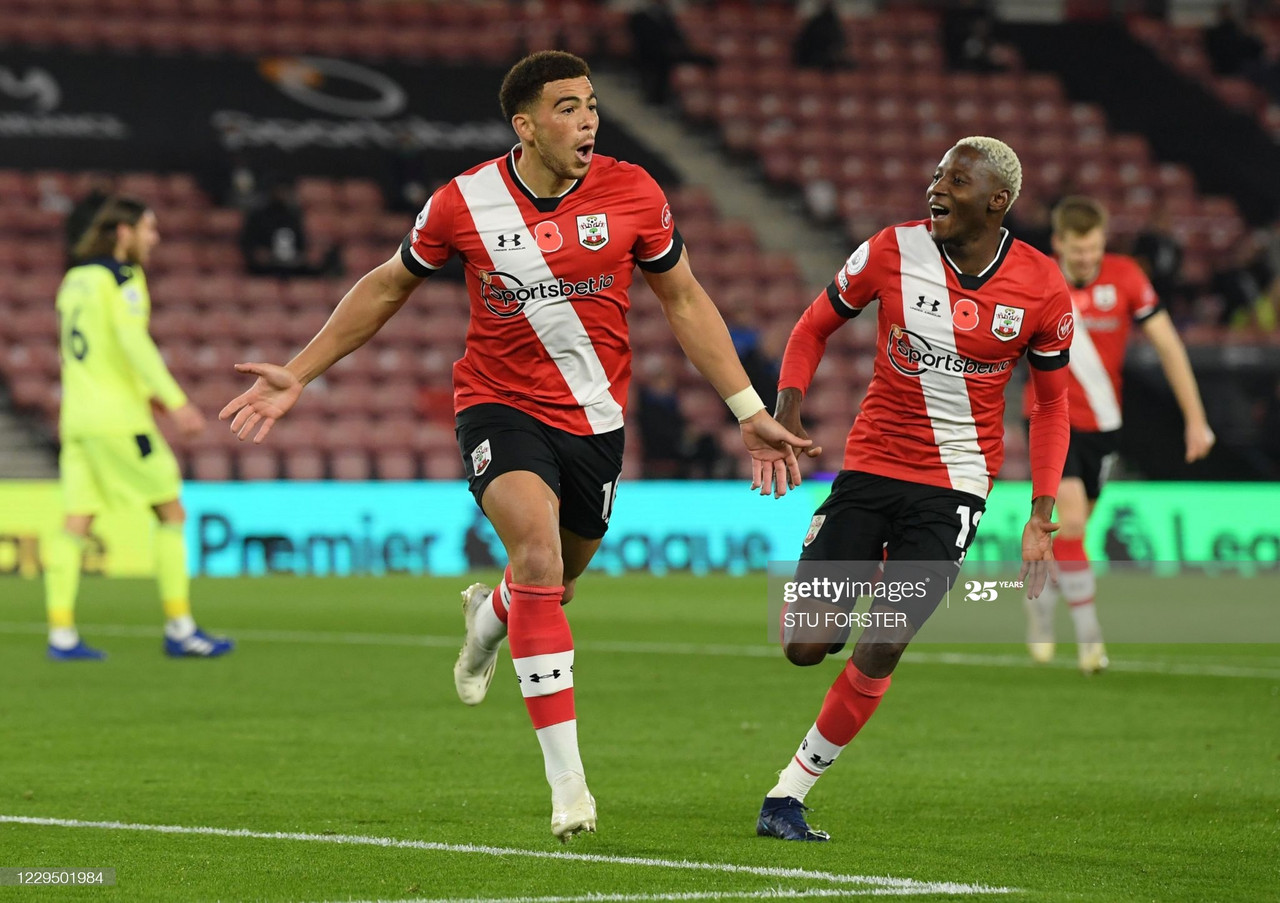 Che Adams joined Southampton just over a year ago on the 1st July 2019, but has only recently become an established member of the first team.
A slow start to life in the Premier League after his move from Birmingham City in the Championship was also going to be a challenge to overturn form.
However, come the start of the 2020/21 season, Adams has found himself netting three goals and racking up two assists in his first eight games this campaign.
Most importantly the 24-year old striker netted before the international break as part of the Saints historical win over Newcastle as they moved top of the Premier League for the first time in their history.
It comes as Danny Ings is sidelined with an injury for up to six weeks after coming off injured against Aston Villa in a 4-3 victory.
It was a big worry for Southampton fans who have always heavily relied on Ings to provide goals in the team, and having a replacement was always going to be hard, but step forward Che Adams.
How it began
The striker, born in Leicester, has made it to the top by putting in a serious graft and showing his love for football.
He was released at 14 by Coventry City, before being picked up by Sheffield United at 18 who were in league one at the time.
Adams reflected on his experiences when he spoke to the Southampton FC media team and said: "Even then, I thought it was a bit late getting into the league at that age.
"But it was perfect timing really, and I'm just grateful for everything that's happened."
He started to prove his worth before moving to Birmingham City for the 2016/17 campaign, where he stayed for three consecutive seasons.
The 2018/19 season was where he made his name, scoring 22 times in 46 games and registering five assists along the way and was named in the EFL Championship's team of the year.
Moving to the south coast
Southampton then offered a reported £15 million and a five-year deal for the English forward which was accepted by the Blues.
"It was unbelievable. It was an honour. When I knew Southampton were interested, I had no other option – it was an unbelievable experience."
However, Adams didn't live up to the same heights he did in the Championship as he embarked on a 29 game goal-drought over the course of a whole calendar year.
Leeds United made him their number one target in the January transfer window in 2020, but Ralph Hassenhuttl was adamant that he would remain part of his plans on the south coast.
"It's tough when you get off to a start like that. That's why the gaffer had so much belief in me to play me in the first match, but then it just dried up a little bit.
"Coming from scoring all the time to not doing it so much, it took a huge effect. I think every striker in every team wants to score goals – that's what they're trained to do.
"I think, from my side, I was probably trying a bit too hard to score goals. I was a bit naïve at times – I was snatching at things and shooting rather than passing."
Where we are now
Fast forward to the 2020/21 season and Adams has been in great form establishing himself as key starting 11 part and contributing to goals frequently as the Saints sit in fourth during the international break.
Reflecting on the Coronavirus break and how things turned around Adams said:
"I think it helped me a lot, coming away from football for a bit, and just realising what I had to do right and what I was doing wrong at the time. I think it was a great thing for the team as well.
"I was working on my fitness and working on other aspects of my game – conditioning to run harder, work harder and play smarter.
"I can't say it was a nice time, that lockdown happened, but for me personally it was probably the right thing, and obviously for the team at the time. We came back harder, we worked better… it was good for us."
His turnaround in form has not been unnoticed by the manager as Hassenhuttl shared in an interview on the Southampton FC website:
"He shows more and more that he is the signing we hoped from the first moment.
"He had a tough first year, but it just shows that if you never stop working and never stop believing in what you're doing, anything is possible.
"Now he is so important to us in front, especially when Danny is not here."