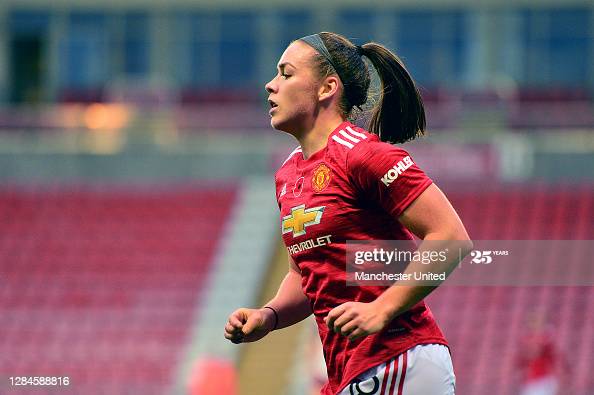 The Scottish midfielder signed for the newly formed Manchester United's women's team in 2018 returning to the club where she played at youth level. Just two years after she signed for United, Kirsty Hanson scored the equalizing goal against Manchester City which kept United at the summit of the FA WSL table.
The Manchester Derby ended 2-2 after City dominated the first half and finished it with a two goal advantage. At half-time you saw the impact and belief that Casey Stoney has on her players and how much the players respect their 'legendary' coach.
Hanson came on at half-time for Jess Sigsworth and impacted the game immediately. The belief the players displayed comes straight from Stoney. Though being down two goals, Stoney didn't let her players put their heads down at half time.
"She [Stoney] said we're still in the game. It was 2-0 but we've got a different mentality from last season, we're starting to believe in ourselves which is brilliant," said Hanson.
"We've got a really good squad depth. Against Arsenal Jess [Sigsworth] showed that gamechangers do make a difference. Squad depth is important and gamechangers are important. Casey just told me to go at their defenders, put them under pressure, I think I did that as much as I could."
Ten minutes after coming back onto the pitch, Tobin Heath hit a rocket to get United back in the game. Just twenty minutes later, in the 74th minute, Hanson poked United levelled from a corner to rescue a point that opened a five point gap between them and fifth place Manchester City.
"It's a team game and the other gamechangers that came on did good as well, so it just shows that you always have to be ready. We all know each other's strengths, so we play to them as soon as someone comes on the pitch," Hanson added.
"To get the goal was a huge feeling, which is something I need to do in my game more is get more goals. But to get that well deserved point was a brilliant feeling."
Stoney puts great emphasis on making sure everyone on the squad knows and feels that they're just as important as anyone else. Outside of the eleven that start, the ex-Arsenal and England captain makes sure that the players on the bench know that they are 'gamechangers.'
The initials "GC" are embroidered onto all the sub kits. Every player plays a part in winning whether it's starting or off the bench, the only difference is the role they play.
"Casey is brilliant, she believes in everyone. She's got a great knowledge of the game being a former player and legend of the game. You learn so much off of her, it's just a privilege to be coached under her and she includes everyone.
"It's more than just the eleven on the pitch, it's the subs, our staff and even our fans she includes everyone. You know she trusts us to do the job if she brings you off the bench and that's why she calls us gamechangers because we can change the game and everyone is part of the team. We all have our bit towards winning."
Playing with World Cup winners
Against Manchester City, Heath scored a rocket that defied gravity. It had the weight of all of her frustration and fight to get back into the game.
WHAT A GOAL. 🤯@TobinHeath has just lit up the Manchester derby! 🔥#WomensFootballWeekend pic.twitter.com/q0ThgoBoCg

— Barclays FA Women's Super League (@BarclaysFAWSL) November 14, 2020
Hanson wasn't surprised with the brilliant finish; "Ah that's just Tobin.
"It just shows, that finish was world class because she is a world class player and me being young I'd love to be able to finish shots like that."
"She does finishes like that every training, so I was just like 'ah that's just Tobin,' she does that every week. She's so enthusiastic, so is Christen, you learn off of them. They give you little tips here and there and they're just so positive.
"I just watch them around training to see what they do and I'm starting to put that into my game now and it's just a privilege to play alongside them and look up to them."
A stronger team than last season
In United's first season in the WSL they finished fourth just outside the top three, though it was with 13 point gap between them and Arsenal who finished in third. Stoney's objective for her squad is to improve from last season and that only leaves the target of breaking into the 'top three' and play Champions League next season.
Hanson feels that her and her team believe in themselves more than they did during their first year in top flight competition. Perhaps if you told them that they would be undefeated and sitting at the top of the WSL six matches into the season, they wouldn't believe it but now they're confident they can finish top three come the end of this campaign.
"We want to get to finals, win a cup and finish top three. We want to win every game. We've made it a bit hard for ourselves a few times, but we know we can beat these teams so now we have to perform and show that we can win.
"Now we're starting to believe in ourselves and we're a totally different team to last season with players that we've got, the mentality and the belief in ourselves. You can see that every day at training we've gone up a level and it's starting to pay off on the pitch at the weekend.
"Everything you do goes towards either starting or coming off the bench. You've always got to be ready no matter what you've got to fuel properly, recover properly because someone could get injured and they need you at last minute or if we're 2-0 down and they need you. I've got a different mentality now and just learning off the players, you've got to believe in yourself."
Lessons learned over the weekend
The two teams clash again today for the FA Continental Cup and though no two matches are the same, we should expect a 'heated' match now that City felt defeat over the weekend after letting three points escape them.
"We were a bit disappointed with our first half. We went over what we need to fix and hopefully we can get that right and start better on Thursday."
"Mostly we were getting out of shape and we need to stop City playing in and around us, but I think we did that better in the second half. We got it a bit better and put them under pressure which was what we wanted and I think it paid off.
"I think they'll know that we can come back now. If they score first and hopefully they don't, but if they do score, they shouldn't celebrate because they know that we can come back."