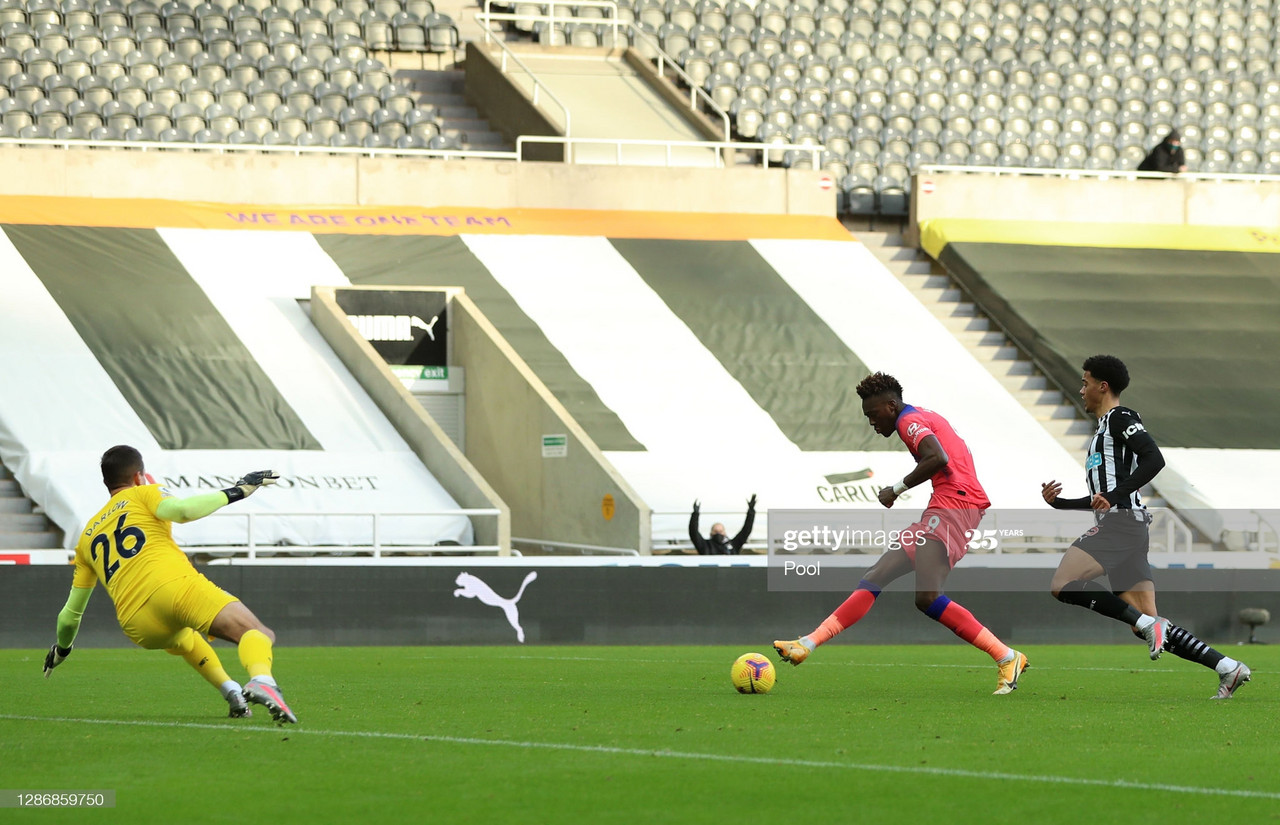 Newcastle fell to a second successive 2-0 defeat and yet again the opposition will be scratching their heads as to how the margin of victory was so slim.
An own goal from Federico Fernandez and a second half strike from Tammy Abraham made sure it was another miserable day for the hosts.
Unfortunately, pre-match talk from BT Sport pundits Joe Cole and Jermaine Jenas that Steve Bruce was doing a brilliant job and that Newcastle were "going in the right track" were shown to be incorrect and Chelsea are unlikely to have an easier game in the rest of the campaign.
Chelsea dominant despite never reaching top gear
Such was the lacklustre performance from Steve Bruce's men, Chelsea were never required to reach top gear on Tyneside.
The visitors didn't have to break sweat at St James' Park and yet still absolutely bossed proceedings with a huge 72% possession.
In addition to this, they squandered a plethora of chances to inflict a more severe scoreline on the Magpies with Timo Werner being the main culprit.
At times, Chelsea were a bit sloppy in possession but Newcastle didn't press anywhere near well enough to take advantage of this.
The game was effectively over in the 10th minute with Fernandez converting into his own net, a mistake that would sum up the United performance.
Newcastle had been marginally better in the Second half but Werner was allowed to break unchallenged through the Toon defence before sliding the ball to Abraham, who finished well past Karl Darlow.
A complete lack of a plan
Newcastle's game plan today seemed to be to let their opposition attack them and just hope for the best.
In his post-match interview, Bruce appeared to blame everything but his own tactics for the defeat but in reality, Newcastle had lost the game before the first whistle.
Setting up in a 5-4-1 formation meant that Newcastle constantly dropped back and allowed a Chelsea side that posses an incredible wealth of attacking quality to form attack after attack.
A 2-0 loss against Chelsea may not seem to be the end of the world but any Toon fan watching will recognise the glaring issues that once again reared their ugly heads.
Pressure mounting on Steve Bruce?
Despite yet another abject performance from the Magpies, it was the Head Coach's comments after the game that could irritate fans the most.
After the game he told BT Sport that there is always grumbles from Newcastle fans while also citing the unavailability of players as an excuse for his side's latest embarrassing outing.
In addition to his tone death comments, Newcastle have simply not been good enough this season and this was best shown by the statistics displayed by BT Sports pre game.
United have managed the least amount of shots, the fewest touches in the the opposition box and also the least passes completed in the final third.
This demonstrates the reason for discontent on Tyneside and it is not anything new.
Since Bruce's arrival, United often find themselves at the bottom of any attacking stats whilst also allowing more shots on their goal than any other side in the division.
It is surely not sustainable to go on in this manner and the Magpies' Head Coach has a job on his hands to win round the fans after a string of dismal displays.