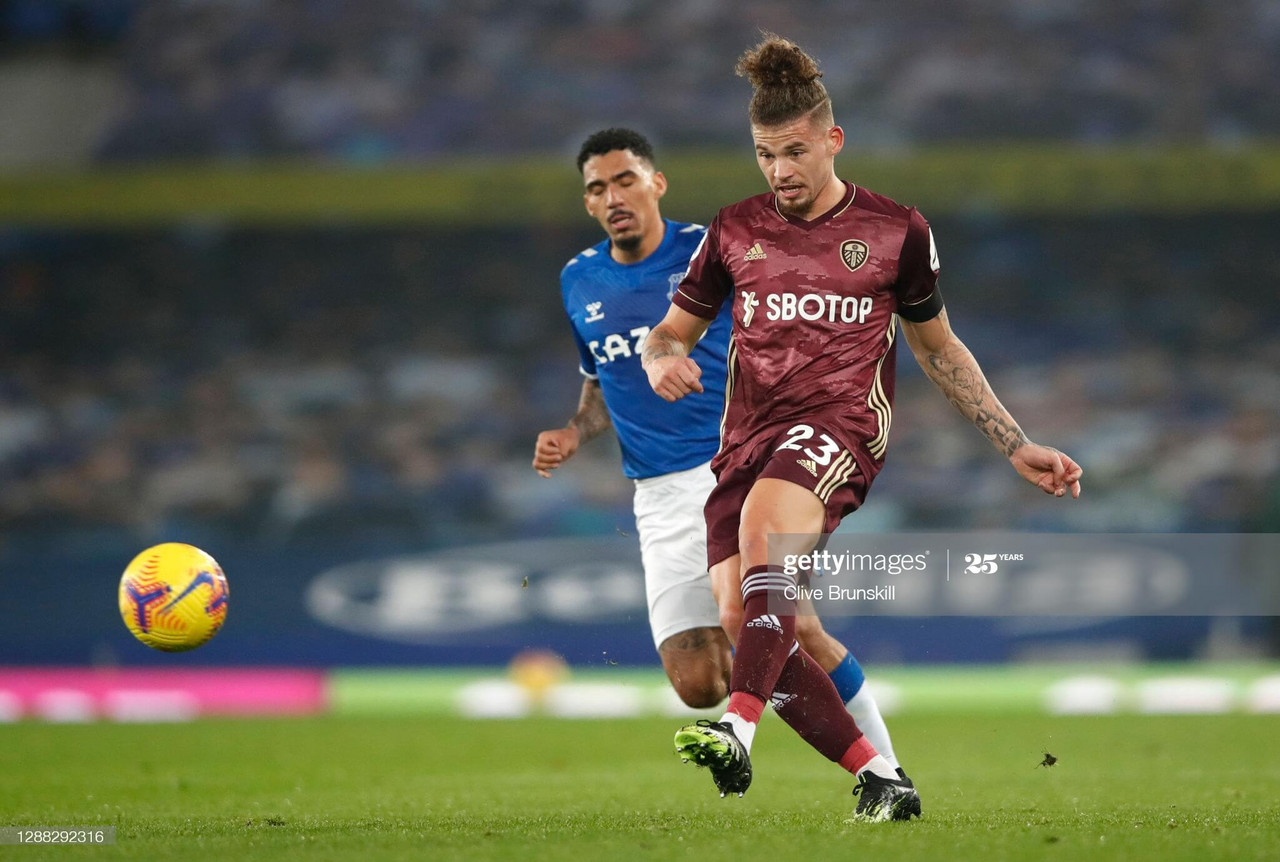 As Leeds United gushed up-field for another onslaught on Everton's goal, the visitors's attack resembled a squadron of fighter jets manoeuvring and swapping positions. Raphinha darted in, Jack Harrison skirted into a channel, Stuart Dallas moved into centre forward dovetailing Patrick Bamford while Ezgjan Alioski turned midfielder.
However, there was one player who remained in his position throughout.
Kalvin Phillips started the move with yet another pass of laidback technique and pinpoint accuracy. Like so many of Leeds' attacking forays against Carlo Ancelotti's team on Saturday it was the English midfielders vision and ability that set the ball in motion.
Phillips unmoved
Phillips operates in the central plane of the pitch. He rarely moves out of the holding midfielder position which is in stark contrast to his team-mates who interchange like the weather.
In fact, it somewhat goes against the nuts and bolts of a Marcelo Bielsa team which is based on suffocating the opponent often with surprises. Phillips does more than his share of pressing but his positioning is rarely unpredictable. And yet it is so effective.
Against Everton, Phillips showed once again why he is the star of Bielsa's side. Raphinha's 79th-minute goal, his first for the club, earned the headlines but the visitors should have scored well before then, so should have Everton it must be said. The teams managed 38 shots combined in a compelling, end-to-end encounter, in which the ball was in the net three times but ruled out for offsides before the breakthrough.
Phillips, however, was the standout player on the pitch. The 24-year-old ran the show from his midfield position. It may be a stretch to say that his return to the team as the protector of the back-line following a brief shoulder injury has led to Leeds keeping successive clean sheets but he was vital in this Leeds victory.
Praise-worthy stats
Phillips completed 94 per cent of his passes, finding a team-mate on 79 of the 84 occasions he sought one. James Rodriguez was Everton's most prolific passer with 39 fewer. But Phillips wasn't just recycling the ball while the home side backed off. He completed 15 of 17 attempted long passes and succeeded in switching play five times. Into the attacking third he passed 24 times, with 20 reaching their intended target.
Furthermore, the Leeds midfielder ran 12.1km, further than anyone else on the pitch, while recovering possession more than any team-mate or opponent too. These qualities make him invaluable to Leeds as they rightly aim for much more than Premier League survival this season. His figures from his match were outstanding. And England manager Gareth Southgate was present to see it all too.
England calling?
If Phillips maintains this level of performance then he will be seriously challenging Jordan Henderson and Declan Rice for a starting place in England's midfield come the summer. He earned his first call-up in September and has made four appearances since then. Clearly Southgate rates him.
Kalvin Phillips for Leeds vs. Everton:

100% take-ons completed
100% aerials won
96 touches (most)
84 passes attempted
79 passes completed
10 ball recoveries (most)
2 shots attempted
1 interception
1 foul won
1 chance created
1 shot on target

Misplaced just five passes. 😳 pic.twitter.com/nIJbFqGJ4u

— Squawka Football (@Squawka) November 28, 2020
Should England persist with a 3-4-3 set-up for next summers European Championship then Phillips would be deployed as part of a central duo if picked - a change from the pivot role he plays for his club. But having a midfield partner could suit Phillips and allow him to progress up-field more during attacks.
Some have said that Phillips should be getting on the scoresheet more - he scored twice last season for Leeds in the Championship and once the season prior - but that is not his game. His virtuoso displays centre on screening the defence and launching Leeds attacks while dominating the central areas.
He meets those criteria to aplomb. This, his 150th league start for his boyhood club, couldn't have gone much better. As the season develops, one would not be surprised to see many more performances like this from Bielsa's star man.