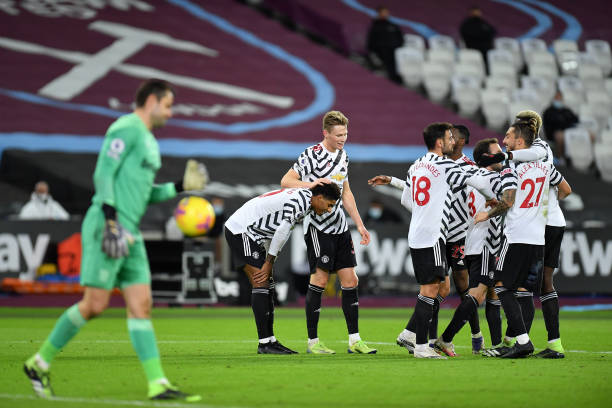 Yet again away from home, Manchester United had a below-par first half and were saved by inspired substitutions and a second-half comeback.
West Ham completely dominated the opening 45 minutes and found themselves up 1-0 up in the 38th minute when Soucek took advantage of bad defending via a corner. The home side could have scored more but United could count themselves lucky to find themselves merely a goal down at the half time whistle.
The second half was a different story. After scoring three goals in just a 13 minute period, West Ham looked deflated whilst the away side continued to string passes together and create more chances - it could've been 5.
Ultimately, Solskjaer will be happy to take the points back to Manchester; knowing that United were as poor in the first half as they were scintillating in the second.
Defence
Dean Henderson 8/10: The United 'Number 2' has certainly staked a claim to usurp David de Gea's place as The Reds' primary goalkeeper. After conceding a goal in which he was blameless, Henderson made a string of good saves throughout the game and showed handling that we haven't seen from a United goalkeeper in a very long time.
Aaron Wan Bissaka 6/10: The full-back lost possession several times in the opening half and almost made a shocking mistake, but his pace and recovery were very impressive as he slid in and cleanly took the ball from the opposition.
Victor Lindelof 5/10: Lindelof struggled in the opening half but looked more composed as the game went on; just like his fellow defenders.
Harry Maguire 6/10: In recent weeks Maguire has looked like he is starting to reach the levels he reached last season. As always, however, there are always shaky moments with United's defence. The Sheffield-born captain led by example in the second half.
Alex Telles 5/10: The full-back looked like he was trying to do the right things but wasn't particularly effective throughout the match; making a very poor mistake allowing Soucek to run past him for the home side's opener.
Midfield
Scott Mctominay 5/10: The Scotsman usually delivers strong performances in a United shirt but today wasn't one of his best days. He played with passion as always but didn't help United in any real way in the first half.
Donny van de Beek 5/10: The Dutchman showed signs of why Manchester United bought him from Ajax in the summer. Unfortunately for him, the home side's midfield were far superior, leading Ole sacrifice him for Bruno's arrival at half time.
Paul Pogba 6/10: Pogba epitomised United's tale of two halves - he was arguably the worst player for the away side for the first 45 minutes but was outstanding in the second period. His finish was sublime for United's equaliser.
Forwards
Mason Greenwood 6/10: The youngster went missing in the early stages of the game and it looked like it could have been a repeat of the Southampton game for him. However, Greenwood grew in confidence as the game went on and the touch to set himself up for his goal oozed class - reminded the United faithful of his performances last season.
Anthony Martial 4/10: Things aren't looking good for the Frenchman at the moment. Last season Martial's hold up play had improved drastically, but he struggled to keep possession on so many occasions. He had one good effort on goal, but his overall performance was disappointing.
Edinson Cavani 5/10: After the Uruguayan's outstanding performance last week, United's inability to maintain possession in the first half meant Cavani was a bystander for periods of the first half. Despite showing good movement as always, Ole brought him off at half time.
Substitution Ratings
Bruno Fernandes 7/10: Yet again the Portuguese midfielder shows just how vital he is to United being an attacking force. Always on the move, Bruno was a constant threat and raced through with the ball to neatly pick out Pogba for United's equaliser.
Marcus Rashford 7/10: After struggling with his shoulder after the game against PSG, Rashford was constantly looking to make the difference in the game after coming on at half time. West Ham struggled to deal with the forward many times and he was rewarded with a gorgeous dinked effort for United's third.
Juan Mata 6/10: The Spaniard is a player who can make that pass that nobody else sees, and the ball he played to assist Rashford was a delight to see.