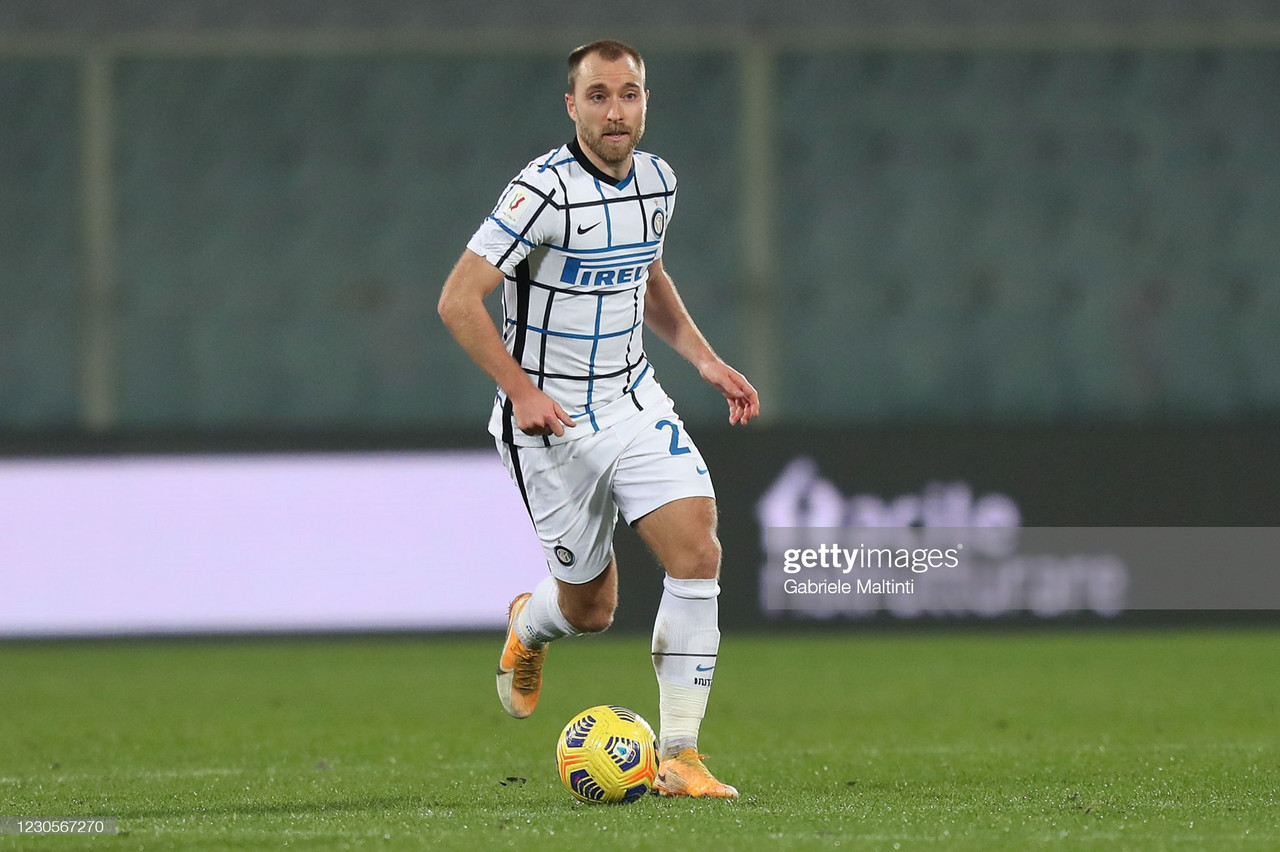 Following his departure to Italy in January last year, reports suggest that Christian Eriksen could make a sensational return to Tottenham Hotspur, 12 months after leaving the North London club.
The Danish midfielder left Spurs to join Serie A giants Inter Milan in what was supposed to be the next step in his career. But the Dane has struggled the past year in Italy. Eriksen has only managed nine appearances in the Serie A so far this season, failing to score or assist any goals.
It has been clear to see that Inter Milan's manager Antonio Conte is not a fan of Eriksen's ability, leaving the door open for the Danish international to potentially move back to Spurs in January. According to Sky Sports, Eriksen is keen on a return to Spurs this month, with a six-month loan deal being reported.
The Dane enjoyed six-and-a-half years at Spurs, making 266 appearances in the Premier League, scoring 51 and creating 62 assists.
He knows how to find the back of the net, whether that from six yards or 25 yards, something that has become incredibly challenging for Spurs outside of Harry Kane and Heung-Min Son.
However, he left on a sour note in North London, with supporters suggesting Eriksen played down his tools in his final 18 months at the club before getting the move he craved.
While many Spurs supporters would be happy to see Eriksen struggling in his new environment, most would love to see the Dane back in Lilywhite.
Another outlet of goals
Kane and Son have been the main outlets for Spurs this season in the Premier League, scoring 24 goals between themselves, whereas the third topscorer for Jose Mourinho's side has managed just three, showing Spurs lack a third source of goals.
Giovanni Lo Celso was supposed to be the heir to Eriksen, but his Spurs career has barely started after being constantly hampered by injuries. When the Argentine does feature, his style of play is slightly different from the Dane's on being more of a box-to-box midfielder, while lacking that finishing touch after scoring just once in the Premier League.
Tanguy Ndombele has arguably been Spurs most creative player outside of Kane and Son, netting his third Premier League goal of the season on Sunday, but once again, his shooting is not his overall strength and isn't reliable outlet in terms of goals.
In his final six months at Spurs (19/20 season), the Danish midfielder had 1.3 shots per game, more than Lo Celso and Ndombele so far this season, despite featuring in more Premier League games. (WhoScored)
With Dele Alli banished from Mourinho's plans, Eriksen is the ideal short-term fix on Spurs lacking that third source of goals. However, it must only be a short-term solution.
A short-term solution
Signing the 28-year-old on a six-month loan deal is a win-win for both parties.
Spurs will instantly get a player that can create and score goals, plus knows Mourinho's style of play. Although most importantly, it allows Spurs to save money on more ambitious targets for the Summer Transfer Window.
It has been well-documented that Mourinho wants to sign RB Leipzig midfielder Marcel Sabitzer, however, a move in January seems unrealistic due to amount of money involved, whereas a summer is the more likely option.
Eriksen on a six-month loan deal gives Spurs the greater chance of challenging on all fronts – Premier League, Europa League and FA Cup – and potentially earn a substantial amount of money for reaching the latter stages, giving them more power to strengthen in the summer.
Also, the midfielder would have the opportunity to regain his confidence and showcase his ability across Europe, with a permanent summer departure from Inter Milan looking seemingly likely.
However, this all depends on what Eriksen will turn up; the Danish playmaker who was unstoppable in a Spurs shirt for five years, or a man that looked fed-up and disinterested in his final 18 months.
Ultimately, the decision comes down to Daniel Levy and Mourinho on whether to take that risk, but all they have to imagine if the Eriksen their know turns up, because a trio of Kane, Son and Eriksen would be a lethal partnership in the Premier League, and in Europe.