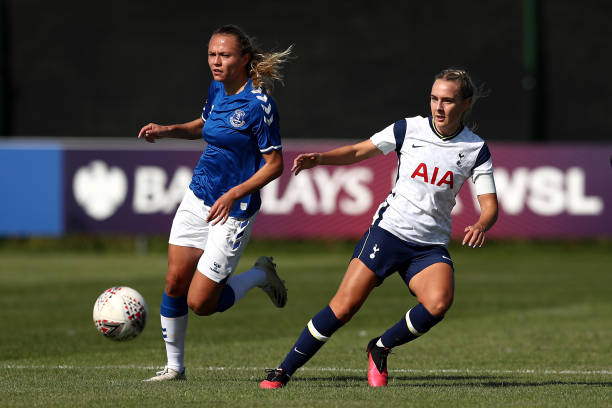 Sunday's game features two teams both looking to extend a recent crop of wins. Tottenham Hotspur currently on their most successful streak of the season so far.
Though on a five match unbeaten streak in the FA Women's Super League, Tottenham are winless in their last three league matches against Everton.
Willie Kirk's side come off the back of a cancelled mid-week clash. The Toffees and Spurs will face off on Sunday, with a 14:30pm start at The Hive. The match will be available to view on The FA Player
The Toffees dominated in their game against Bristol City, with Izzy Christiansen netting two goals along with Megan Finnegan and Simone Magill taking their full-time score to 4-0.
Willie Kirk's side welcome Jill Scott back to the fold, after it was confirmed she would be joining the team on loan from Manchester City for the remainder of the season. Having started for City's two most recent games in the WSL and League Cup, Scott could be an experienced option in the midfield.
The likes of French international Valerie Gauvin & Danish defender Rikke Sevecke are both available after periods of injury, having both played their first minutes since November this past weekend. Along with Claire Emslie potentially being available.
Rehane Skinner's Spurs side are growing in confidence from their recent form after Lucy Quinn gave them the winning advantage over West Ham United.
Tottenham have now welcomed Manchester United defender; Abbie McManus on loan for the remainder of the season, but Rehane Skinner will likely opt to have her bed into the team before inserting her into the side.
An injury for Rachel Williams may play into Sunday's line-up choices. But with the now permanently signed Alanna Kennedy in midfield & Shelina Zardorsky at centre back, Spurs boast a seasoned side that are hitting their stride.
Tottenham Hotspur Predicted XI: Spencer (GK), Neville, Zadorsky, Harrop, Percival, Kennedy, Green, Leon, Graham, Addison, Quinn
Everton Predicted XI: MacIver (GK), Wold, Boye-Hlorkah, Pike, Finnigan, Gauvin, Stringer, Graham, Clemaron, Magill, Sørensen.
Valerie Gauvin will be looking to start back strong after her recent injury. The French forward will no doubt want to net some goals & her pace and composure on breakaways presents a looming threat. Sandy MacIver continues to hold her own in goal with some fantastic saves and determination between the posts. Willie Kirk reckons she could become one of the best keepers in women's football & despite recent results, she's not one to be underestimated by any means.
Ashleigh Neville has been solid in her defence of the Tottenham goals this season, with her phenomenal pace also seeing her press high in the opponent's halves. There is yet to be a cut and shut goal scorer step forward for Spurs, but Lucy Quinn's decider from last week showing her decisiveness to be a potential game-changer for them moving forwards.
The sides last meeting in September saw Everton come out on top with Izzy Christiansen getting the better Spurs in the 51st minute, despite the Londoners having more shots on target.
A win for Everton would see them close the gap with Manchester City, whilst a Tottenham win could potentially see them overtake Reading in this mid-table clash. Five points separate the two teams and the attacking prowess of both will undoubtedly be put to the test.
The game will be shown live on the FA Player. Kick-off is at 14:30pm.
Italy & Germany: Atafootball.com
USA: NCBSN
New Zealand: SparkNZSport
Australia: Optus Sport
Scandinavia: ViaPlay