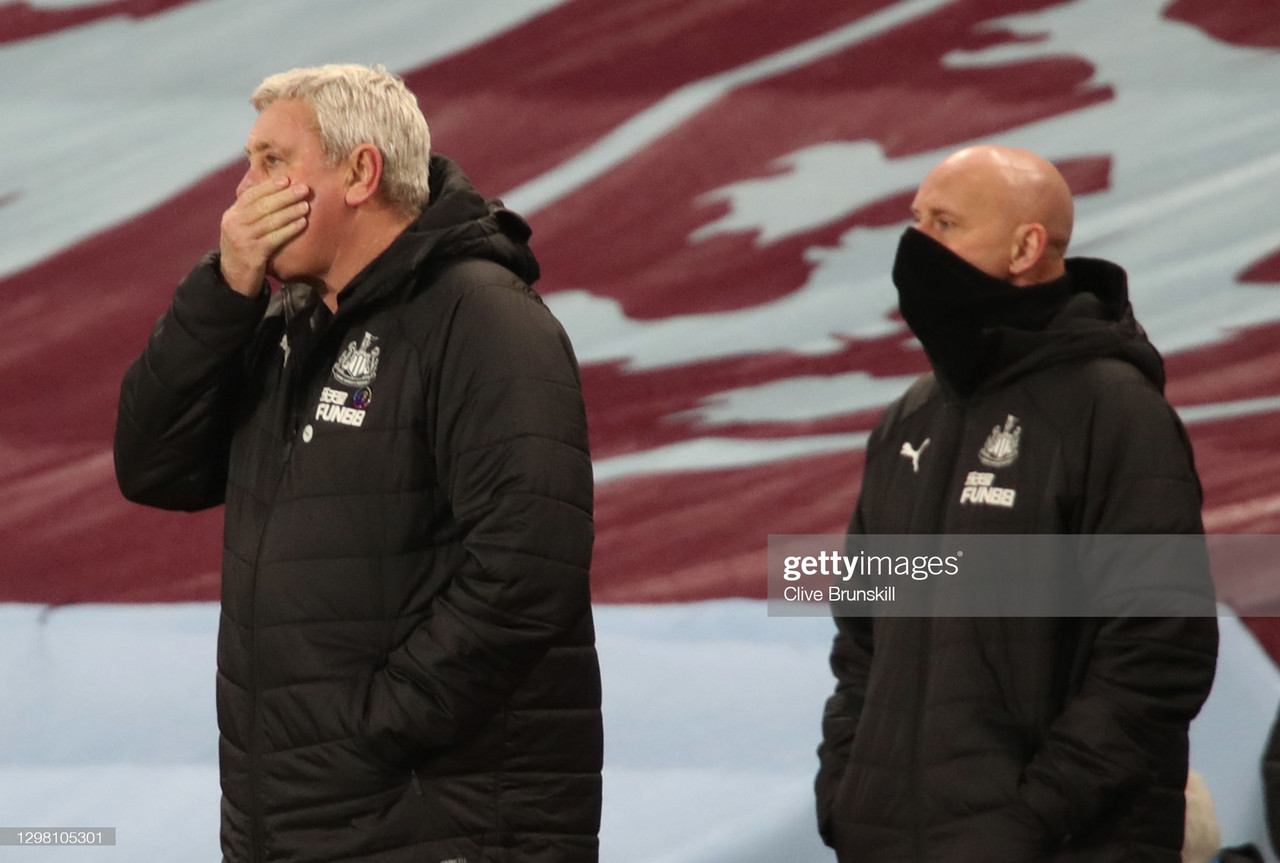 The pressure on Newcastle United boss Steve Bruce has really grown over the last month, with the Magpies without a win in any competition since Saturday December 12, 2020, a 2-1 home win over West Bromwich Albion.
Bruce's side host Leeds United at St James' Park on Tuesday night with the Whites looking to end their dip in form and build on their 5-2 thumping of Newcastle at Elland Road last month.
A tough outing is expected for Bruce's men but with the support of the club's board, he seriously needs to find a way to turn Newcastle's fortunes around as the criticism continues from the Geordie faithful.
What can he do to change things on Tyneside?
Get the dressing room back
After stern comments from Bruce which resulted in him calling his players out in public following the embarrassing defeat to the Premier League's bottom side Sheffield United earlier this month it's no surprise that they may not be playing for their manager.
There was evidence of this in Saturday's league defeat to Aston Villa at Villa Park where a number of Toon players put in lazy, late challenges knowing that the referee had no choice but to book them. Ryan Fraser also looked disinterested in that loss at Bramall Lane to the Blades when he received his second yellow card minutes after getting his first.
Bruce somehow needs to find a way of getting the dressing room back and get the players to play for him, otherwise the situation at St James' Park is only going to get a lot worse before it gets better.
Play to players' strengths
Bruce is now in a fortunate position where he is starting to get players returning to fitness after injuries and illness on the back of the recent Covid-19 outbreak at the club's training ground.
Star man Allan Saint-Maximin isn't ready to start just yet and that is to be expected given the amount of time the Frenchman spent out of action with the virus, however having him back is a massive boost and he looks capable of at least making some sort of impact from the bench in the coming matches.
Ryan Fraser is back from suspension and a player with his pace and quality simply has to start, with or without Saint-Maximin in the squad.
A player who has struggled of late, largely down to being played out of position is Miguel Almiron. There was a spell in the 2019/20 season where the Paraguayan had a purple patch and this came on the back of him being played in his natural position in behind the striker. Now that Fraser and Saint-Maximin are coming back into the picture for regular starts, Bruce should make the most of the attacking talent he is lucky to have available to him and help out top scorer Callum Wilson who has been taking social distancing to a new level lately being so isolated up front on his own.
Face the questions
Steve Bruce has hardly aided his reputation amongst Newcastle supporters in recent weeks as he turns into Steve McLaren number two.
He produced uproar after the defeat to Villa on Saturday night by claiming that there were positives to take from the game, particularly in the second half. That was the same second half that didn't see the Magpies get a single shot on target.
The latest scandal is that Bruce has requested that newspaper and website journalists are not allowed to ask questions during his press conferences. The club, of course, obliged to this request.
If Bruce wants to be taken seriously, he needs to face the questions from the media. He said that he wouldn't "shy away" so now is the time to do that and take the criticism that comes his way in a bid to try and get himself into the good books which would also be helped by turning the club's fortunes around pretty quickly.