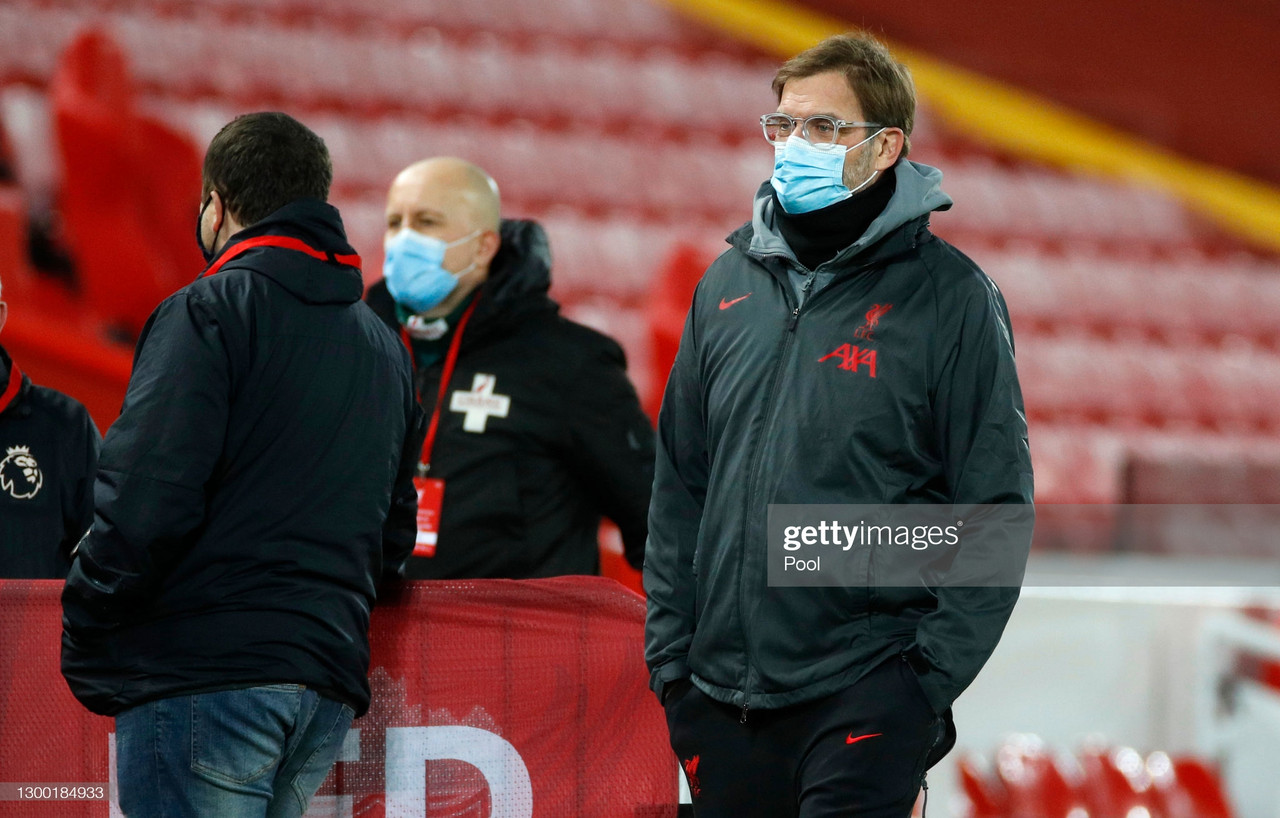 Liverpool's upturn in form was flattened by Brighton as Steven Alzate condemned the Reds to their second consecutive Anfield defeat.
The reigning champions looked to have recovered from their January slump after excellent victories at Spurs and West Ham last week.
But it has turned out to be a case of one step forward, two steps back.
Liverpool could find themselves seven points adrift of leaders Manchester City even if they manage to beat Pep Guardiola's men at Anfield on Sunday.
Here are the headlines from Jurgen Klopp's post-match press conference.
An explanation for the result
"I said now plenty of times in all the interviews outside, for me the team looked tonight – and it's long ago we looked like this – fatigued, mentally fatigued."
Klopp stressed that it was difficult to break the game down entirely 'only a few minutes' after full-time but admitted that his players were drained.
This was their third game in six days after their separate trips to London.
The fixture congestion this season is unprecedented.
Moreover, injury setbacks have dogged the Reds, with Sadio Mane and Fabinho the latest absentees.
Liverpool have been unable to maintain their trademark fortitude.
Recognition for Brighton
"Brighton won the game and rightly so, deserved. They were fresher than us tonight and did more good things than we did. We lost too many easy balls."
Klopp was keen to emphasise that Brighton were the better team on the night.
Graham Potter's gameplan proved hugely effective, with his players expertly judging when to press and when to drop off into a largely impenetrable block.
They did not shy away from committing numbers forward.
Liverpool's woes against the bottom six continue. They were held at the Amex in November and have also dropped points against Newcastle, Burnley, Fulham and West Brom.
Jota latest
"Diogo is – I don't know exactly – a couple of weeks, two, three, four. I'm not sure."
After Diogo Jota's electric start to his Liverpool career, his upcoming return has been a source of optimism for supporters.
But Klopp says it may not be until the end of the month that the Portuguese is able to return from the injury he sustained against Midtjylland in December.
Mane, meanwhile, could return for the visit of City.
He must prove his match-fitness, and has at least two opportunities to do it in team training.
On the gap to City
"These gaps are not interesting in the moment because they are the result of the results we had already. What we can influence is the next games and we will try for that."
Liverpool's prospects of retaining their title look decidedly bleak.
City's margin is comfortable and they are in imperious form at present, having won 13 consecutive games in all competitions.
Defensively in particular, they are the outstanding team in the division.
Klopp, though, was reluctant to consider the consequences of this defeat in the title race.
As he sees it, Liverpool have an opportunity to halt the Cityzens' momentum on Sunday afternoon.
On preparations for the weekend
"We have now one day more to recover. We spoke about that very often that it means the world actually to footballers and bodies in general. Hopefully we will use that."
Klopp did finish on a note of optimism after he was asked how his players might recover their vigour.
City were also action on Wednesday night, easing past Burnley before the Reds kicked-off.
Guardiola will renew his rivalary with Klopp at 4.30 on Sunday afternoon.