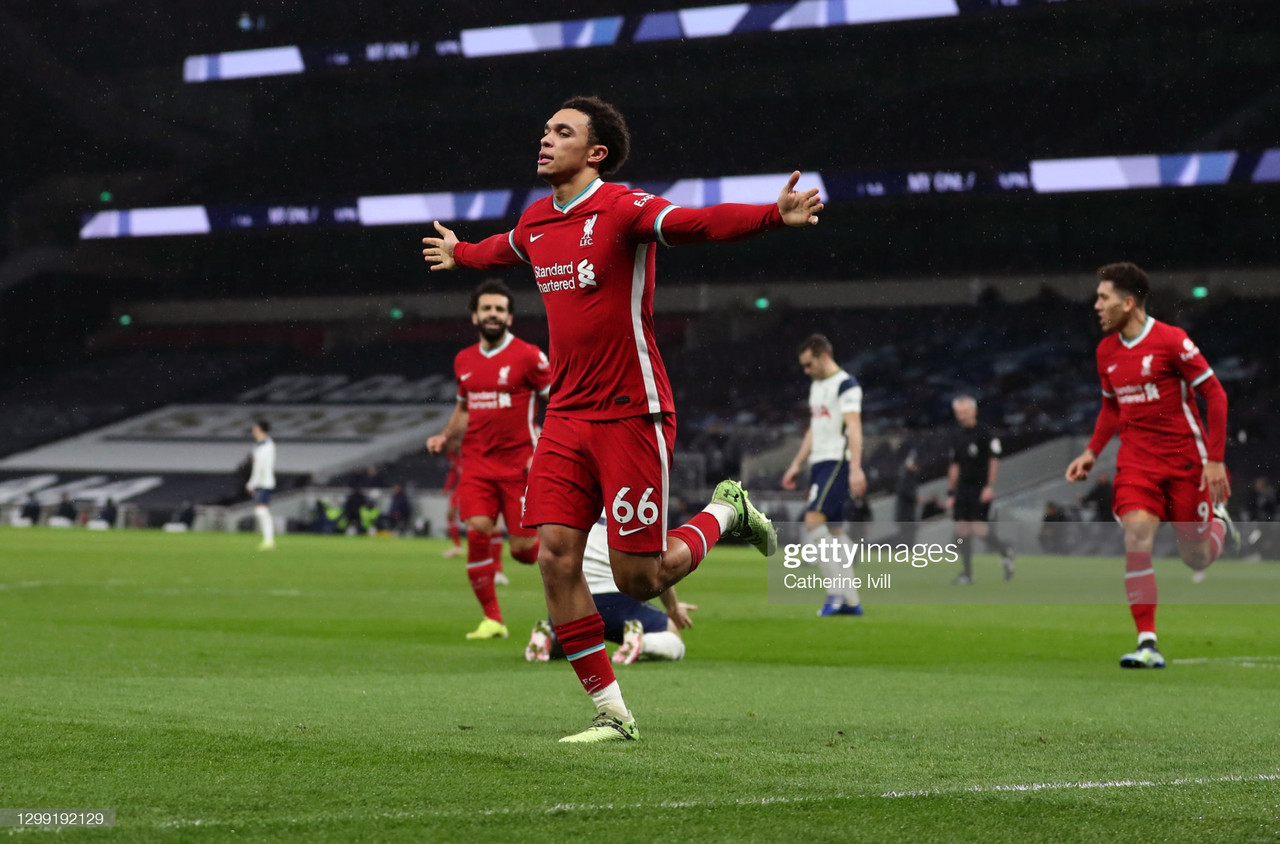 Liverpool produced their first Premier League win of 2021 with a thrilling 3-1 win over Tottenham Hotspur. The Reds have struggled to create chances and score goals in their recent slump, but they played more like their usual selves here.
Tottenham were unlucky to see their early goal ruled out after a VAR check. Heung-min Son calmly slotted his one-on-one chance away but was deemed to be offside in the build-up. Liverpool were fortunate to see the goal disallowed as it was their poor defending and high line that had allowed Son the chance.
Liverpool mainly controlled the first half and were able to create a number of good chances. Unlike in previous weeks, the Reds did a much better job at sustaining attacks to apply pressure on Tottenham's defence.
Roberto Firmino continued his fine goal-scoring record against Spurs with the opening goal at the end of added time in the first half. Sadio Mane's cross was poorly defended by Eric Dier and Hugo Lloris, leaving Firmino with a tap-in. For all of Liverpool's creativity, they had deserved the opening goal.
There were a number of substitutions made at half time which disturbed the fluidity of the game. Serge Aurier and Harry Kane were replaced by Harry Winks and Erik Lamela whilst Joel Matip was replaced by Nat Phillips.
This unsettled the Spurs team and allowed Liverpool to start the second half strong. Trent Alexander-Arnold scored his first goal of the season in the 47th minute. The right-back capitalised on Lloris' poor attempt to stop Mane's low shot and fired the ball into the net.
Liverpool's two-goal lead lasted only two minutes. Pierre-Emile Hojbjerg's long-range effort was taken exceptionally. However Spurs struggled to create many more attempts after that and allowed Liverpool to continue to create and eventually score their third goal.
Mane, whose performance deserved a goal, finished off the tie. Alexander-Arnold's long cross was once again poorly defended by Tottenham and found its way to Mane who thumped it in.
Tremendous individual performances
Along with a great team performance there were many tremendous individual performances. Alexander-Arnold had his best game in a long time and looked more like his usual self, providing dangerous crosses. This has been missing from his game for a number of weeks and he has been in his worst slump of his short career so far. A lack of pre-season, getting Covid-19 early in the season and Liverpool's defensive injuries have made his progression extremely difficult. If he produces more performances like this, he will be back to his best very soon.
Liverpool's defensive problems have also hindered the performance of the midfield. James Milner has come into the side for the last two games and was again very good. His energy, drive and ability to cover the full backs was fundamental to Liverpool picking up the three points.
Firmino and Mane also stood out. Firmino's pressing and passing ability were instrumental to the Reds being able to sustain attacks. This has been missing for the past month. The Brazilian topped off his night with a goal, taking his tally to six in the Premier League. Mane's energy was also key to the win. He did not lose confidence after missing an early big chance and continued to threaten the Tottenham defence, who struggled to deal with his pace and creativity.
The return of heavy metal football
Liverpool's slump in form has been a product of struggling to break down low block sides and sustaining attacks. Defensive problems, a reshuffled midfield and the front three's poor form have all contributed to this and it has been tough to watch Liverpool through this period.
However on this occasion, Liverpool played with a lot more freedom and looked to do a lot better. The fullbacks were not afraid to attack and leave space behind them, allowing Liverpool to play their usual game. It looks as though manager Jurgen Klopp has told them to play more offensively in a bid to play heavy metal football once again.
With Liverpool's continued reluctance to sign another centre back, Liverpool cannot win games by trying to play conservative football to try to protect the makeshift defence. Klopp looks to have finally noticed this, telling his playing to attack with freedom and release the shackles that have been holding them back.