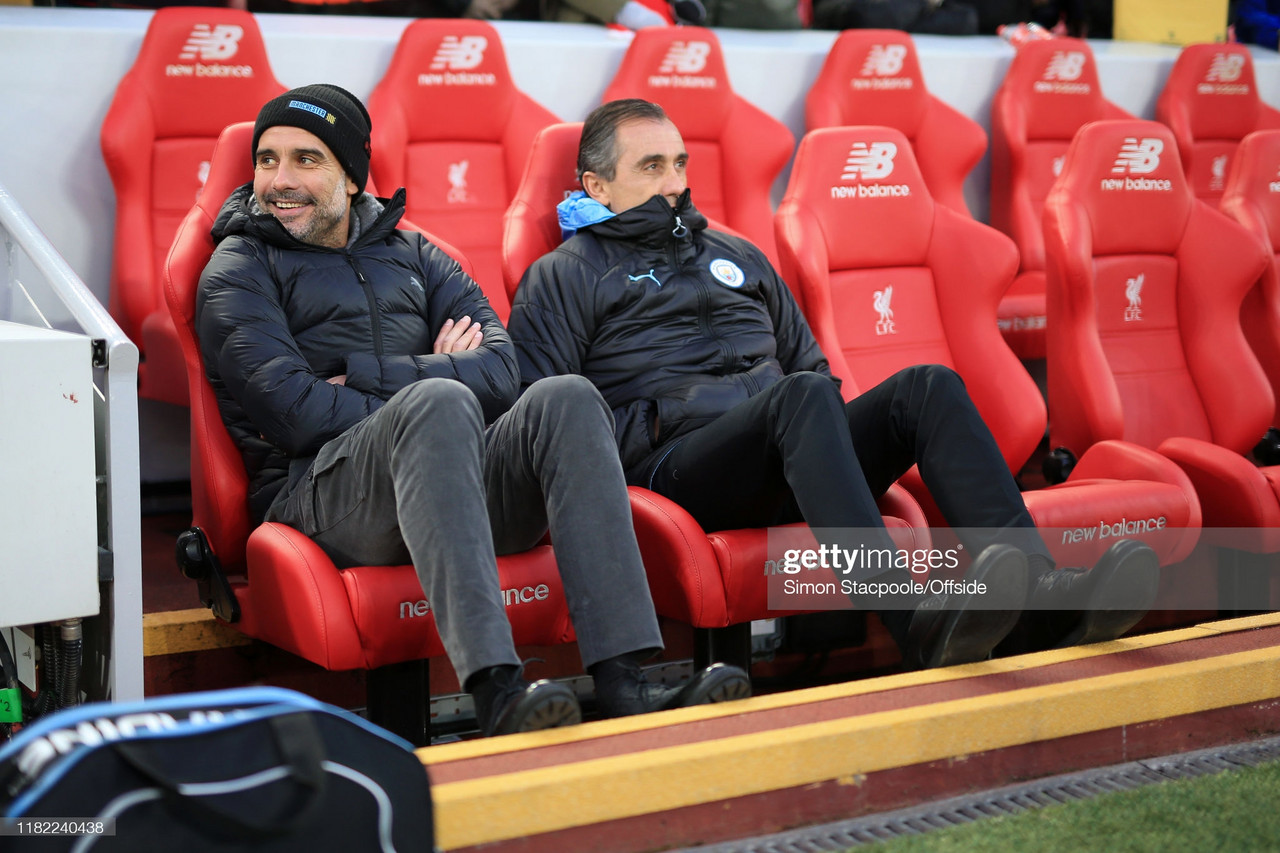 On a twenty-game unbeaten run and sat seven points clear of defending Premier League champions Liverpool, Pep Guardiola's Manchester City head to Anfield on Sunday in exceptional form.
The last time Liverpool lost three consecutive home league games was in September 1963.
Facing top of the league City off the back of two successive defeats on Merseyside, Jurgen Klopp's side have never in their history gone four home consecutive league games without scoring.
With key players still missing from his squad, Guardiola briefed the press on who will be fit to play this weekend.
Having only made three starts all season, City star man Sergio Aguero recently tested positive for COVID-19. The forward isn't expected to return until later in the month.
Kevin De Bruyne will also be missing for Sunday's match after he picked up an injury against Aston Villa last month.
Nathan Ake remains on the injury list and with only five Premier League starts for City this season.
"Aguero is still not training on the field. He started to move a little yesterday, but he will need a few weeks to come back," Guardiola said.
"Sergio is negative, this is the most important thing. He is healthy again and now he will come back again. As the top scorer it is important for us to have him back.
"The doctor said we'd review Kevin's scan today. It will be between four and six weeks out.
"It is a blow, but we have to move forward. He will be out for an important out of the season."

Guardiola says that City head to Anfield with only the three points on their mind.
Expecting a challenge from the Reds following a midweek defeat to Brighton, the boss shared how difficult the game could be.
"It is always difficult against Liverpool," he said.
"We make a good performance there and sometimes are not able to win.
"I want to see my team go to Anfield and try to win the game, like day one since we were together.
"We go there to win the game, not to draw.
"They are always a top team. They still have a top squad, they know the process, skills, methodology and they are aggressive.
"Liverpool is a top club, with top history, players, managers and backroom staff.
"It's not about how many years (since City's last win at Anfield). There are 38 Premier League games and this is one more.
"Not long ago we were twelfth in table and now we are first. I am not more concerned about the Liverpool game than the rest."
Guardiola revealed that he was surprised by Klopp's claim that City had a "two-week break" earlier in the season following a Coronavirus outbreak at the club.
City closed their training ground for two days around the postponement of their league meeting with Everton in December.
Klopp said: "We didn't have a break; I think City had a two-week break for Covid reasons."
Here's how Guardiola responded:
"Klopp made a mistake. It was two months off, or three months…no four months we had off," the Spaniard exclaimed.
"That's why we're in the top four now. Jurgen has to see the calendar again.
"We had Covid 19, we had one week and we played with 14 players at Stamford Bridge."
"I'm surprised. I thought Jurgen was not that type of manager. I didn't expect that comment.
"Maybe it was a misunderstanding. If he sees the calendar again, he will realise that it was not two weeks."
Asked for a prediction on how the title race might pan out this season, Guardiola kept his cards close to his chest.
"I don't make predictions about the future," he said.
"I am going to confess something. It's been one game at a time since 2008 and I became manager. It's not a surprise and not news.
"It's the same points against Liverpool as beating Sheffield United or Burnley. They didn't give us five points for those game. It's three points. It's not a knockout.
"My experience in January is that no team is out of the race and no team is already champion.
"We focus on Liverpool, then Swansea and then Tottenham. This is the way to approach."