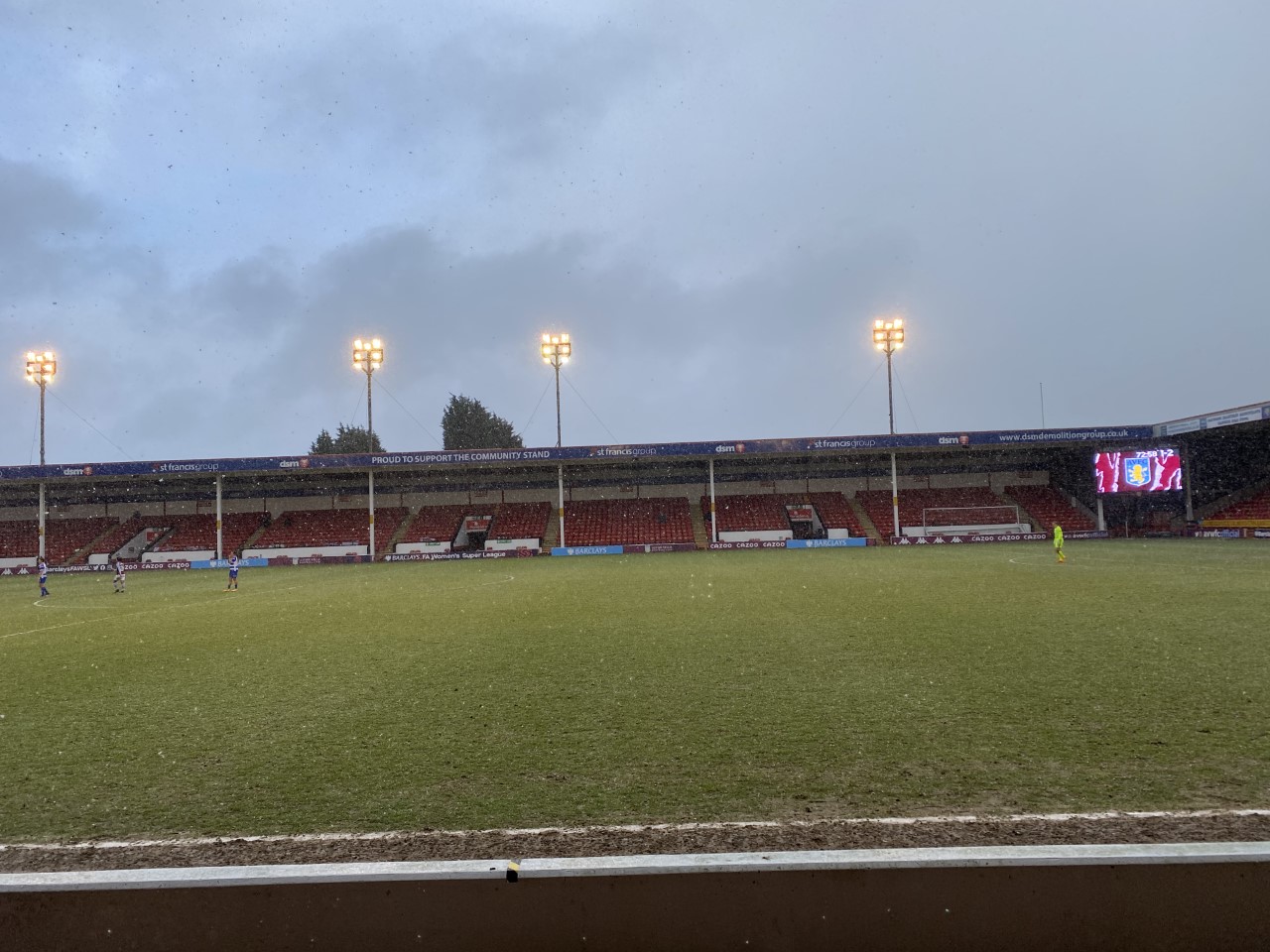 Aston Villa Women grabbed a massive point in the Women's Super League relegation battle with a dramatic equaliser against Reading.
Diana Silva picked the perfect time to grab her first goal in the WSL with her strike coming in injury time. A cross from full debutant Mana Iwabuchi, who had already grabbed Villa's first, bobbled around in the area and was eventually stabbed home by the Portuguese striker to secure Villa their first home point of the season.
It was a great performance from Villa who recovered well from a difficult opening period to put in a brave performance to inject some life back into their season following a 7-0 defeat to Manchester City last time out.
It was another nightmare start for Villa, with Gemma Davies' side conceding inside three minutes for the second game in a row. Jess Fishlock fired a strong effort from range, which was parried out by Lisa Weiss. However, the German's luck didn't hold as the rebound fell to Angharad James, who headed home her first goal of the season with the aid of the crossbar.
This set the tone for much of the opening period, with Villa camped around their own penalty area. However, despite dominating possession, most of Reading's shots came from outside of the area. Weiss had to make another strong save from effort from range five minutes after James' opener, with Bethan Roberts and James herself having good efforts from range just evade the goal.
It was another concerning attacking showing from Villa up until the half hour mark, with the Villans showing little in the way of attacking desire and even less in terms of quality. The likes of Sophie Haywood and Emma Follis seemed to crumble whenever the ball strayed into the Reading half and they struggled to string two passes together. Reading continued to dominate, having a penalty claim waved away as Lauren Bruton went down in the area under a challenge from Weiss.
However, Villa improved massively once Mana Iwabuchi dropped deeper into midfield. The Japanese forward pulled all the strings as Villa finally showed some attacking desire. The hosts had two major chances before half time, both falling to Stine Larsen. The first was created by an Emma Follis cross, fired low and hard into Larsen's feet before being cleared away. Emily Syme tried to make something of the chance, but her shanked effort fell back to the Danish striker, who did well to turn and shoot but could only salvage a corner.
Follis and Larsen combined again just before half time, with another low ball finding its way to the Dane. Larsen again does well to hold the ball and shoot, but it was straight at a defender. James recovered well on the stretch to just take the ball away from Iwabuchi before the Japanese star had a chance to shoot. It was a good recovery from Villa, but luck yet again wasn't with them as they failed to level before the break.
It was a bipolar start to the second half in the Walsall snow. Villa rode an early Reading storm with Iwabuchi again driving Villa forward. Emily Syme was hacked down just outside of the Reading area, with centre back Nat Haigh stepping up to take the free kick. She fired in a clever low ball, which was stabbed home by Iwabuchi to level the scores. However, her efforts were cancelled just minutes later as Anita Asante lost track of Rachel Rowe who fired into the far corner.
Villa came close to a winner deep into injury time, with Shania Hayles layup just evading Silva at the far post. It was a massive performance from Villa who are finally showing signs of life in attack following the arrival of Iwabuchi and the return of Larsen to the starting lineup.
Takeaways from the match
Iwabuchi is the real deal...
With a goal and an assist on her full WSL debut, Mana Iwabuchi drove Villa forward in a way they have been missing all season. Villa have been shocking in front of goal all season, finding the net just eight times before this match. These were also Villa's first home goals of the season as well as their first home point. The impact of their new Japanese star has been made immediately obvious and she is exactly what Villa have lacked up top.
...but Villa are far from complete
While Iwabuchi on her own could easily carry Villa's attack for the remainder of the season, their current crop of defenders just aren't working. Time and time again Anita Asante was turned by a Reading attacker and she just doesn't have the pace to track back anymore. Also, for all Elisha N'Dow is a tough tackler and makes vital blocks consistently, she is unable to carry the ball out from defence the way Villa's system wants her to. If Villa want to compete at the top tier, they have to sort their defensive options out.
Star of the match
Villa's best player should be immediately obvious if you have read this far. It is of course Mana Iwabuchi. She put in a dazzling display on her full debut to go along with her goal and assist and she will fit right in at Villa.
As for the Royals, their star was probably Rachel Rowe. While her goal was eventually cancelled out by Silva, Rowe put in a solid performance on the wing and consistently had the beating of Asante.