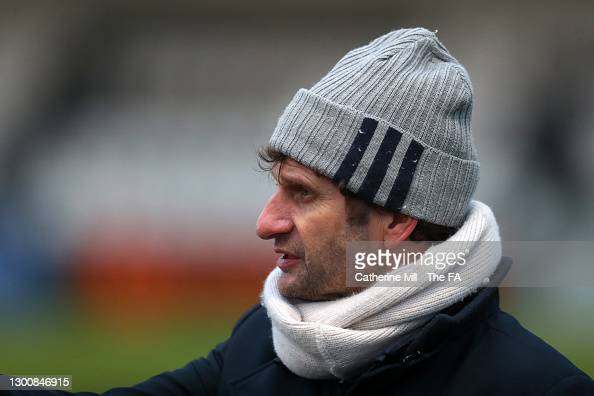 After seven attempts this season in all competitions, Arsenal have failed to come out victorious against Chelsea, Manchester City and Manchester United. Joe Montemurro's latest 3-0 defeat at Kingsmeadow suggested that the Gunners perhaps are going astray.
📊 The #BarclaysFAWSL standings 👇 pic.twitter.com/TfHORlEWUN

— Barclays FA Women's Super League (@BarclaysFAWSL) February 10, 2021
Arsenal sit 12 points behind Chelsea who's at the summit of the Women's Super League table. With the title race already looking unreachable, Montemurro's side are seven points away from the third Champions League spot and it's looking harder to reach with every defeat and upset, but it's not out of reach entirely just yet.
"Mathematically it's there to play for but sometimes realistically you have to set other targets," said Montemurro.
"We have a Champions League spot to play for, two games in hand to get us closer to second or third spot and to make sure we keep building and keep progressing. We will keep on going."
The Arsenal boss wasn't shy to admit that perhaps the club's aims for the end of the season have to shift from winning the title to securing one of the three Champions League spots available.
Apart from reoccurring injuries and constant postponed matches, there is more to look at in Arsenal's disappointing run in the past month.
Montemurro has always been one to stick to his philosophy and style of play no matter what. Now, managers like Pep Guardiola got away with this at Barcelona because his style of play was getting him results and trophies.
But Montemurro's style worked in the 2018/19 season, has worked on clubs outside the 'top four' but does not work against the clubs that Arsenal need to beat to be in title contention and Champions League competition regularly.
The Australian coach took the blame onto himself for these defeats and though Arsenal is falling behind, he is still confident that the gap isn't big enough to be concerned.
With every point dropped, it suggests the Gunners are unable to keep up with the pace of the three clubs above them; both in the table and off the pitch.
"As the coach of the team I take full responsibility, I make the decisions and obviously I am getting some things wrong. I take full responsibility for these losses against the likes of Chelsea and Manchester City."
"If we were miles and miles away I would be more concerned but we're not, we're close. Sunday's game could've gone either way. The game against Chelsea at Meadow Park could've gone either way as well.
"I'm concerned that we can't capitalise on these moments but if we were miles and miles away I would be more concerned. It would be nice to play some of these games with a full complement of players so the options off the bench or the options on the approach could be different but it is what it is and I am fully responsible.
"I am the coach and I can't fault our players tonight, we will reassess and realign our targets."
Chelsea came into the London Derby off their first defeat in over two years and that upset seemed to higher their standards coming into this match. It was a must win no matter who it was against.
When Emma Hayes was asked about Arsenal's engraved style of play and how planning against them might come easier than other teams, she focused on her own approach, but perhaps highlighted something that Montemurro might be missing;
"I am not one who talks about brands of football, or brands of style. I believe in winning football, and winning football matches and I'll do whatever it takes to win football matches.
"I want to be known as a winning coach and we want to be known as a winning team."