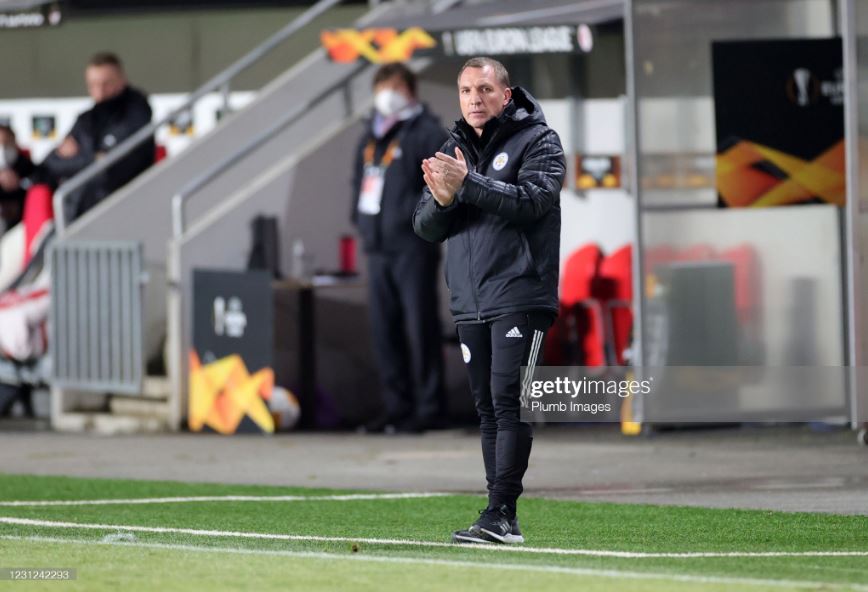 The first leg of the Europa League tie between Leicester City and Slavia Prague ended goalless after a frustrating 90 minutes for the Foxes.
The away side's best chance came in the first half through Harvey Barnes who got clear of his man and dribbled into the box only to be thwarted by Ondrej Kolar who got down quickly to prevent the ball going through his legs.
Slavia's most notable effort came in the second half through Romanian international Nicolae Stanciu, whose long range effort was tipped over the crossbar by Kasper Schmeichel.
The Foxes may be the happier of the two sides having secured a draw after a tough away fixture as they stood strong defensively while their attack struggled to muster up any sort of momentum.
Brendan Rodgers spoke to the media after the game and here are some of his key takeaways from the match.
On his side's performance
"I was really pleased from a defensive perspective. We kept them reasonably quiet. They had one opportunity at the back post in the first half but our goalkeeper and back four were strong."
It was a tough night for Leicester but a huge positive that Rodgers has taken from the encounter was the solidity of the defence.
The Foxes had plenty of defending to do as the home side, especially in the second half, put pressure on the back line as they looked to get the vital first goal.
Leicester only allowed Slavia three shots on target out of their 14 in total and Caglar Soyuncu was a huge part of that as his positioning and his defensive awareness got his side out of some difficult situations.
On how it sets up the second leg
"I was delighted with the spirit and we were solid away from home. Now we have had a feel for them we can go away and look at where we can get through to the next round."
It was imperative that, due to the fact that Leicester were not at their best, that they secured the clean sheet in order to take the match to the King Power Stadium level and that is what they did.
Come the second leg, they should have a greater understanding of their opponents tactically having played them, meaning they can learn on this match and use it to their advantage on home soil, something that should favour them.
With more suitable playing conditions and familiar surroundings, Leicester should be able to offer more of a threat going forward and with that, will hopefully come the winning goal for Rodgers' side as they look to get their name into the next draw.
On the officiating
"I thought the officials were very poor, I have to say. I don't comment on them much as it's a very difficult job but some of the decisions... It was clear it wasn't [an elbow from Kelechi Iheanacho for the yellow card] They were challenging for the ball. Overall, I didn't think it was a good night for them to be honest."
A frustrating night for Leicester was further emphasised by the treatment they got from the match officials.
Three main examples of this all came in the second half. Wilfred Ndidi was cautioned not long after the second half began after challenging for the ball in the air, Cengiz Under was brought down in the final third without getting the freekick despite the defender leaning on him and not playing the ball and Kelechi Iheanacho was cautioned after he was adjudged to elbow his marker from a throw-in a minute after entering the fray.
The last example was costly for Rodgers and his side as it means that Iheanacho is suspended for the second leg due to an accumulation of yellow cards, meaning that Jamie Vardy will be their only available striker.
On Jamie Vardy's lack of involvement
"Jamie Vardy isn't always involved a great deal. He's a special player that relies on our midfield and wide players to get on the ball as he plays on the last line. He just needs those chances and that's why he's such a great striker. He got a good hour in his legs and will be fresh for the weekend."
It was a difficult evening for Leicester's main man as he was left with very little chances despite playing a full hour.
The majority of Leicester's possession was enjoyed either in their own half or in the middle of the park, meaning that he did not get many touches of the ball and when his side did look to move the ball forward and get him in the game, often the players were on different wavelengths and the attacks would break down.
This did not worry Rodgers judging by his comments as he knows that Vardy is usually a striker who takes his chances when they come to him, regardless of how few he gets.
Having returned from an operation recently and the tightness of the schedule that Leicester have to work with, Rodgers will be pleased that he had another hour to get fitter and will be fit and ready for the clash against Aston Villa.
On the quick turnaround
"It was a tough game and sets us up well. We now head to Aston Villa who have some fantastic players. It will be a tough game for us, we need a strong mindset to get the result."
Having only just played Slavia in Prague, the Foxes' attention will be straight on Villa as they travel back to the UK to prepare for their match on Sunday.
This clash will have been in the back of Rodgers' mind as he withdrew both Vardy and James Maddison, two of Leicester's most important attacking players in a bid to keep them fresh ready for their midland rivals.
After the match against Villa, the focus will switch straight back to Slavia once again who they will play days later, emphasising just how congested this season is with two matches a week for the majority of the season.