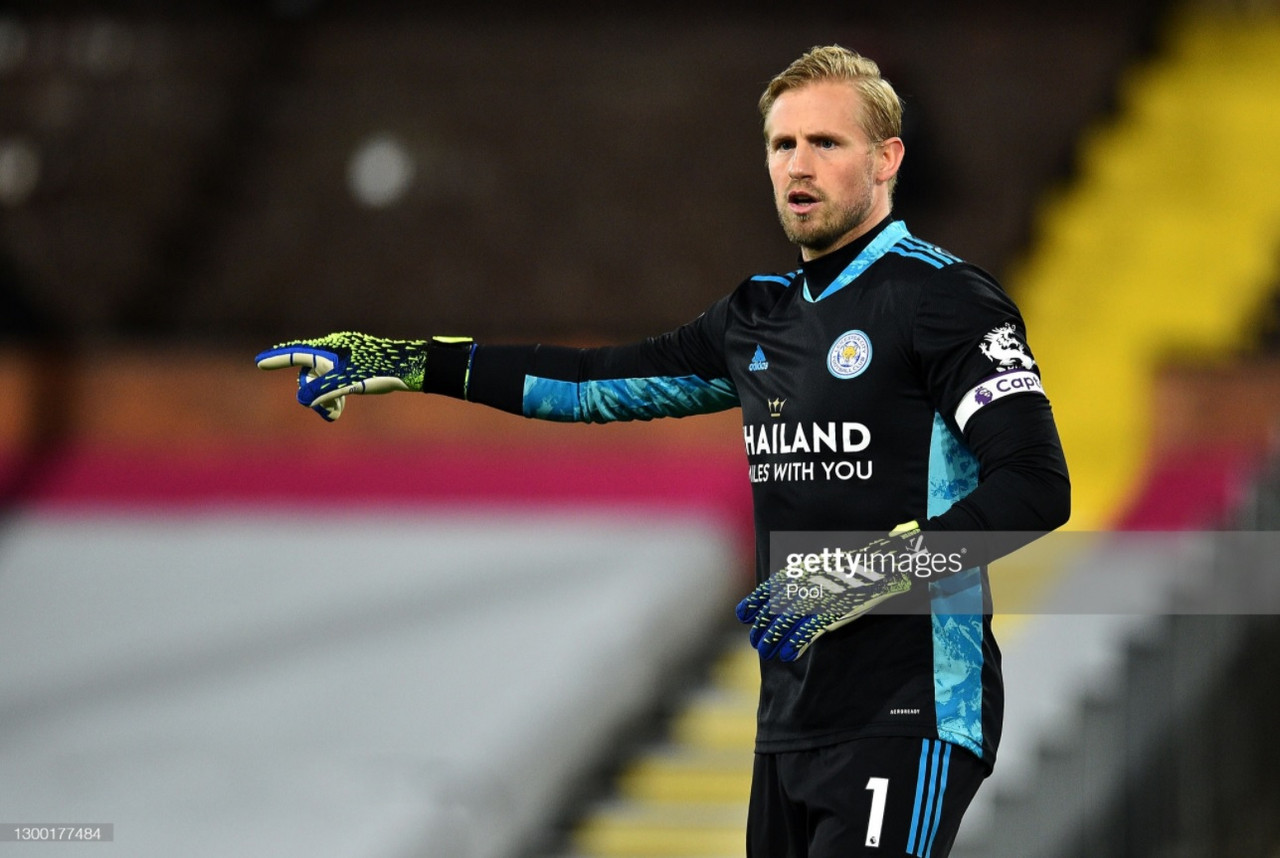 It was the 26th of July in the year of 2020, and Danish Fox Kasper Schmeichel produced a horrendous mistake to allow England and West Ham midfielder Jesse Lingard to score his first Premier League goal since 2018.
This clearly was an inexplicable error for Leicester City's no. 1 after a decent campaign last season, but it became a learning curve for him as a whole.
Coming into this Premier League campaign, Schmeichel was determined and committed to demonstrating to everyone that last season was not a true display of his actual work. During the transpiring of the Summer, Schmeichel worked hard on his goalkeeping abilities and tried to improve in areas of weakness. He knew he could do more. He was a man on a mission.
Months later, he has proven that all the practice sessions throughout the summer were truly worth his time, as he is currently one of the best Premier League goalkeepers this season. Not only is this deserved for the Dane after his great commitment to improving himself, but also because he has been a talisman for the club since he arrived during the year of 2011. A transfer fee of £1.5million paid to Leeds United has been worth it throughout the years, as Schmeichel has been a main staple of the East Midlands club since they were in the Championship.
In order to comprehend why Schmeichel has been so efficient this season, it is crucial to highlight his strengths, but also his areas of improvement.
Improved Distribution
The most essential area in which Schmeichel has improved upon is his distribution awareness and completion.
Last season, Schmeichel attempted 488 passes longer than 40 yards, completing 239 of those passes. These numbers resulted in a completion percentage of 49 percent throughout the whole season for the Dane, ranking him fourth among all Premier League goalkeepers. The other 51 percent of failed passes included many putrid mistakes, which resulted in Leicester losing points in the long run.
This season, Schmeichel has made it his job to not generate any goal leading mistakes, and he has been successful so far. At this moment, he has attempted 341 passes longer than 40 yards and completed 145 of those. It does result in a completion percentage lower than last season (42.5 percent), but that is only because it is February. There are still three more months to play football, and he is more than likely going to surpass his stats from last season.
Even though he has failed 57.5 percent of his passes this season, none of these have resulted in goals being conceded or horrible mistakes like last season. This is what has made the Foxes' so consistent this season, and he will continue to do so with all the confidence in the world.
Crucial Saves
Schmeichel has been the mastermind behind preventing Leicester from conceding goals, and he has done so with outstanding saves whenever he has been called upon.
During this season, he has only been called upon to save the ball 87 times, in which he has produced 62 saves. This results in the Dane conceding 25 goals this season, which is less than Manchester United and Spanish international David De Gea and Wolverhampton Wanderers veteran goalkeeper Rui Patricio. In comparison, he conceded 41 goals last season as a whole.
In his last six appearances in the Premier League, the 34-year-old has only been called upon to produce 14 saves, meaning that he is producing 2.3 key saves per game. This means that he has only been called upon two times each game, and he has done so to perfection. One must note his amazing saves against Fulham and Everton, but especially his save against Wolves, in which he denied Portugal wonderkid Fábio Silva with the studs of his boots.
These great performances have resulted in Schmeichel achieving nine clean sheets out of his 23 games played, producing a clean sheet percentage of 39.1 percent. This ranks him fifth among all goalkeepers in the Premier League this season, only behind the likes of Manchester City goalkeeper Ederson Moraes and Aston Villa shot-stopper Emiliano Martínez.
This is a great improvement for the Dane, as he only produced 13 clean sheets in 32 games last season, resulting in a clean sheet percentage of 34.2 percent. There is still enough football to play, and even more chances to try to surpass his clean sheet record from last season.
A Brick House
The final area that must be assessed in Schmeichel's performances this season is his ability to stop the ball from hitting the net.
Throughout the transpiring of this season, he has only allowed 1.09 goals per 90 minutes. This ranks him seventh among all goalkeepers in the Premier League, which means he concedes fewer goals than on-form Burnley goalkeeper Nick Pope and De Gea per 90. That is a very decent low rate compared to all of the goalkeepers around the league, hence why he is fourth this season for most clean sheets.
He deserves a pat on the back this season for how solid he has been in net, but he must also thank his defense for being solid likewise. If it was not for Leicester's amazing defensive capabilities, Schmeichel would probably be producing lower caliber performances and numbers, but thankfully that is not the case.
As Brendan's Foxes continue in their chase for finishing in a UEFA Champions League qualification spot, Schmeichel will be a key component to their success. His amazing numbers so far this season will help the Foxes in every competition they are fighting in until the end of the season, and the Dane himself must be happy with his amazing production so far. Schmeichel deserves more credit for Leicester's great run of form, and he will continue to be the main staple of the club's shot-stopping duties for seasons to come.