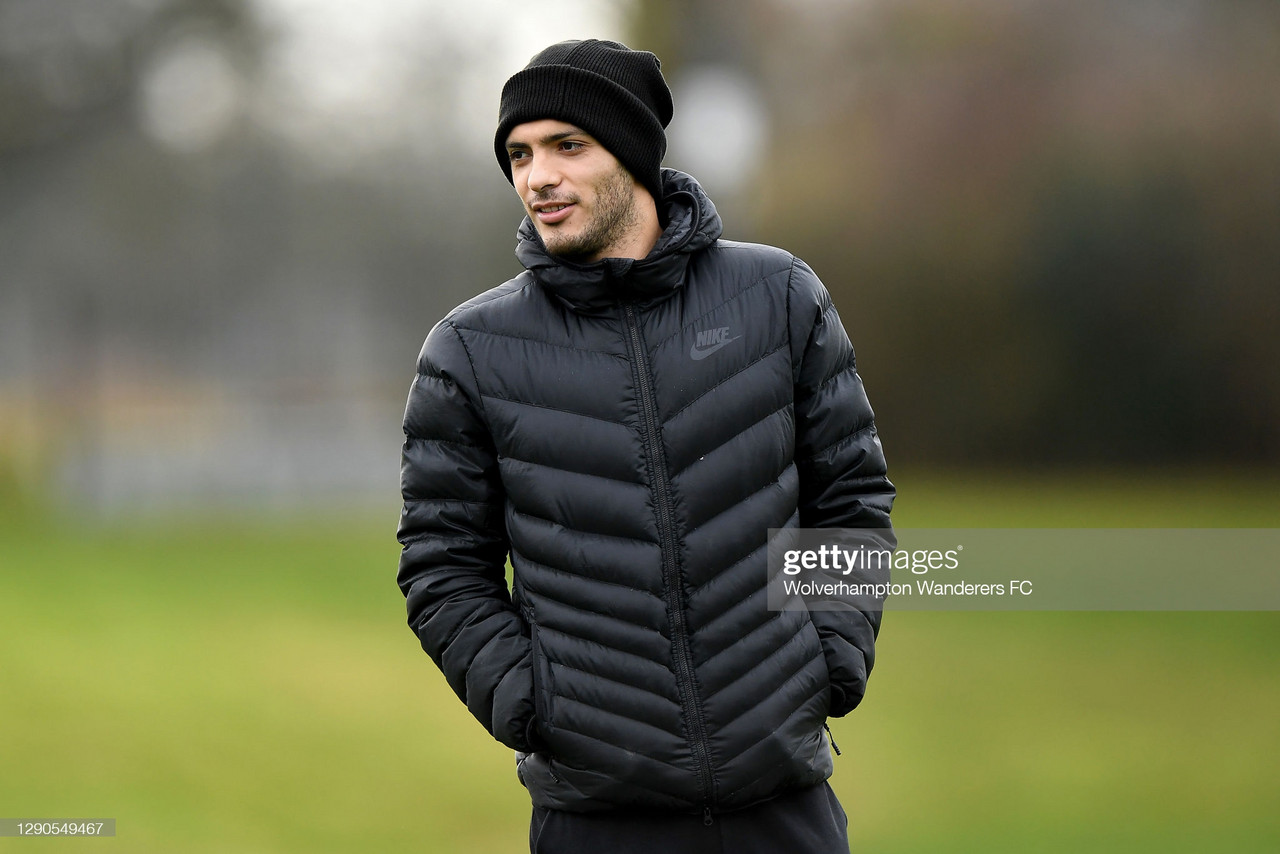 Wolverhampton Wanderers boss Nuno Espirito Santo has provided encouraging signs on the return of striker Raul Jimenez, who has been out of action since the end of November with a fractured skull.
When speaking to the media ahead of Wednesday's trip to Chelsea, Espirito Santo has stated the club 'are truly positive' about Jimenez appearing again this season.
Jimenez fractured his skull at the Emirates Stadium in a collision with David Luiz at the front-post from a Wolves corner. Since his absence, Wolves have scored only 10 Premier League goals in nine games in a run that has seen them drop down to 14th in the league.
Fortunes do look like they could be changing with the signing of Willian Jose, with the Brazilian striker awaiting international clearance to join up with his new team-mates.
However, with Patrick Cutrone yet to find the net since his return from his loan spell with AFC Fiorentina and Fabio Silva having too much weight on his shoulders, the news about Jimenez possibly returning by the end of the 2020/21 season comes at a good time.
The question regarding the Mexican's fitness has been thrown at the Wanderers manager ever since the tragic injury last year, with Nuno persisting to refuse to slap a time frame on his striker's return.
However, for the first time, Nuno was able to provide an update on his return.
"We are truly positive this can happen [Jimenez play again this season]. It's very good news. It's very good news the way he keeps improving day-by-day.
"Not only me, but all the medical staff are surprised because he's improving in all these concussion tests that we did previously, two seasons ago. He's doing really well.
"Just by seeing him running, lifting weights and doing all of these strong training sessions. It's a big lift for everybody."
"That will come in time."
Like any injury, the recovery will be a slow-burn. With Jimenez's injury being a serious one, Nuno is focused on ensuring the return of Jimenez himself more than the player.
He said: "Because first of all, it's the man. It's Raul. What we want back is Raul, healthy. Then we will get back Raul as a player, an important player for the team. The big lift for us is just having him around.
"We have a medical plan and these things are very responsible decisions to be made because how serious the injury. We have to be really patient and take the right decisions.
"This will require the decision on the surgeon, require tests and scans on the skull. All these things take time and we will follow and proceed according to the situation. We will not rush or take any kind of risks.
The return of Jimenez into Wolves' squad will be a long-awaited one, but Nuno confirmed he and the medical staff are aware of the challenges the 29-year-old faces.
"That part [mentally] is not a worry for us because it's exactly the same guy, same boy. Always with a smile on his face, aware of the process he has gone through. Complete confidence that he wants to return stronger.
"But at that part, we are not worried. He has all the support, his wife, he has a beautiful girl that gives him all the smiles.
"The other part, when you mention heading and how he can deal with this situation, how his brain is going to react to the acceleration, jump, impact is another issue. But that will come with time.