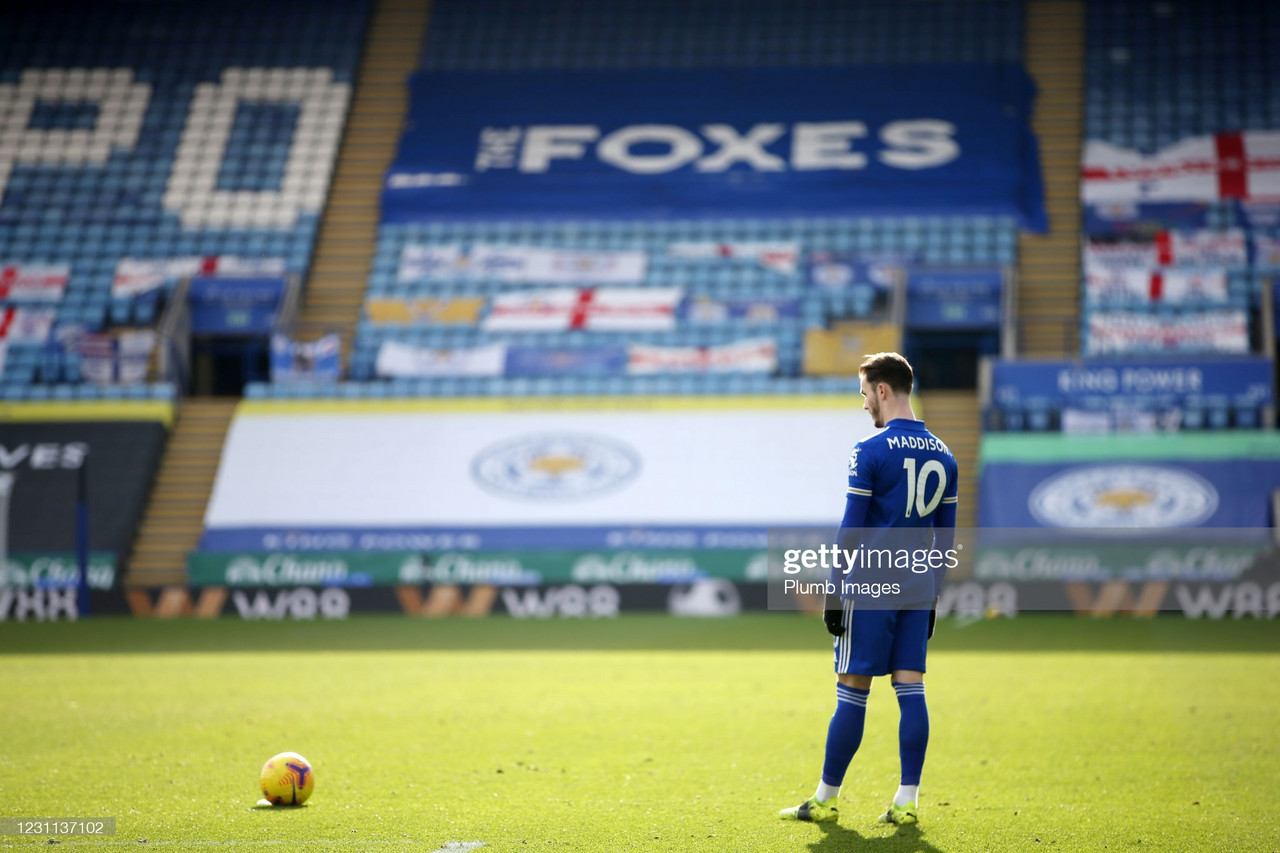 It was the summer of 2018, and Coventry-native James Maddison was signed by Leicester City from Championship suitors Norwich City for a fee of £22.50million.
This would mark the commencement of an exciting new story for Maddison and the Foxes, as he would go on to become one of the breakout stars of the 2018/2019 Premier League campaign, scoring seven goals and assisting on seven occasions that season.
The Coventry man had a decent 2019/2020 season, scoring six goals and assisting three throughout 31 games, but Maddison had become more predictable. Defenses were beginning to become accustomed to his style of play, which resulted in players discovering ways in which they could contain the English Fox.
Maddison also suffered a couple of injuries last season, the most concerning being a hip injury that had him miss out on the conclusion of that irregular COVID-affected season. People began to utter that Maddison was overrated in his position, but the Coventry man did not pay attention to such buffoonery.
Maddison entered this 2020/2021 Premier League campaign looking to prove to everyone that he was truly a leader who could assist his team in all facets of the offensive side of the ball, but he struggled to do so. Up to the month of December, Maddison had only been able to score three goals and provide two assists in 16 games for Rodgers' side. Leicester were yearning for more of his offensive contributions in most games, but he ran unnoticed in many instances. Injuries kept haunting the 24-year-old once again, as he suffered a hamstring scare in November.
After Leicester's heroic win against Sheffield United on December 6th of 2020, former Liverpool player and now Sky Sports pundit Jamie Carragher decided to give his opinions on Maddison and his form up to that moment of the season. Carragher explained in essence that if Maddison wanted to be included in England manager Gareth Southgate's side for the upcoming UEFA EURO 2020 tournament, he would have to show much-improved production in all assets of his game. Carragher mentioned this as a result of Aston Villa talisman Jack Grealish's great performances this season, which had the English Fox sat at home watching England's UEFA Nations League run during the rest of 2020.
Since that day at Bramall Lane and Carragher's criticism on Maddison, the Coventry man began to truly study his game and how to improve both himself and everyone around him, which resulted in a true 180 for the midfielder in terms of his production. Maddison has now played 30 games this season, assisting and scoring a combined 20 times this season. This makes him the English midfielder with the most direct goal involvements this season in the Premier League, which is a remarkable statistic to have considering how good Grealish has been this season so far.
To comprehend what Maddison has done to generate such excellent production of play since last season, it is essential to note Maddison's improvement in all facets of his game.
A Providing Leader
The first area to note in which Maddison has truly improved on this season is his ability to provide for Rodgers' side.
Last season, the Coventry-native provided 13 goal-creating actions, resulting in a rate of 0.45 goal-creating actions per 90. This season, Maddison has made it his inclination to be more dangerous with his shots, and it has been noted. He has had 11 goal-creating actions so far this season, and there are still many more games to play until the end of the season. Maddison currently has a goal creating action rate of 0.65 per 90 minutes, which he can totally elevate and improve come to the end of the season.
Maddison has also been very generous with his passing statistics compared to last season. Leicester's no.10 played a full 90 minutes in 29 Premier League games during the 2019/2020 season, resulting in a completion of 1282 passes from an attempted 1674 passes throughout the entire season. This concluded in a passing completion percentage of 76.6 percent for the Englishman, which was formidable considering how he could not finish the season due to his hip injury.
This season, Maddison has only been able to play a full 90 minutes in 17 games for Brendan Rodgers' side due to a concurrent knee injury that has had him out for three games this season. Although this setback has been harsh on the 24-year-old, he has still produced amazingly well, completing 599 passes from an attempted 800 passes this season. This results in a pass completion percentage of 74.9 percent, which will most likely lead to him surpassing his percentage of last year with a great amount of Premier League games still to be played until May.
Finally, Maddison has provided a better rate of assists this season compared to last season. Last season, Leicester's no.10 had an expected assist rate of 7.4 assists throughout the 2019/2020 Premier League campaign due to his amazing 2018/2019 breakout season. Unfortunately, he was only able to provide three assists throughout the entire season. This was disheartening for the Englishman, who knew he had the ability to garnish more assists for his own tally but could not produce enough to do so.
As a result of his poor assist tally last season, the Coventry-native was only expected to provide 3.8 assists this season, which he has already surpassed. Maddison currently has five assists to his name this season in the Premier League and is on course to double his tally of assists from last season. He must continue to find his teammates in crucial areas throughout the rest of the season, which is most certainly going to occur if he continues his great form.
Improved Defensive Capabilities
Another area in which Leicester's no.10 has enhanced is his ability to provide defensive clarity in much-needed moments.
Throughout the 2019/2020 season, Maddison attempted to tackle players dribbling against him 69 times, in which he was successful 22 times. This resulted in Maddison having a tackle success percentage of 31.9 percent against players dribbling with the ball. This season, Maddison has been much more clinical with his tackles against dribblers, tackling eight dribblers out of an attempted 23 tackles against opposition players. This results in a tackle percentage against dribblers of 34.8 percent, which is much improved to the tackle percentage against dribblers of last season. As a result, he was dribbled past by an opposing player 47 times last season, compared to an improvement of only being dribbled past by in 15 occasions so far this season.
Maddison has also been more defensively influential in the attacking third this season. Last season, he only provided 13 tackles in the attacking third. This season, Maddison already boasts of 11 tackles in the attacking third and is bound to intervene in the attacking third on a couple of more occasions.
Lastly, Maddison has provided higher defensive production in the interception and clearance department. Last season, he only provided 12 interceptions throughout the whole entire transpiring of the 2019/2020 Premier League campaign. This season, Maddison already boasts of nine interceptions and is projected to surpass his 12 interceptions from last year. The midfielder also boasts of the same type of improvement in clearances, as he provided eight clearances last season and has provided six clearances up to date this season. Maddison seeks to surpass his eight clearances from last season by the end of May, and in the course to do so.
A true Sharpshooter
The final area in which Maddison has shown improved development is his ability to be clinical in front of goal.
Maddison was decent last season in terms of his shot efficiency, shooting 74 times and only getting 18 of those shots on target. This led to him having a shot-on-target percentage of 24.3 percent, which was respectable considering that Manchester City and Belgium midfielder Kevin De Bruyne finished the season with a shot-on-target percentage of 28.1 percent.
This season, Maddison has truly improved his shot effectiveness, shooting the ball 50 times and getting 16 of those shots on target. That is only two fewer shots on target than the 2018/19 Premier League campaign, with 14 fewer shots compared to last season so far. This results in the Coventry man having a shot on target percentage of 32 percent, which is almost a ten percent improvement to last season. Maddison currently has a shot-on-target rate of 0.92 per 90 this season, a 0.3 increase to his shot-on-target rate of 0.62 from last season.
As a result of this noted improvement, Maddison has seven goals so far this season compared to only six last season. The 24-year-old has already doubled his expected goal ratio of 3.2 goals this season and is seeking to overachieve it at a higher level. Maddison is bound to reach ten goals for the first time in his Premier League career this season, which would be an amazing individual achievement for him after three seasons in the Premier League.
This season has been a true testament to what Maddison is truly capable of producing when in elite focus, as he decided to improve himself after a disappointing start to the season. His incredible alterations and tweaks in his game since Carragher's comments back in December are bound to continue under Rodgers' current scheme.
If injuries do not impede Maddison's form, he will surely have a real opportunity to end up in Southgate's final squad of players for the upcoming 2020 UEFA EURO tournament.