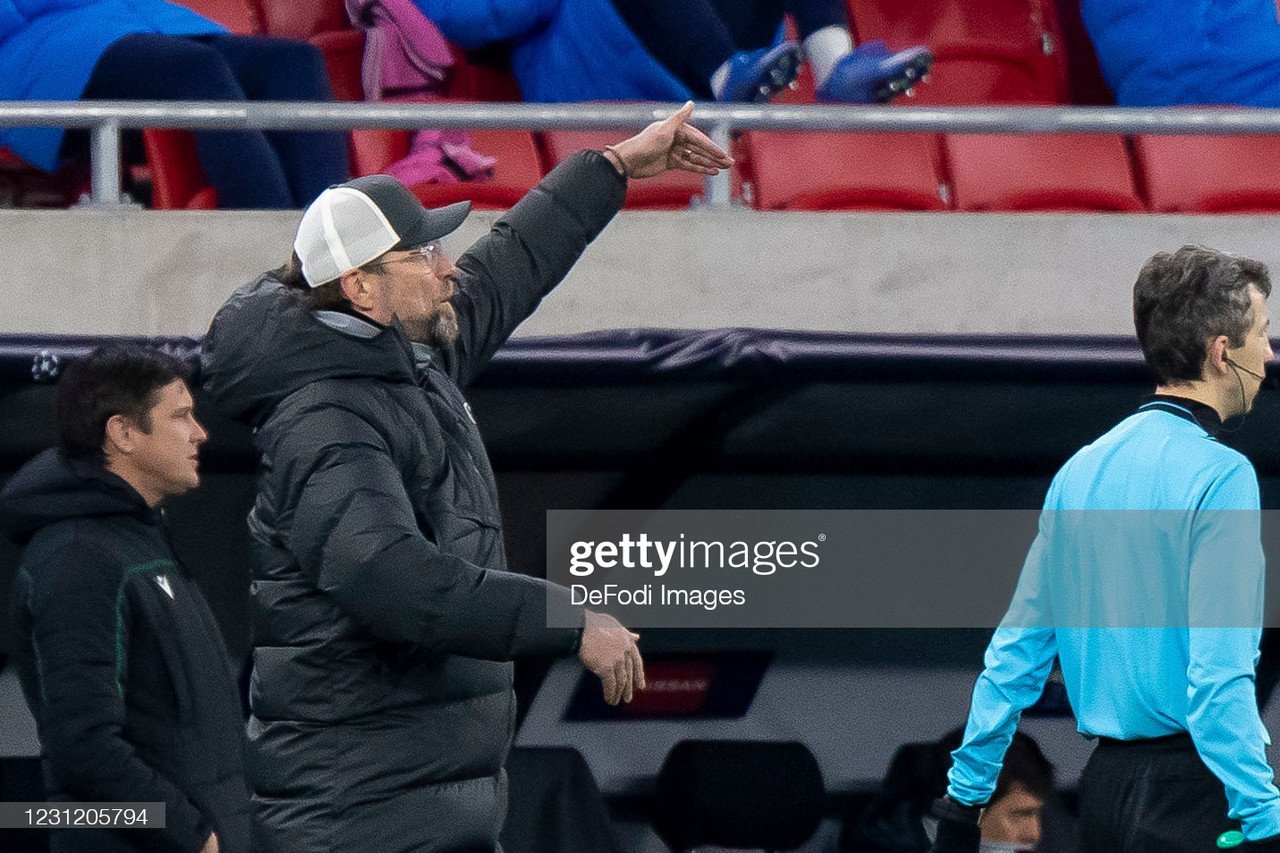 Jürgen Klopp spoke to the media ahead of this weekend's derby against Carlo Ancelotti's Everton.
Squad fitness and Alisson's form
When asked for an update on injuries in the champions' squad, Klopp was able to give supporters some much needed good news.
"Naby [Keita] trained yesterday (Thursday) so we will have to see. Fabinho and Milner are getting closer, but not close enough.
"Naby could have been in the squad against [RB] Leipzig, but he only trained for one day. Is he able to play on Saturday? We don't know yet. Is it worth him playing a few minutes or training all day? We need to know how fit he is and play him when he is fit enough."
No.1 goalkeeper, Alisson, has come under fire after costly errors in recent matches, but the German says he backs the shot stopper to turn things around.
"Alisson is fine. Nothing has changed in my confidence with Ali and his hasn't either in these last few goals. He knows he is a world class goallie. If you make a mistake in a previous game, it can make you struggle. He is smart enough to not ignore it."
Re-finding defensive solidity and Kabak's potential
Defensive fragility has seen too many points slip away so far this season, but Klopp realises this is confident that his side has what it takes to improve at the back.
"That is really important. We need to do this as a unit at our highest level. The Leipzig game gave us a really good understanding that we can deal with misunderstandings and mistakes from the game before and cope with a very tricky, dangerous team.
"Özan Kabak has big potential and is only 20 years old. He hasn't taken the easiest career. When you play for Istanbul and fight at the top of the table and then for results at Stuttgart and Schalke, it is good.
"The games he has played have not been easy and we all know what happened against Leicester, but the Champions League showed how good he is."
Criticism of Mohamed Salah
The man at the helm was also asked about Mohamed Salah's contributions and whether or not criticism of the Egyptian has been unfair.
"You don't have to ask me why he doesn't get the credit. This is unexplainable. He certainly gets the credit here [at Liverpool]. He played a brilliant game against Leipzig and my favourite thing about his performance for me was when he challenged Angelino for a header in his own box in the 70th minute."
Ancelotti's effect on Everton
Carlo Ancelotti has improved his Everton team no end, and they go to Anfield with what many people consider to be their best chance of winning at their old home for a long time. Klopp praised the Italian's work.
"They have had good teams over the years and most of the games with them have been close. But, with Carlo they have a great squad and great players. Probably in the league they are closer to us than ever before."
Did the title start to slip away with Van Dijk's injury at Goodison?
Of course, the press conference brought up the 2-2 away draw earlier in season, in which Jordan Pickford clashed with Virgil Van Dijk and Richarlison saw red for a tackle on Thiago Alcantara. Klopp, though, said that the reverse fixture shouldn't play a part in his team's mentality when approaching Saturday's game.
"I don't think about this until the season is over. I hope I think about something happier than this. Was it important? Yes, of course. Nothing will be carried over to tomorrow. We are human beings and it was not nice, but we do not think about this anymore.
"It is a derby so that is all the motivation you need and to play the best possible you can play."