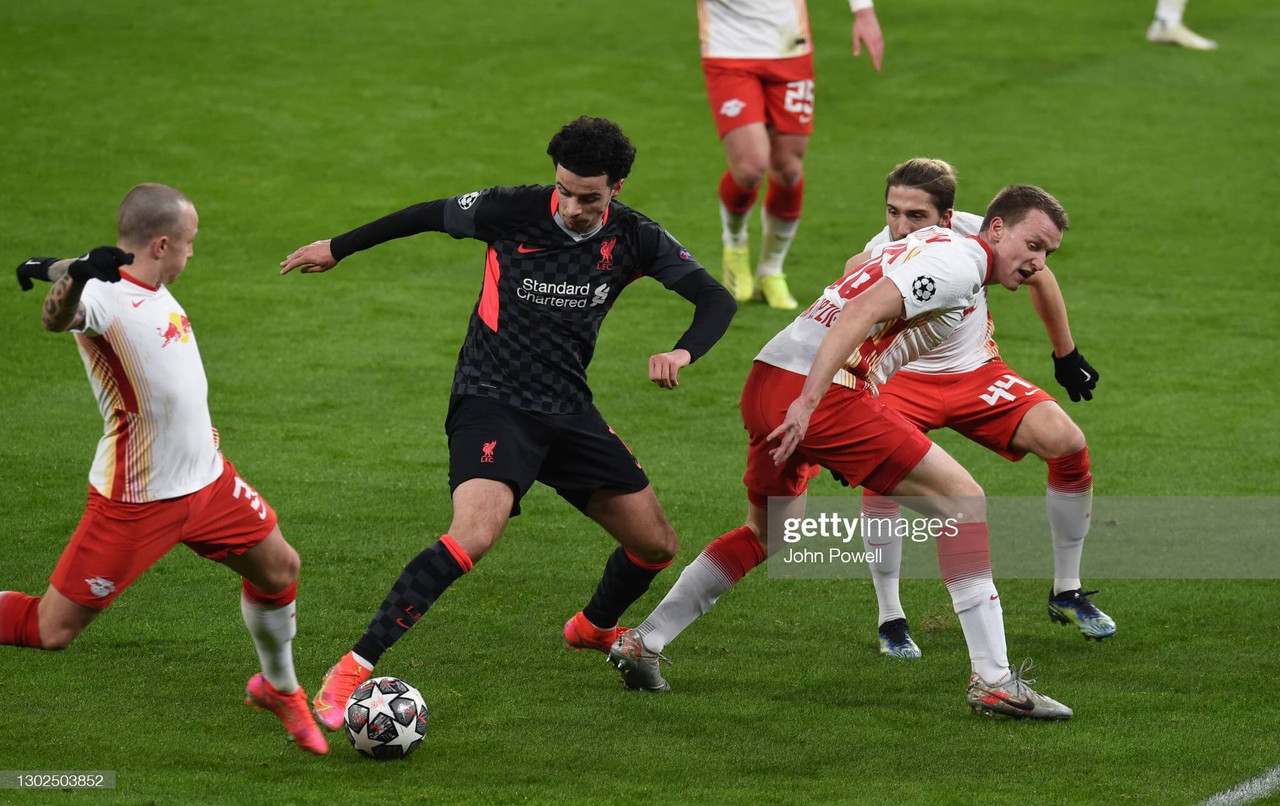 On Tuesday night, Liverpool beat RB Leipzig 2-0 in the first leg of their last 16 Champions League tie. The team much improved from their recent run of form and ended a three-game losing streak.
The Reds' recent form has been the worst period of Jurgen Klopp's reign at Liverpool.
Injury problems aside, Liverpool have struggled physically and mentally, looking drained in both departments.
An impressive performance from Liverpool in the Champions League was a good place to start to put things right. Their concerns will now turn to finding their form in the Premier League in a bid to secure a top-four position.
Whilst this season has been tough for many of the Liverpool players who have either been hindered with injuries or played out of position, someone who has stood out has been Curtis Jones.
The 20-year-old has taken a massive step in his development over the past 18 months, looking assured in the midfield. For his age, it is very impressive that he does not look out of place in the Premier League champions' midfield. It is scary to think how good Jones could become in the next few years given his rapid progression from last season.
Confident in his own ability
Something that stands out about when Jones plays is his confidence to back his own ability. He is not afraid to try a difficult pass or dribble past a number of the opposition's players in his own half in a bid to retain possession.
That was prevalent against Leipzig and has been in a number of games that he has played. Not only are his ball retention skills fantastic, his work-rate and desire to help the team stand out too.
So many young players would feel intimidated coming into a team as good as Liverpool's. This is seen every year, with the inexperienced players happy to play simple and non-expansive passes so that they do not give the ball away. Younger players are often content with playing within themselves rather than trying to help their sides with the game.
However, Jones backs himself and importantly has the ability to pull off a difficult pass.
Given more responsibility next season
Last season, Jones only played six Premier League games and did not break into the side until the restart of the league.
This season he has already played 17 in the league and played in five out of seven Champions League games, scoring his only goal of the season in Europe.
It is unknown whether Jones would have been given this amount of game time had Liverpool not had as many injuries, but Jones has certainly done a great job in becoming a key member of the midfield. He seems to be ahead of Alex Oxlade-Chamberlain in the pecking order and has proved that he can be trusted.
With Georginio Wijnaldum's future in doubt, Liverpool may very well decide not to replace the Dutchman and give Jones the added minutes. It would certainly be deserving and would be great for Jones to carry on his development.