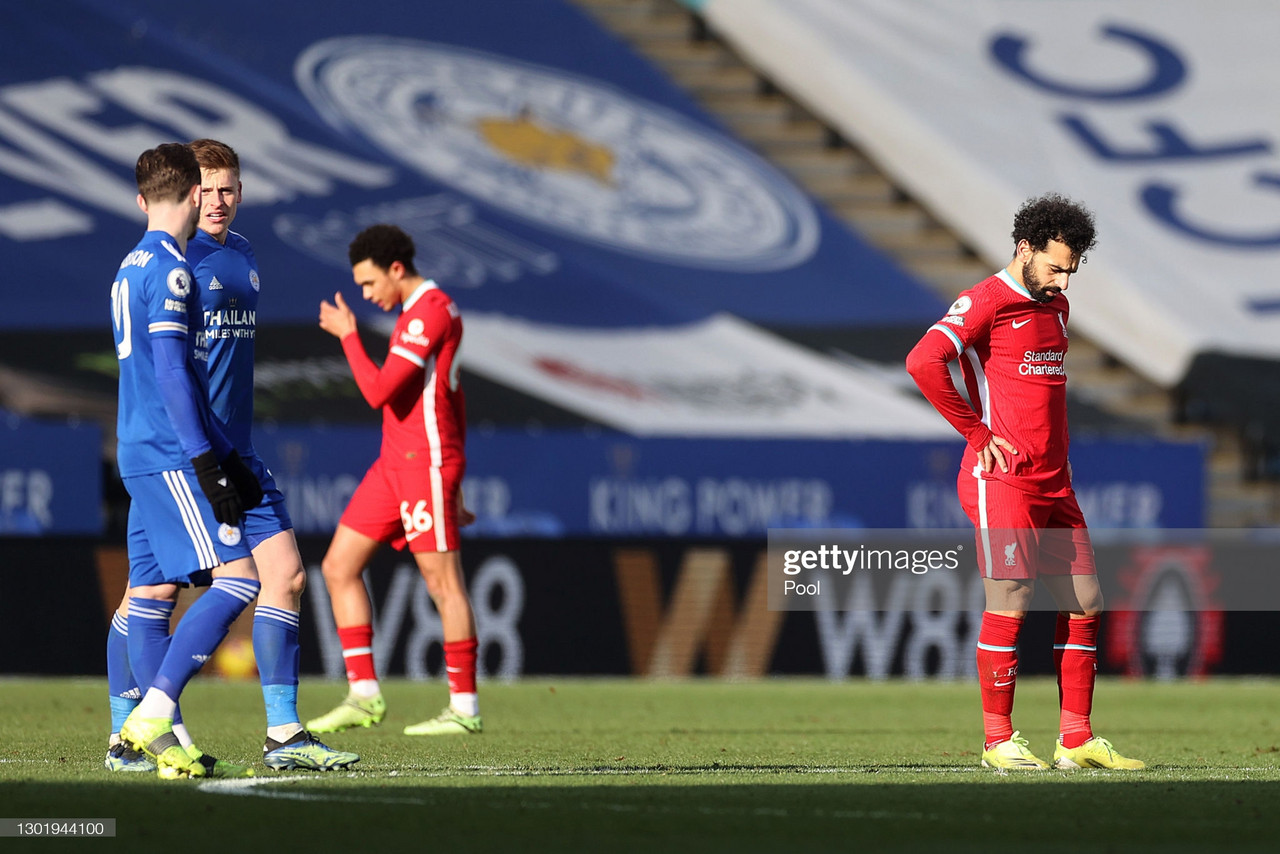 The season has gone from bad to worse for Liverpool. After seeing their hopes of a title challenge diminish with a loss to Manchester City last week, Liverpool now face an unexpected battle to challenge for the top four spots thanks to a 3-1 loss to Leicester.
This loss was Liverpool's third loss on the bounce, the first time this has happened under manager Jurgen Klopp. It also sees Brendan Rogers get his first win against Liverpool since his Swansea side won 1-0 nine years ago.
Liverpool got off to a positive start after a goalless first half. Mohamed Salah coolly finished first-time into the bottom left corner of the goal after a fancy flick set him up from Roberto Firmino.
However, Liverpool's game would be decided within seven minutes. A rash challenge by Thiago on the edge of the penalty area set up a freekick for James Maddison who took the opportunity and struck past all the players in the penalty area and Alisson to level up the scoring.
They quickly doubled their lead after some miscommunication from debutant Ozan Kabak and Alisson. Both players missed a lofted ball and took each other out leaving Jamie Vardy to tap the ball into an open net.
A minute later and the game was over. A disorganised Liverpool pushed for an equaliser only to be caught out by one ball over the top for Harvey Barnes to get on the end of and finish to add salt into Liverpool's wounds.
A disastrous debut
Fabinho's absence in the squad paved the way for debutant Kabak to start his first game for the Reds. The 20-year-old had an encouraging first half. He went into the break with a clean sheet and had won 100% of his aerial duels.
But it was the second half that defined his afternoon. With Leicester playing on the counter-attack Kabak had not had much to do all game but after conceding an equaliser every player looked to be panicked. Alisson came to intercept a floating over the top ball at the same time as Kabak who went to clear it. Both players got in each others' way and took one another out leaving an open goal for Vardy to score in.
Whilst Alisson looked to be at fault it was definitely a communication error from both players that led to this mistake. Kabak had only started training for Liverpool at the end of January and has had little time to settle into the team and definitely felt the effect of this against Leicester.
Nonetheless he had not made a single error leading to a goal for his entire time at Schalke - who are rock bottom of the Bundesliga - so hopefully this will blow over and not affect the youngster's confidence.
First-half chances
A recurring theme for Liverpool in recent weeks has been their lack of creativity when attacking. Despite the loss today, the Reds created some brilliant chances in the first half. Sadio Mane and Salah came close on multiple occasions with the most notable being Salah's drilled pass across to Mane who had his shot blocked by Daniel Amartey.
This continued in the second half with Liverpool getting into some great attacking areas, but it was their finishing touch that let them down.
These are positives Liverpool must take from the match and is also a sign that despite the poor results they are showing signs that they are dangerous when they attack.
Super Salah
Once again Salah appeared on the scoresheet after bagging himself his 17th Premier League goal this season.
The league's top goal scorer showed no sign of sloppiness as he calmly slotted in Liverpool's only goal of the game. A cheeky pirouette pass from Firmino set up the Egyptian for a first time shot where he placed the ball past Kasper Schmeichel and into the goal to give Liverpool the lead.
Salah has stood out for Liverpool during their embarrassing run of form. He's been providing goals and has shown why he is regarded as one of the best with his hunger for goals and lethal left foot. If he keeps this form up then once the team have got out of the ditch they are stuck in, Liverpool may look like the deadly team that won the league last year.
What do Liverpool do next?
With the Champions League back and Liverpool facing RB Leipzig on Tuesday there is no time for the Reds to dwell on the negatives of the game.
This match saw plenty of positive performances with Curtis Jones who once again put in a great performance and looked very confident on the ball.
Alisson - despite his miscommunication - made some brilliant saves and showed that he still has all the qualities of a world-class goalkeeper.
Mane provided some infectious, darting runs and won a number of freekicks in attacking areas.
However, it is clear that the problem for the Reds lies in the defence and midfield. It was clear to see Liverpool were missing a Jordan Henderson or Fabinho in midfield today, a player who could break up opposition attacks and calm the mood of the squad. This was obvious to see with Leicester's second and third goal where the Reds were missing a holding midfielder who would have intercepted the passes that led to these goals.
They also never looked comfortable or in control of the game despite going 1-0 up and that is a problem Klopp needs to resolve quickly before the top four spots become out of reach.