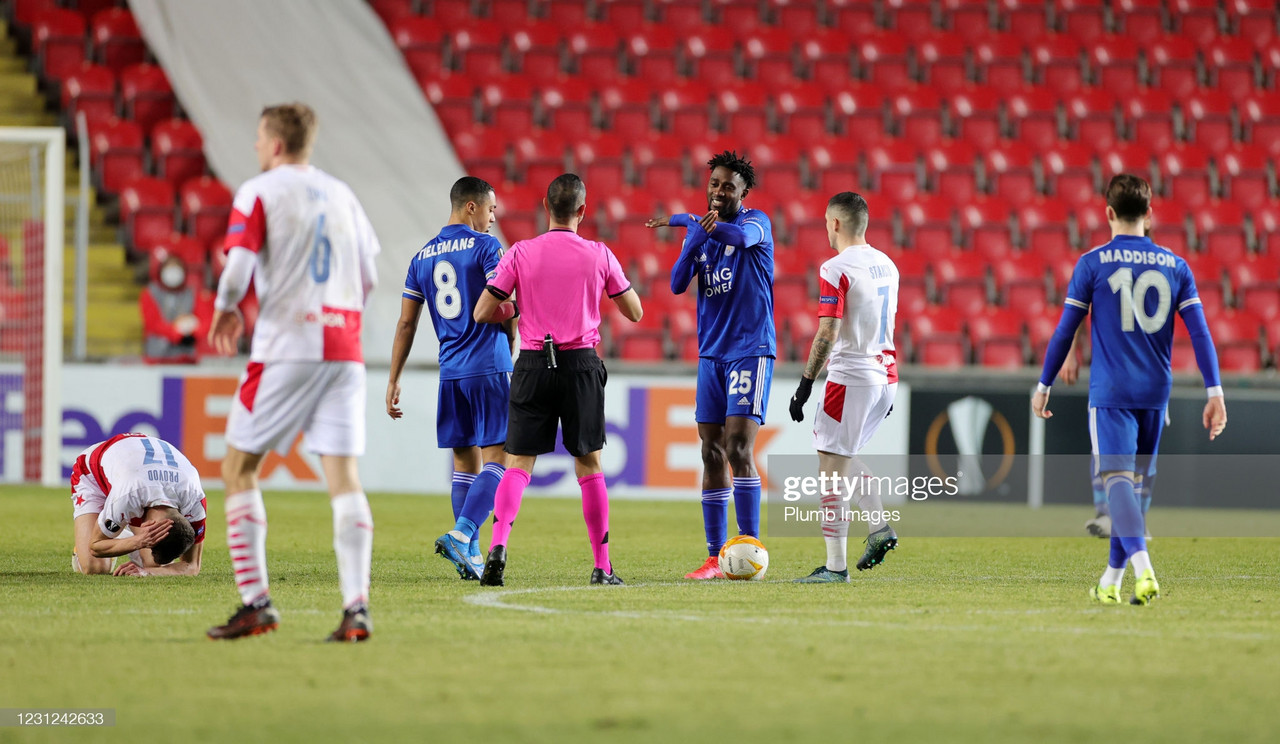 The stage was set. The Sinobo Stadium in Czech Republic was personally designed to spell out "Slavia Praha Fox Hunting" in the stands, and Jindřích Trpišovský's Slavia Prague was ready to compete against Leicester City in the UEFA Europa League.

After a very fought first leg away from home, Brendan Rodgers' blue army attained a 0-0 result against a valiant Slavia Prague who truly displayed their capabilities and strengths.
Now that a week has gone by, the Foxes are ready to face the Czech's once again, as they had a very convincing performance against Aston Villa in the Premier League on Sunday. The Foxes were able to defeat the Villans 2-1 at Villa Park, resulting in goals for James Maddison and Leicester wonderkid Harvey Barnes in the first half of the game.
The East Midlands club is seeking to advance to the next round of the Europa League at the King Power Stadium, which will be the first time a Brendan Rodgers side has ever advanced past a round of 32 fixture in his entire managerial career. On the other hand, the current Czech Republic league leaders are seeking to ruin the Foxes' hopes and make more history in their memorable campaign so far.
In order to comprehend what Thursday's fixture at the King Power Stadium might look like, it is time to assess what both sides will possibly line up with.
Leicester City
Brendan Rodgers' Foxes are currently undefeated in six games in all competitions, but injuries keep impeding Rodgers from being able to showcase his best side this season.
Leicester will have to deal with the agonizing loss of James Maddison, who flared up his recurrent hip injury once again against Aston Villa. Not only that, Leicester youngsters James Justin and Wesley Fofana will be out for this game due to their respective injuries. Ayoze Perez, Wes Morgan, and Dennis Praet will be out likewise.
The Foxes will also have to deal with the absence of Nigerian striker Kelechi Iheanacho, who picked up a questionable yellow card against Prague last week when he had already received one against Sporting Braga back in November. Iheanacho has been the mastermind behind Leicester's late winning goals lately, which will be a disadvantage for the Foxes if Vardy does not perform on Thursday.
Speaking of Vardy, he will undoubtedly start Thursday due to Iheanacho's suspension, as he also seeks to find his form after his latest knee injury. Harvey Barnes will most likely start alongside a fully rested Marc Albrighton and Turkish winger Cengiz Ünder, who can possibly receive a much-awaited start as a result of Leicester needing great offensive production to be able to score tomorrow. Ünder will most likely replace Maddison's absence in the team, which will mean he will play as an attacking midfielder on Thursday.
Rodgers might also ponder the idea of playing Belgian Youri Tielemans at the center attacking midfield role with Leicester City academy graduate Hamza Choudhury taking over the midfield with Wilfred Ndidi, but Rodgers will probably not be as adventurous to do such a thing.
The defense will most likely consist of the unmovable pair of Northern Irishman Jonny Evans and Turkish centre-back Çağlar Söyüncü, meanwhile Luke Thomas will start on the left-hand side. In terms of who will be playing at right-back, Brendan Rodgers will want to keep Ricardo Pereira fresh for their upcoming league game against Arsenal on Sunday, so he will probably lean toward starting Belgian Timothy Castagne instead of starting Daniel Amartey.
Predicted Line-up:
Schmeichel; Castagne, Evans, Soyuncu, Thomas, Ndidi, Tielemans, Under, Albrighton, Barnes, Vardy.
Slavia Prague
Jindřích Trpišovský's side are yet to lose a game since a 4-0 trashing against German suitors Bayer Leverkusen in early December, and they will be determined to produce an away game masterclass on Thursday.
Slavia will deal with the blow of Tomáš Holeš, who was subbed off in the 30th minute of the home leg as a result of an injury.
The Fortuna Liga leaders will also have to deal with the absences of Stanislav Tecl and Petr Ševčík, who are both recovering from COVID-19 and are still self-isolating. David Hovorka will be out likewise.
Slavia will most likely start the same team which saw them draw against the Foxes at the Sinobo Stadium, with the only change being Slovakian Jakub Hromada starting in the central defensive midfield position for the injured Holeš.
The Czech side will bring all their fire and artillery for this match, and they will not be intimidated to show Leicester that they can dominate the entire game if Rodgers' side comes out poor.
Predicted Line-Up:
Kolar; Bah, Kudela, Zima, Boril; Hromada; Sima, Provod, Stanciu, Olayinka; Kuchta.
Verdict
Leicester had to deal with a stressful game last week, and it will be the same on Thursday. Slavia will seek to impose their dominance in this game from the beginning of the whistle, as they know the Foxes will possibly struggle without the creative capabilities of Maddison. The hosts will do everything in their force to impede any type of advances from the current Czech Republic league leaders, which will mean that every single player on the pitch on Thursday will have to produce a pristine performance.
Jindřích Trpišovský's side found it easy to attack the Foxes through the wings, which will mean that both Thomas and Castagne will be crucial in the defense side of the game to prevent any type of exploits from the left and right-hand sides of the field. Leicester also found it straightforward to attack Slavia through Harvey Barnes on the left-hand side, which will mean Slavia right-back Alexander Bah will have to shut down any type of one versus one duel against Barnes.
Vardy and Barnes will be crucial in terms of scoring opportunities, as Barnes scored on the weekend and Vardy will be hungry to find the back of the net. Vardy has two goals in the 2020/2021 edition of the UEFA Europa League, meanwhile Barnes has scored on three occasions.

Slavia will seek to find goals through Senegalese wonderkid Abdallah Sima, who has three goals in this edition of the Europa League. Jan Kutcha and Nigerian Peter Olayinka will also be essential for Trpišovský, as they combined to score four goals during the group stage matches.
Leicester will have a strong game ahead of them, but the Foxes have what it takes to hand The Stitched their first loss since December.
Prediction: Leicester City 2- Slavia Prague 1