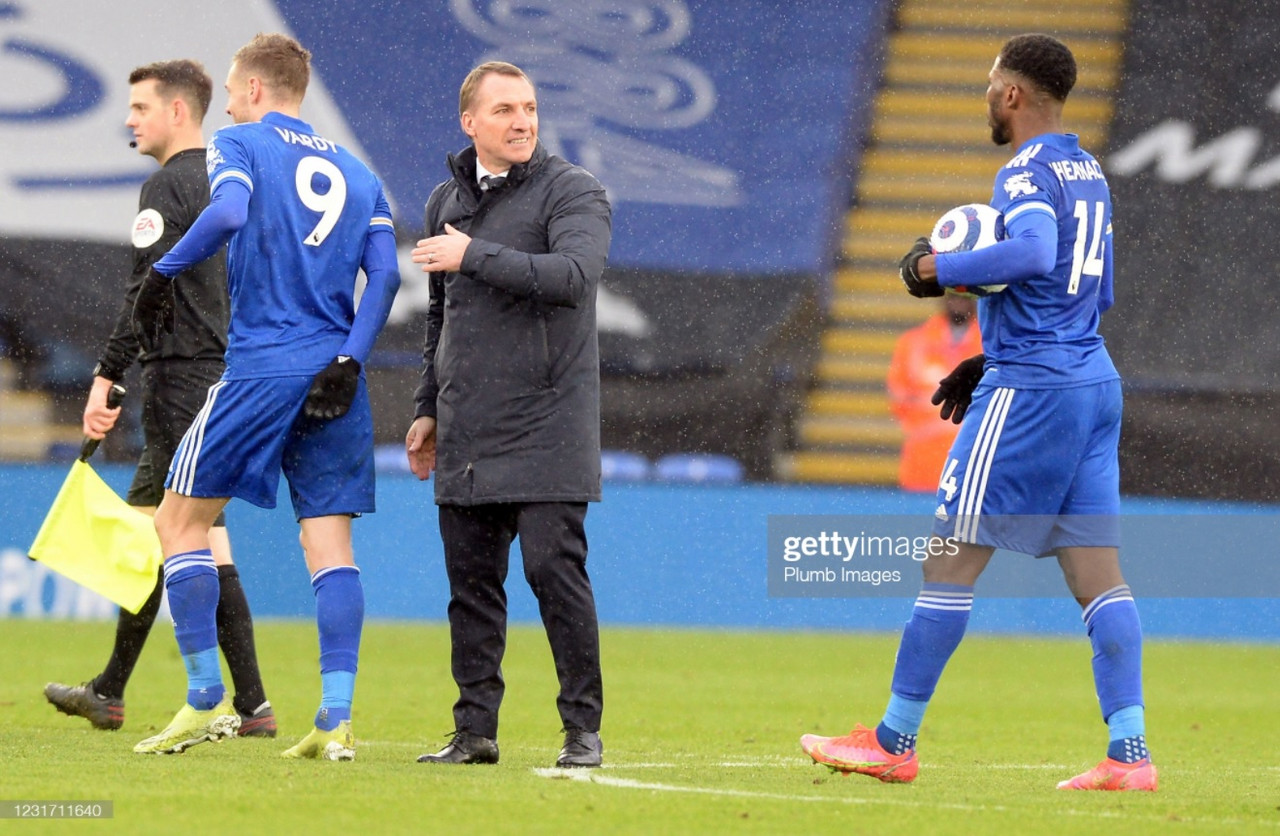 In what may of seemed a banana peel of a fixture, Leicester City thumped Sheffield United 5-0 at the King Power Stadium to further their Champions League push and all but seal the Blades' fate to the Championship.
Kelechi Iheanacho, being the star of the show, scored three and was a constant threat throughout. Ayoze Perez's return was welcomed with a powerful finish and a special mention has to go to Jamie Vardy, who was unfortunate not to score but assisted three goals.
The Foxes were made to bide their time, with the bottom side being hard to break down in the first half but a glorious cross by Vardy in the 39th minute allowed Iheanacho a tap-in going into half-time.
Brendan Rodgers' men started the second half with more intensity and tempo but were met with a stern Sheffield United defensive wall. However Marc Albrighton's work-rate paid off again, winning the ball back deep in his half, galloped down the wing before picking out Perez who took one touch and then fired past Aaron Ramsdale in the 64th minute.
Now smelling blood, the Foxes were causing mayhem once more with Vardy picking out Iheanacho again with a delightful ball with his weaker foot for another tap-in for the Nigerian man to put the game to bed.
Iheanacho then saved the best till last with a powerful low-drive from just outside the box sealing his first ever Leicester hat-trick and more importantly city's fourth.
Leicester still weren't finished, two minutes later, Vardy found space and fired a low and hard drive across goal which was unfortunately clipped home by Chelsea-loanee Ethan Ampadu to cap off a terrific second half performance and a well-deserved victory which moves the Foxes into second in the Premier League.
Brendan Rodgers spoke to Sky Sports, Laura Woods, after the game.
On his side's performance

Playing down Filbert way this season hasn't been as fortunate as away from home, as the Foxes have lost seven at home this season and were against a team who had just lost their manager in Chris Wilder and were battling for points at the bottom of the Premier League.
The Foxes had to be patient in order to break the Blades down but were helped with key players returning such as Jonny Evans, playing as part of a newly-formed back three and Ayoze Perez.
Rodgers said: "Yeah was very pleasing. Sheffield United have shown throughout their time in these last few years in the Premier League, that they are a tough team to break down.
"They have lost bridges to the odd goal so we knew we were going to have to be patient in the game. Defensively we were very strong and didn't allow them too many efforts goal so we counterpoised the game well and we just had to be patient and wait for that went for the first goal and once we did that I thought we played our shape well against their shape so it was very pleasing."
On Kelechi Iheanacho's first Premier League Hat-Trick
Kelechi Iheanacho scored his first Premier League hat-trick on an emotional day for the Nigerian, as he was visibly in tears after netting his third.
He has had to bide his time in recent years but this season, he really is showing why he was a £25m signing as he scored his third, fourth and fifth goal in three games and is looking a constant threat when going forward which gives Rodgers another selection dilemma playing alongside Vardy, as a front two.
The manager said: "He's been in great form and he is playing at really high level and not just his goals, he's dropping in short into all the right spaces that we wanted him too, where he can take advantage of the space. I thought him and Jamie (Vardy) upfront, the combination was very good with Ayoze (Perez) in behind."
On Jamie Vardy's all round play
Usually, the Foxes talisman leads the way in terms of goals but now is showing he is just as useful with assists and creativity as he assisted three goals, with the latter being a cross deflected in for an own goal but now has just scored once in 15 games but still leads the way in terms of goals and assists - 12 and seven respectively.
Talking about Vardy's contribution, Rodgers said: "Just his movement is so good and it allows the players to get up with him. He was so unfortunate it wasn't for him today, he got in the right positions and some chances the keeper makes a couple great saves and Chris Basham blocks one of the line but he's still there too keep going for the team and he's created a couple goals for Kel (Iheanchaco) but he may of not scored but we always appreciate everything he brings the team."
On Ayoze Perez's comeback
The Spaniard has faced some criticism before his injury but proved his doubters wrong with a solid display following his time on the sidelines, earning himself a goal and was unlucky to hit the post with a delicate flick, in the first half.

The number 10 role was suited well for him, as his picked the ball up in tight spaces and always looked forward when in possession, picking out Vardy who fed Iheanacho for his first goal.
Rodgers said: "He's so clever and so bright, he finds the space so well and against that system where there's lots of spaces are blocked. If you can work the ball well enough you can find the space and he did that and scored a fantastic goal. I'm delighted for him."
On the timing of the victory
Leicester have got through a tough period of the season relatively well with points still being added to the board even without key players and a fatigued squad. However, a fantastic display with star men returning and players building in confidence, will leave Rodgers in a good position ahead of the FA Cup match against Manchester United next week with a Wembley trip still a realistic dream for the Foxes.
Rodgers continued: "Well you arrive into every game looking to win. We are woking well with nine games to go now in the league but we'll enjoy it , analyse it and see where we can be better and then get ready for for the next one."