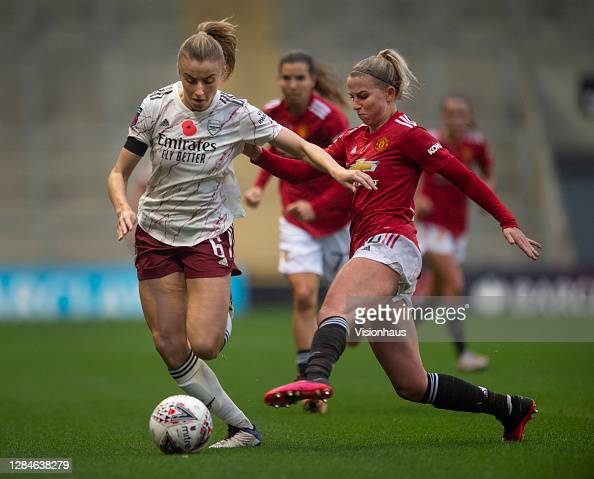 Manchester United "outsmarted" Arsenal to come out with a 1-0 win at Leigh Sports Village earlier in the season. That was the first Women's Super League loss for the Gunners since 2018 that wasn't to Manchester City or Chelsea.
This match is pivotal in the fight to get one of the three Champions League spots available and both sides are taking it as a cup final.
Joe Montemurro's side fell victim to Casey Stoney's high press in November, but lessons were learned and Arsenal are looking to vindicate their mistakes.
"Our movement and fluidity is going to be very important, but not taking away from the fact that in defensive phases, in transition and on the break they are a very good team so we need to be careful," said Montemurro.
"The reality is that we condensed a lot of our spaces in terms of our positioning, our positioning was poor [last time out].
"We got caught when we played them away in the last 7-8 minutes. We didn't have a great game but we shouldn't have gotten caught in that transition moment so we need to be careful of that when we do our interchanging and passing that we manage the players that they leave up."
Arsenal have a fluid style of play and specialise in movement off the ball, complimented with short, quick passing to move through each section of the pitch. Stoney prepared her side well in Manchester, caged Arsenal in their own defensive third and Montemurro's side failed to find a way out.
"It was just one of those days where we were unable to even get out of the first block or the first line of pressure which was disappointing," described Montemurro.
"We've had a look at it again and we've worked a lot on the way they press where they go player on player so we can solve the problem a bit better this time. It's a key factor in the way that United set themselves up and we definitely have to be prepared for that."
We can see here an attempt of playing out from Manuela Zinsberger in the reverse fixture. Every option available to the Arsenal keeper was closed down by a United player.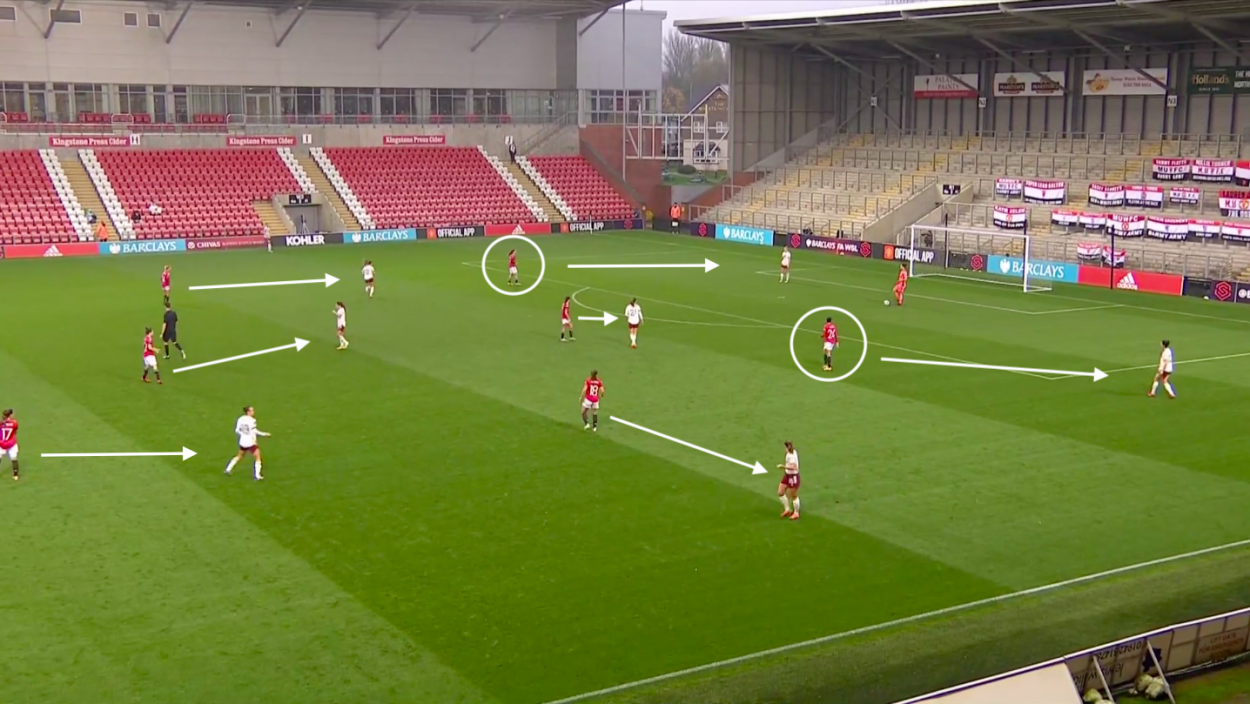 What's important for Arsenal is to create space for themselves and using movement off the ball to drag United players out of position, which in turn would leave space in behind to play through the press.
"We're trying to keep our positions and keep our spaces and give ourselves operating room under press. So when we are pressured there is always the opportunity to have a little bit of space to beat that press," said Montemurro.
"They set traps, they set situations where they want to bring you into and hopefully we'll have enough experience and football smarts to find the solutions."
Montemurro has been trying out new tactics as of late, with Vivianne Miedema taking on a 'false 9' role with Caitlin Foord staying as the high striker.
It gives more space to Miedema who drops deeper in the midfield, and in Arsenal's latest 4-0 win over Birmingham City you could see the positive effect of letting the Dutch striker float in the midfield.
Jordan Nobbs is playing brilliantly with Danielle van de Donk in the middle with the two interchange positions from being a central midfielder to going out on the wing. This provides the fullbacks more space to get involved in the attack, giving more options to Miedema to play off of.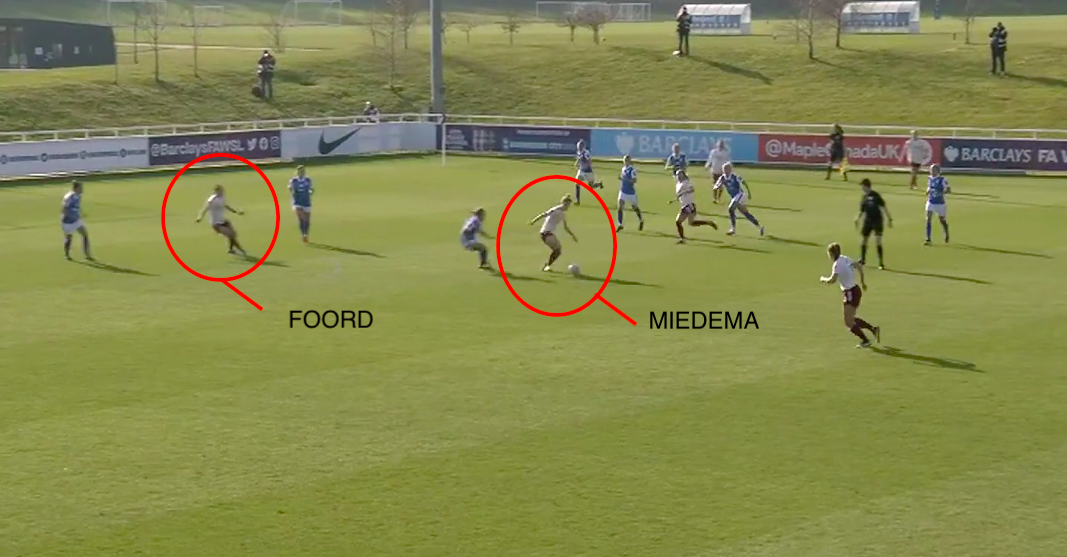 Katie McCabe is a left-back and above you can see her just behind Miedema. As the Dutch moves closer to goal, her teammates have the opportunity to move into space left behind by defenders that are trying to stop the WSL's leading goal scorer.
With opposition players out of position, the Gunners then have space to exploit using their quick and short passing to get through on goal. This could be pivotal to escape from United's organised press.
"I've always endorsed exploiting the space in behind quickly, especially against teams with a high line, we have very potent players in the final third who can execute if you play them into space," said Montemurro.
"Our main idea is to drag teams out and find spaces in a more constructed way. But if there is the opportunity to find a diagonal pass from defence it's something we encourage- but it needs to be a long pass not just a long ball."