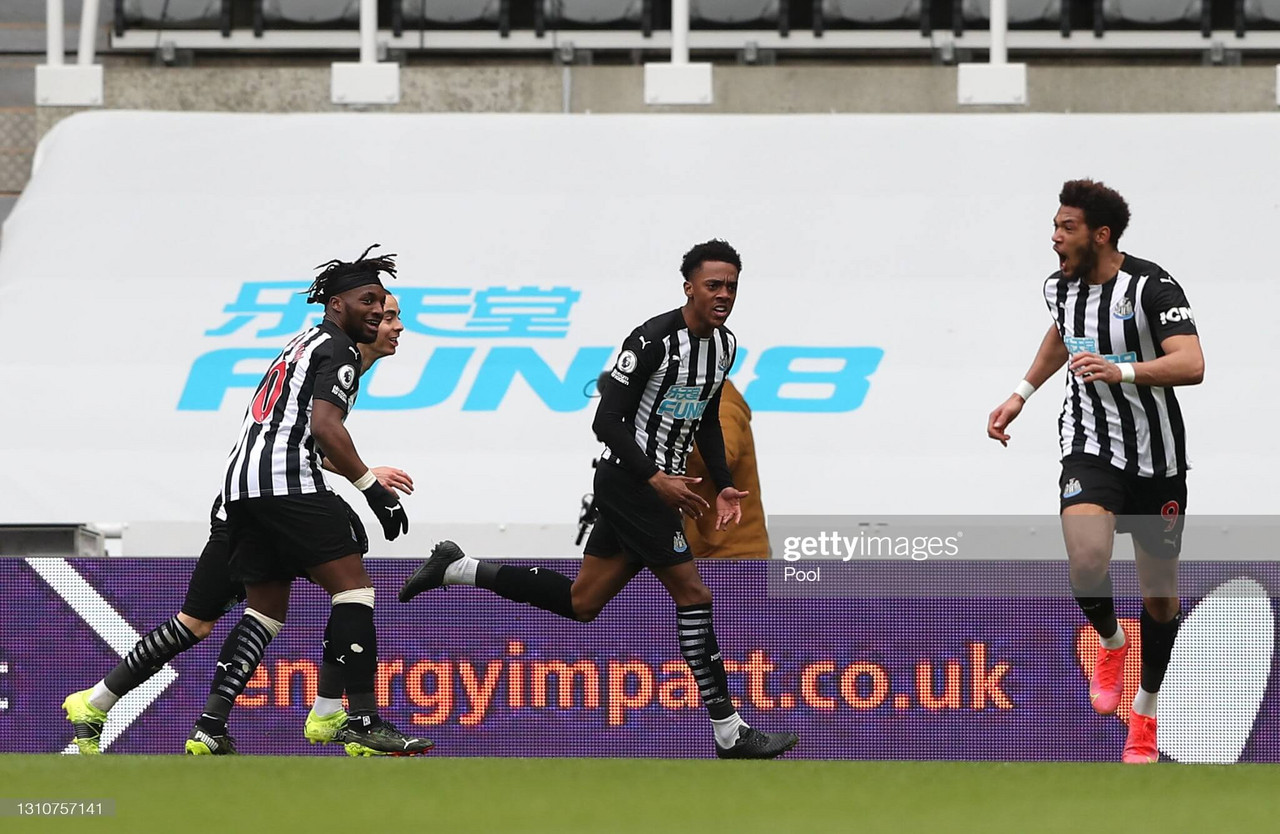 Newcastle United grabbed a crucial point in their battle against relegation as they drew 2-2 with Tottenham Hotspur at St James' Park on Sunday afternoon.
A Harry Kane brace had put Spurs ahead at half-time, following a Joelinton opener for the Magpies, but an 85th minute equaliser from Arsenal loanee, Joe Willock ensured that Steve Bruce's side went unbeaten against Jose Mourinho's men this season.
Following the embarrassing 3-0 defeat to Brighton & Hove Albion before the international break, this showing was much improved and United fans saw some fight from their side, something which has been lacking in recent matches.
Newcastle went toe-to-toe with Tottenham, and had they taken their chances in the first half, may have even taken all three points against a below-par side.
Following the game at St James' Park, relegation rivals Fulham took on Aston Villa at Villa Park, and the Magpies did find themselves in the relegation zone for 20 minutes after former Toon forward Alexsandar Mitrovic had put the Cottagers in front following a Tyrone Mings howler.
However, Villa responsed to win 3-1 which gives Newcastle a three point cushion between themselves and the Premier League's bottom three.
Fight & passion
"We don't demand a team that wins - we demand a club that tries." That was the phrase used Newcastle supporters at the end of the 2014/15 season where, yet again, they survived by the skin of their teeth on the final day.
Off the pitch, matters certainly are not how fans want them to be, however there can be no questioning the fight on the pitch on Sunday afternoon.
There was plenty of passion on show from the players who looked determined to get something from the game.
Energetic high pressing was one obvious tactic used by the players, and this resulted in Joelinton's opener as Spurs had no way out from the back.
Even when Kane's quick-fire double turned the game on its head, there was clear evidence that the players wanted to get a positive result from the game when they may well have let their heads drop in the past.
Their endeavour was rewarded with Willock's late strike which was the least that Newcastle deserved on the day. Spurs could perhaps consider themselves lucky to have not lost the game.
Steve Bruce keeps his job
Most managers in the Premier League would not survive a 3-0 thumping against relegation rivals, that is unless you are Steve Bruce and you manage Newcastle United.
Toon fans were, quite frankly, baffled by how Bruce was still in a job following on from that poor showing. Add to that the multiple rumours going around about the lack of training sessions, it certainly does not make for success.
In fairness, something did change over the international break as this performance on Sunday was much better and the basics of playing football that were missing from the Brighton thrashing had made a return.
Any sensible football club owner who has the slightest interest in keeping their club in the Premier League would have said "enough is enough" after that loss at the AMEX Stadium, but with Mike Ashley in charge nothing is ever that simple.
This point against Tottenham has, most likely, brought Bruce some extra time and it now looks increasingly likely that he will survive until at least the end of the season.
Another six-pointer next time out
Newcastle failed to show any fight in their most-recent relegation six-pointer, the 3-0 loss at Brighton.
However, next weekend will give them a chance rectify that that as they head to Turf Moor where Burnley await.
The Clarets, in theory, should be low on confidence after they three away a two-goal lead to lose at Southampton on Sunday, but Burnley never give anyone an easy game with their direct and physical style of play.
Newcastle put in one of their best performances of the season in the reverse fixture, winning 3-1 at St James' Park in October last year and they will be hoping to replicate that in Lancashire next Sunday lunchtime.