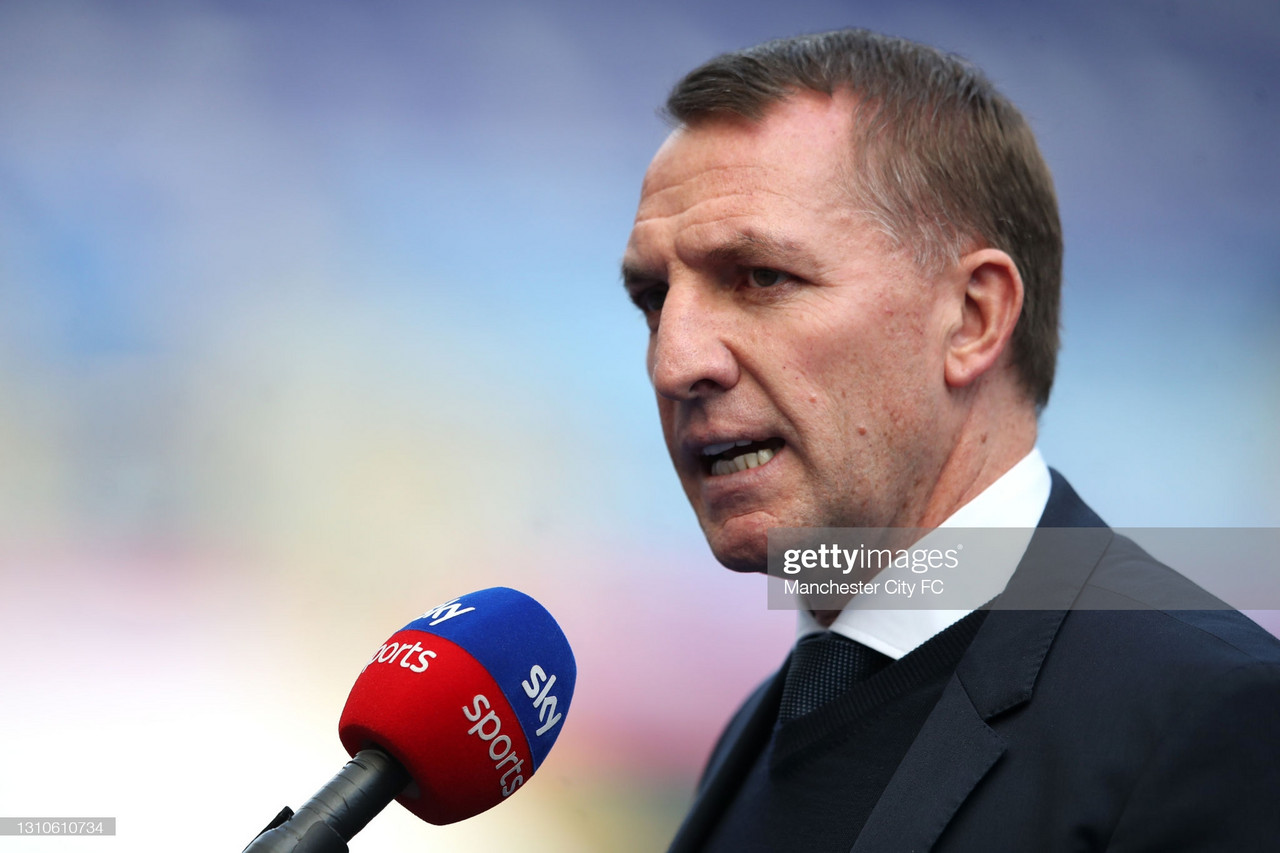 Leicester City travel to the capital to face West Ham United in the Premier League on Sunday afternoon.
The Foxes face their top four rivals in what could be a season-defining game for both teams. Brendan Rodgers' side were well beaten by Manchester City last time out but remain in a great position to qualify for the Champions League.
David Moyes' side are flying and sit in fourth, only four points behind Leicester. The Hammers have been in superb form and have picked up some impressive results during their rise up the table.
Foxes boss Rodgers spoke to the media ahead of Sunday's game.
On the importance of the match
Leicester have a great record this season when it comes to beating the teams around them and this is another chance to continue that record.
Earlier in the season, West Ham were victorious at the King Power Stadium and Rodgers looked back on the loss and remains wary of the Hammers.
"It's a very important game and we'll look to do well," he said. "They beat us well. They put us in our place. They were very good.
"We know their qualities on the counter-attack. Antonio is a counter-attack on his own, it's unbelievable the level he has been playing. Lingard is a high-level player. You can see the quality he has, so he'll be a big threat. It should be a fantastic game.
On whether it is a must-win
A win would leave the Foxes in a comfortable position in the top four race and some consider Sunday's fixture to be key as the season begins the wind down.
If Leicester were to drop points, it would let others into the race, including opponents West Ham. Rodgers gave his opinion on whether it is a must-win for his side.
He said: "Even if we lost the game we're still ahead and then we're counting the games down. We want to win. Our plan is to win the game. We don't worry about it.
"Is it a must-win game? If we lose it and win all of the others it doesn't really matter. We'll aim to give our best. If we lose, we're still in a great position. There's lots of games to play."
On West Ham
West Ham have only lost three times in the league in 2021 and are one of the most dangerous teams to face at the moment. Moyes has his side playing fast and free-flowing football and they have scored 11 goals in their last six games.
Rodgers praised the Hammers' performances and discussed the quality of the squad that Moyes has at his disposal this season.
"David [Moyes] has done a great job," he said. "Declan [Rice] is a top player. Fabianski is a good goalkeeper, Cresswell has quality, Coufal has been great since he came in. Noble has experience who works very well, and then Lingard and Antonio have combined very well.
"On the sides, Fornals is a talent, Bowen has done well since coming in from the Championship. It's not so much a surprise [to see West Ham doing well]."
On what would make a successful season
Last season, Leicester fell at the final hurdle and dropped out of the top four on the final day. This meant the Foxes would enter the Europa League.
But after losing to Slavia Prague in the knockout stages, their European journey did not last as long as they would have been aiming for.
Rodgers now wants his team to re-enter European football and sees that as a successful season for his side.
He said: "For us to find success would be to arrive in European football for the second year in a row. We want to arrive in the Champions League and finish as high as we can. Once the 38th game is done, if we are in Europe, that's a success.
"We have a semi-final, can we get to the final? What's most important is the progression. There's so many points to fight for, and many twists and turns to come I'm sure."
On Jamie Vardy's form
In previous campaigns, Jamie Vardy has been the sole reason for Leicester's success. However, this season the Foxes have found goals from all over the pitch and Vardy has struggled to re-find his form after having surgery.
Rodgers remains confident in his talisman and still views him as a huge threat for opponents.
"The team's still been winning. It's just a mixture of everything," he said. "What's most important, you need to continue to work, and then you need a bit of luck.
"We know he can score at any time. He's just been unfortunate, with keepers making incredible saves, blocks on the line. He's such a threat, with his sharpness and speed."