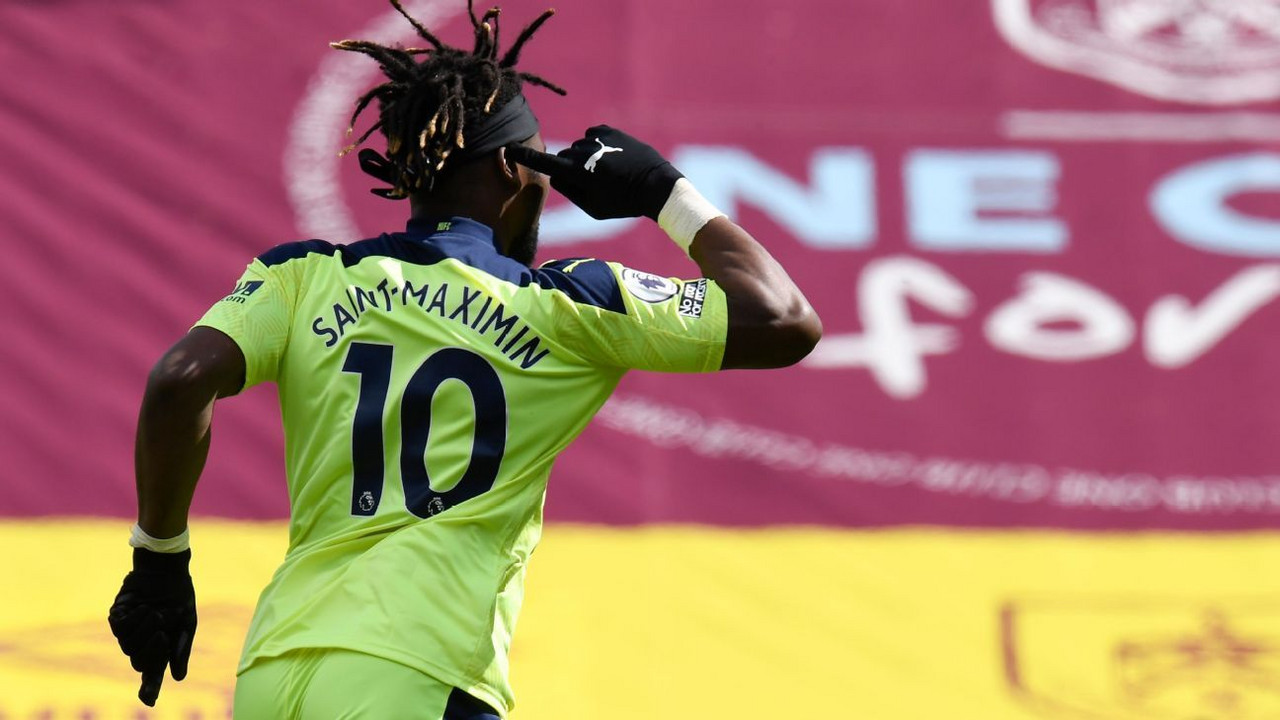 Individual quality proves too much for Burnley
An influential display from star-man Allan Saint-Maximin stole the win for a Newcastle side lacking in quality prior to the Frenchman's arrival. The tricky winger produced not only an assist but also the match winning goal, receiving the ball on the half way line before running at James Tarkowski, chopping inside onto his weaker left foot and dispatching it into the bottom corner.
The goal was similar to his assist, whereby Saint-Maximin turned his man inside out before laying a pass back to Jacob Murphy who lashed his shot first-time into the far corner. Burnley's defenders were consistently guilty of allowing Saint-Maximin too much space, allowing him to run up speed and use his trickery to cause problems.
Newcastle's form has often come under scrutiny during this season, but it can definitely be said that they've always looked a different team while Saint Maximin is involved. Callum Wilson is also a massive influence for them as their main source of goals. To stay up, Newcastle will have to hope that these two stay fit and firing.
Vydra and Wood show positive display
Although the result is certainly not what they will have wanted, strike duo Matej Vydra and Chris Wood will certainly feel happy with their individual perfomances today. Vydra in partictular was busy from the get-go, harrying Newcastle's defence and generally causing problems. Burnley's only goal came from these two combining, with Wood working his way to the byline then cutting it back to Vydra for an easy open-goal finish. Burnley have often looked more expansive in recent weeks, with players looking to press and push on further upfield. This has proved some joy going forward, with the Clarets scoring more freely- however this has lead to them also conceding more. This balance will need to be fine tuned by Sean Dyche, but it is reassuring to know that Burnley are capable of scoring freely.
Win means even more to Newcastle
This fixture was a massive one for the bottom half of the table, with Newcastle entering the game in 17th with Burnley above them in 15th only by four points. With Newcastle's win, they are now 6 points above the drop, while Burnley are only one point above them.
A win for Burnley would have caused further pressure on Newcastle, as the Magpies would have failed to capitalize on Fulham's Friday loss. There are still yet to be twists and turns in the relegation places, but Newcastle will definitely be looking to use today's win as a deciding point in their season.
VAR again involved in contentious decision
Once again this season there was controversy involving VAR, this time involving a possible penalty for Newcastle after an extremely high boot from Tarkowski went unpunished initially by the referee, and then backed up by VAR. Tarkowski's boot was level with Sean Longstaff's head, but ultimately VAR confirmed that it was not deemed dangerous enough to be a penalty.
While the defender clearly only had eyes for the ball and has no idea where Longstaff was, you have seen penalties given this season for fouls where the defender has essentially been helpless.
Another incident like this just furthers the need for rules to be updated to accomodate the introduction of VAR, as referees are left in the unfortunate position of having to make decisions on incidents that aren't covered well enough in their rulebook.