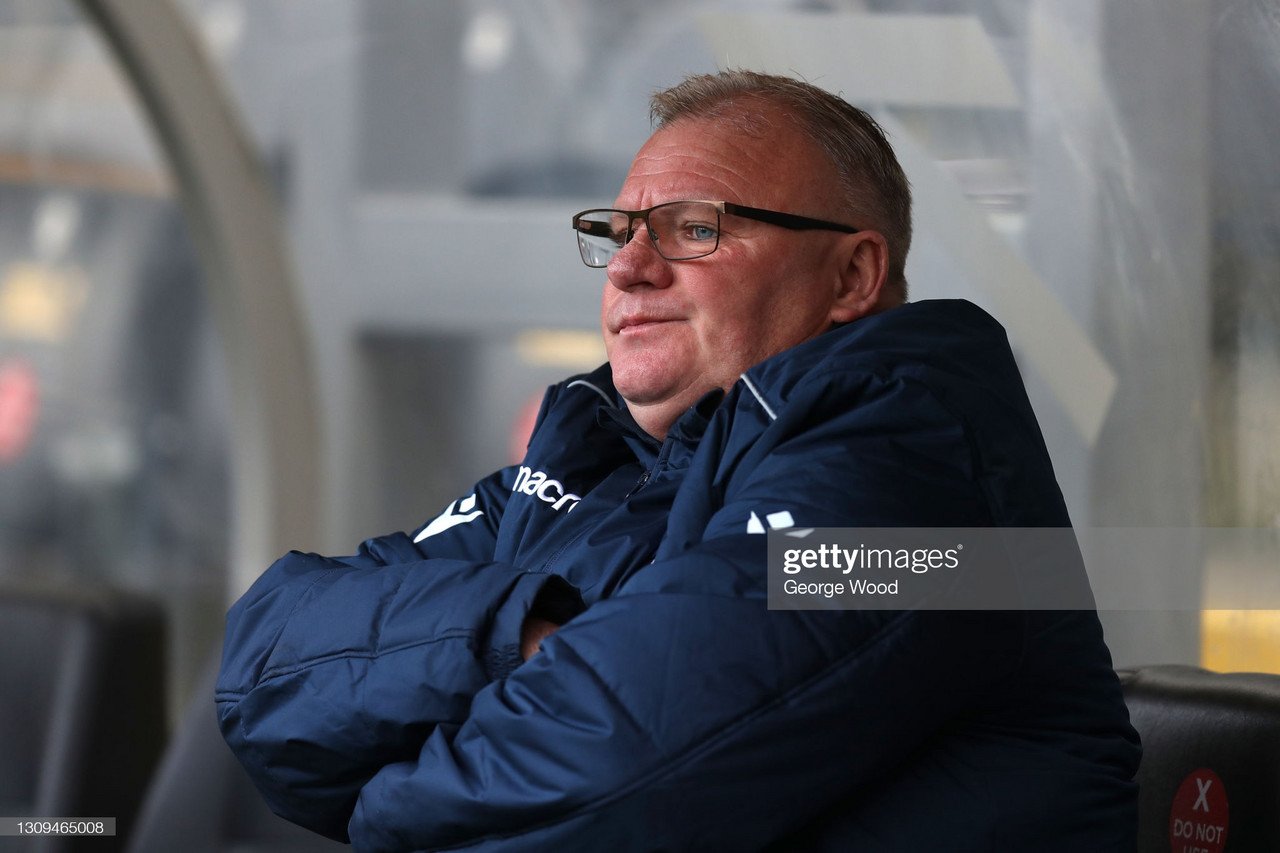 Gillingham will host Plymouth Argyle on Sunday with the aim of closing their League One season on a high.
The Gills can no longer finish inside the play-off spots in League One following their 1-1 draw with Burton Albion last weekend, but will want to finish their campaign on a positive note ahead of a busy summer.
Ahead of the match, Gillingham manager Steve Evans spoke to the press. Here are five of his key quotes.
On his approach to the game
"We will approach it in the way we should do; we are really desperate to get in the top 10. If we could not make the play-offs, we wanted to finish as high as we could.
"I see at the end of the season that whatever you are playing for, you want to finish on a positive note. I know the players do, and we want to win. The players are bouncing, and I expect a good, energetic performance."
One could suggest that it might be hard to motivate a team with nothing of significance to play for, but this Gillingham team doesn't give off the vibe that that will be the case.
The Gills could finish as high as ninth, which would be an improvement on last season's 10th, and the incentive seems there to earn the three points on Sunday.
On giving something to the supporters
"Quite rightfully supporters want to win. I watched Celtic, the club I love most, get trounced by Rangers last week – nothing in the game, but I still wanted to win. We do not want to let supporters down.
"I have always seen final days in the way that supporters want to appreciate and applaud the players that have given them some dreams and the other side is that I want to lead my group to applaud our supporters, but that is what is missing.
"At some grounds there is a lack of atmosphere and passion, but you never get that at Priestfield – any League One manager will tell you. We have a passionate fanbase that want to win as much as we do. They have missed some great days and nights this season but hopefully we will move on this year to what we know and what we love. It has been the toughest year in football."
Gillingham supporters haven't been able to watch their team once this season, and it truly has been a bizarre year. Players will leave in the summer that didn't have a chance to play in front of the fans – something unheard of 18 months ago.
But the Gills fans will once again be cheering their team on from home and will have their fingers crossed for a good win to end the campaign.
On playing some younger players
"It is an opportunity for one or two younger players to play, but we want to win first and foremost – we are more likely to look at younger players than fringe players. The main group has been superb, 13/14 players, but there are younger players we have just given professional contracts to and we would like to see them on the pitch at some stage.
"We love young players, and every football supporter loves their own – we see one every week with Jack Tucker. We will start as strong as we can, but if it is right and if we can do it, we will bring on one or two lads to give them a special feeling going int the summer ready for next season.
"We are not going to risk Gerald. He played in a youth team fixture and got a rack on his ankle, but we will let him have a rest. There might be a place for Harvey Lintott, and I want to give the players a taste, but also let them know how different it will be next year."
Jack Tucker has been pretty much a mainstay in Gillingham's defence since breaking into the team last season, and when Gillingham fans sing "he's one of our own", they mean it.
As Evans says, all football fans love to see an academy player make their way through the ranks. Youngsters Gerald Sithole and Harvey Lintott have just signed their first professional deals at the club and are touted for big futures.
Sithole made his debut in the last home game against Northampton Town, but it seems he will miss out through injury on Sunday. Lintott, however, may get a runout – and what a moment it will be for him if that happens.
On Plymouth
"It is a decent opponent that beat us earlier on in the season, so we are looking forward to the game.
"Players should want to play because it is the last memory they will give of their season. We want to go into the off-season winning, and we have an opportunity to finish in the top 10. Given how the season started for various reasons it would be a magnificent effort from the players. Let's not let our standards drop."
Gillingham were defeated 1-0 at Home Park earlier on in the season and disappointed, but Plymouth are in a baron run of form, picking up just one point from the last 15 available, and also technically have nothing to play for.
The Gills aren't in the greatest of form themselves – just one win in their last six – but it sounds as if the team is as hungry as ever. Only Sunday will tell who wants it more.
On his future
"The reality is that people cannot knock our chairman. He is very open and honest and has been since day one. He has said the budget will be where it is now, and it is no hidden secret we have the lowest budget. But I have just watched the liked of Bristol Rovers get relegated who have almost three times our budget. It is not about money – it is about recruitment and getting the model right.
"I believe it is likely I will be at Priestfield next season. I went with a very open mind to a meeting last Tuesday with the chairman and all the cards were on the table. There were disappointments, middle grounds, and highs, but also a lot of honesty. The one thing we agreed is if we get the plan right, we will have a chance.
"I believe I will be at Priestfield, but I will have a day of meetings with players on Monday and then sit down with the chairman and that is when the real plan opens up, and I think it will. I really want to be at Priestfield – I want to walk out with our passionate supporters behind us with some good players."
Evans has been linked with the likes of Swindon Town and Doncaster Rovers in recent days following an interesting press conference a fortnight ago after a draw with Northampton.
He wants to discuss his future and ensure he has a fair chance at taking Gillingham to the top six next year. Evans has another year left on his Gills contract, but time will tell what happens. It does, though, sound as if he wants to give it another crack.