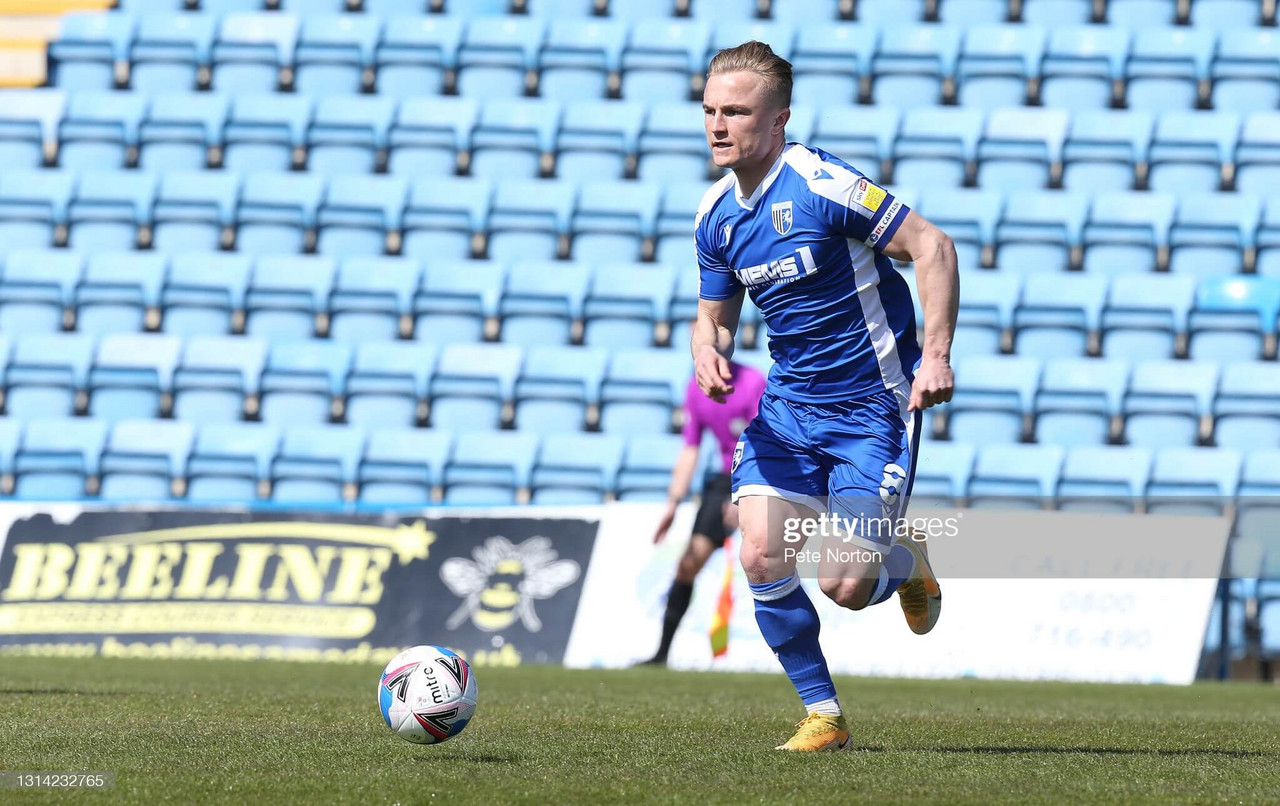 Gillingham will host Plymouth Argyle in League One on Sunday with the hope of finishing their season on a high.
The Gills' play-off hopes have now faded, but a ninth-place finish is on the cards, which would be an improvement on last year's 10th.
Ahead of the game, Gillingham captain Kyle Dempsey tackled the press via Zoom. Here are five of his key quotes.
On the approach
"We will approach it the exact same as we have done all year – we want a positive end.
"We have played some really good stuff but fallen behind in key moments which cost us. But we will give everything we have got to win the game. Even though we do not have a chance of the play-offs, the mentality of the group is that we want to win every game and give 110%. We will be going until the end whistle."
Gillingham's play-off hopes died last weekend following a 1-1 draw with Burton Albion, but the team will still be hungry to finish as high as they can in the table.
The Gills could finish as high a ninth or as low as 14th – it is up to them on Sunday to decide where it will be.
A reflection on the season
"We have been underdogs all year. No one has given us a chance in a lot of games, but we have had some really good results and continued to prove people wrong. It has always been "Gillingham surprised…" but to us it has not come as a surprise. We know the qualities.
"Our style of play gets criticised, but it is effective, and some top teams have not been able to deal with it.
"Overall, key moments in particular games have cost us. We were in touching distance and looking at it you kick yourself because of the games against Oxford, Northampton, and Burton.
"We could have been in it, but overall we can look back and be proud of what we have done."
Gillingham have thrown away some decent leads in the last month. They led 2-0 at Oxford United but lost 3-2, led 2-0 against Northampton Town but drew 2-2 and conceded a 90th-minute equaliser against Burton last week to draw 1-1.
Those moments have cost the team their play-off ambitions, but they have had a solid year. Their physical, sometimes direct approach does anger teams, but it has been effective, and expect them to build on things next year.
On his personal year
"It has been a great year. I have found my confidence in front of goal again and chipped in with assists – to get what I have got I am happy with. I have had some unlucky moments, but I feel I can always get a goal.
"I have put a lot of hard work in behind the scenes, especially before I came. I watched a lot of videos from the early days and put that into practice.
"It has been a massive honour for me and my family to be captain. It has been the first time and I think the lads have made it easier for me. I am not the most vocal, but I lead by example on the pitch, and I have been able to do that this year. There have been moments where it is on me to keep the lads rallying and that is what we have done all year, and I think the fans have seen that.
"This year is the most consistent I have played – week in, week out I go into every game knowing I am going to have a good game and my focus is on being the best player on the pitch. I spent a lot of time working out what positions to get into and that is what I have done."
Dempsey has admitted himself on several occasions this season that he felt he lost his was slightly towards the back end of his time at Fleetwood Town, and he wanted to reinvent himself this year.
He has taken it upon himself to become a goalscoring midfielder once again and clearly feels much better for doing so. He has scored eight goals and provided five assists from central midfield this season, a record he can be proud of.
On his future
"It is great to see big clubs linked because you know you are performing well and catching the eye. You want to play at the highest possible point. But for me, I have a season left at Gills, so I am just focused on getting back in summer, spending time with the family and friends and getting myself as fit as possible to go again next year and do better. I want double figures in both goals and assists.
"In football you cannot comment on your future until you get in the door, but for all I know I have a season left and I will approach it with that mentality."
Dempsey has naturally attracted the eye of some bigger teams because of the season he has had. But Gillingham fans will be pleased to hear that he is contracted at the club for another season.
It sounds as if it could be a typical summer for a player of high interest. Clubs will try and pull Gillingham's hand to get a deal and persuade Dempsey to join them, but the 25-year-old is a model pro, and doesn't seem one to throw his toys out the pram if a move doesn't materialise. If he is at Priestfield next year, expect him to keep his head down and have another blistering campaign.
On his relationship with the Gillingham fans
"I have able to engage with the fans on social media and the support they have given me since day one has been massive. It does not go unnoticed – going into every game knowing we have the backing makes us want to perform the best we can. The messages they have sent have been top class and I want to repay them when they are back, and I can imagine it will be a really good experience with them in there.
"In the early parts we had to adapt. When you have good games, you imagine the fans, and some of the home results let us imagine the place bouncing. But it has been like that for every single team. It has been a difficult year in and out of football, but we keep the same focus of trying to win. We have given it our all and we will give it our all on Sunday."
Dempsey has had to endure the bizarre feeling of being at a club for a year and still be yet to play in front of their fans, obviously due to the COVID situation. But he is right – he is often engaging with fans on social media, and he's impressed them with his performances.
All Gills fans will have their fingers crossed that he is there next season to lead the team out on the opening day in front of a full house.