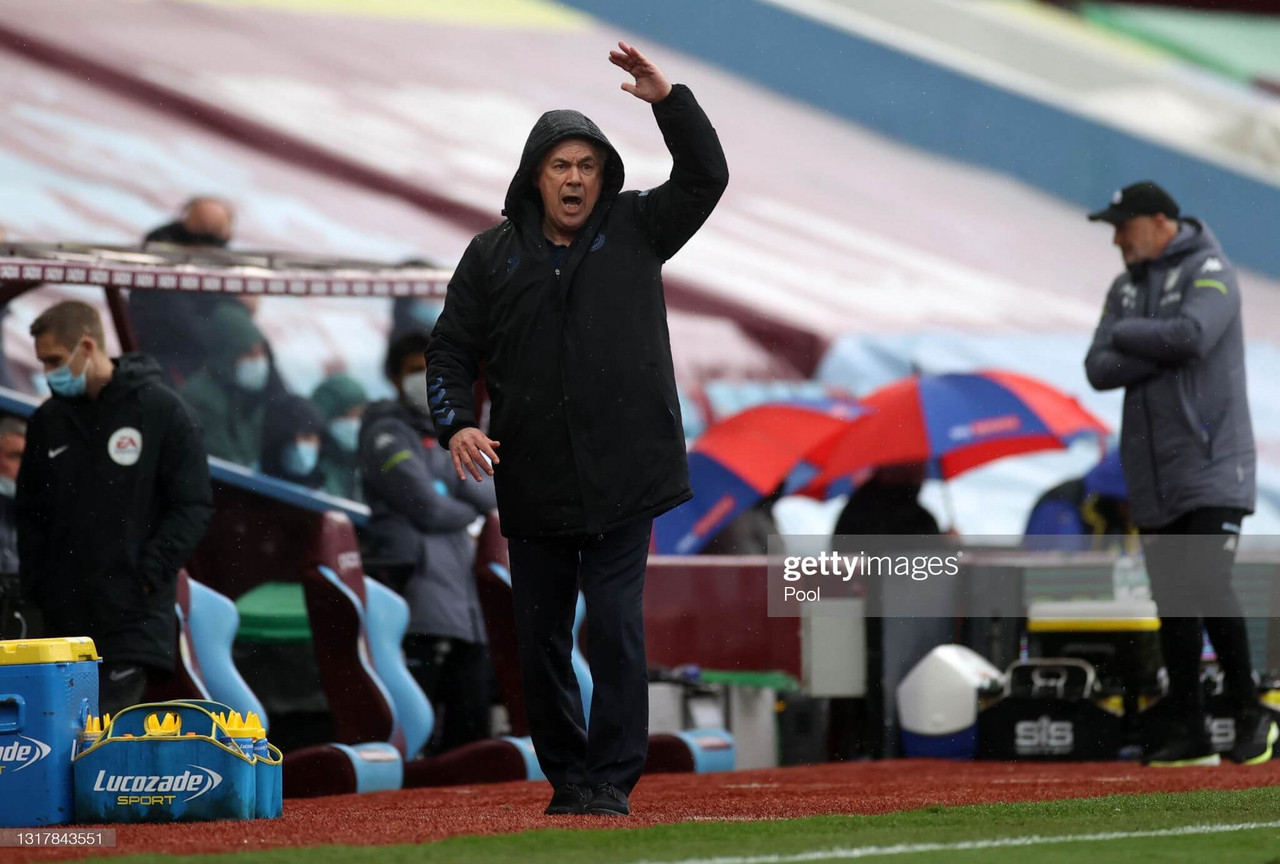 Simply put, Everton are unlikely to achieve their ambitions this season. They have two games left to qualify for next season's Europa League, but the successive victories required are unrealistic. They are three points behind sixth-placed Tottenham Hotspur with games against Wolverhampton Wanderers and Manchester City remaining.
Everton have not featured in Europe for two seasons - indeed, they have only participated in European competition in two of the past 10 campaigns - but missing out this time will hurt the most. Their position at the half-way stage of the season was positive and offered hope that it was the Champions League rather than the Europa League which Carlo Ancelotti's side were aiming for.
Now in mid-May that looks fanciful at best. Everton have lost nine Premier League matches at Goodison Park this season, leaving them with the sixth worst home record in the division. Bottom-half sides Newcastle United, Fulham and Burnley had all won on at Goodison before already-relegated Sheffield United joined that list on Sunday evening.
"It's really difficult," Ancelotti said after the latest set-back. "I have to take the responsibility for this, of course, but I hope the players also take responsibility for this. I am really embarrassed."
For Ancelotti, normally a mild-mannered manager, those remarks were quite forthright. Yet that sentiment of feeling embarrassed speaks of the extent to which Everton have thrown away what was proving to be a stepping-stone-season in the right direction. Frustration is the overriding emotion as the season reaches its conclusion.
Costly home form
Everton's home form has collapsed in 2021, leading the manager to quip: "Fortunately we have supporters at home for the next game and I hope they wake us up because I think we need to wake up at home. It is really difficult to explain what is going on here at home."
The poor home form is one thing but look across Everton's results since the turn of the year and they are underwhelming. Barring a three-game winning run at the end of February and start of March, which included an historic triumph over Liverpool at Anfield, Everton have not won back-to-back games since December. They have dropped points in eight of their last 10 games.
Sifting through results, however, only glances the surface when it comes to analysis. The real reasons as to why Everton have suffered since Christmas are more nuanced.
Everton simply don't create enough. Only Lucas Digne and Abdoulaye Doucoure, of the team's top seven assisters, have outperformed their expected assists calculation this season. That Digne's numbers are better than most backs up that he is one of Everton's most creative outlets. The left back has managed seven assists from 28 appearances.
Despite Everton's lack of creativity, they have also fared slightly disappointing in front of goal too with their expected goals total of 47.49 is higher than the amount they have actually managed (46).
With eyes alone one can spot that Everton prefer playing without the ball rather than trying to be inventive with it. Dominic Calvert-Lewin's haul of 16 goals is 10 more than the next highest Everton players James Rodriguez, Richarlison and Gylfi Sigurdsson who all have six. Everton have the lowest goal tally of the top 11 in the table.
Furthermore, Everton have conceded fewer goals than would be expected given the chances they have conceded (47.02 goals compared to 43 in reality). This highlights that the defence has more than bailed out the rather stunted attack. It is worth remembering that they had kept three clean sheets in their past four games prior to the Sheffield United loss.
Dig a little deeper and the disparity from Everton's first half of the season to the second half becomes increasingly evident. Based on results since January 1, Everton would be 10th in the table but second-bottom if only home results were accounted for. Whereas after the first three months of the season Everton were fourth both overall and on home form.
Has the defensive style worked?
A question of why such a drop has occurred therefore arises. Fatigue cannot be ruled out, especially given the nature of this congested season and that Everton do not possess an abundance of strength in depth. When Calvert-Lewin was injured for a spell, Ancelotti found it difficult to replace him up-front. Likewise injuries to Allan, Doucoure and James have impacted at various times.
The players now look spent. Ancelotti has used 23 players in the league campaign but the same 11 players tend to start if fit. This has been exacerbated by Everton's set formula of defending against most opposition and trying to counter effectively.
"One of the technical reasons for this poor run is that, when we try to build up from the back, we have difficulty and are a bit slow because we don't have the confidence with the ball compared to the confidence we have without it," Ancelotti said. "We try to play more attacking football, but it didn't work as well as the direct attack and counterattack in the away games."
Damningly, the manager added: "We don't have players with strong personality with the ball. We are a team with different characteristics and are more direct."
It cannot be denied that Everton's approach has worked in games, they have defeated Liverpool, Chelsea, Arsenal and Tottenham while drawing against Manchester United this season. But offering opponents the chance to dictate the game, working the ball around, making Everton run for little reward and sapping the energy from Ancelotti's players has started to appear naive.
This combination has seen Everton either live on the edge of negativity in terms of playing style and being resourceful. There is no doubt, however, that reinforcements are needed in most areas.
Ben Godfrey and Michael Keane have been the most consistent centre backs but require assistance. Allan and Doucoure need the same in midfield. But, most importantly, creativity is the missing element. James's impact has drifted in tandem with Everton's season as a whole.
"It is really difficult to explain," Ancelotti said as he tried to analyse his side's situation, "but I have to find a solution for this. Maybe, for next season, we need to try and have, for sure, a better squad. For next season, we are going to change. We have to analyse the season. Certain aspects are really good. Away we did fantastic results, at home really bad."
That, in essence, has been their downfall.